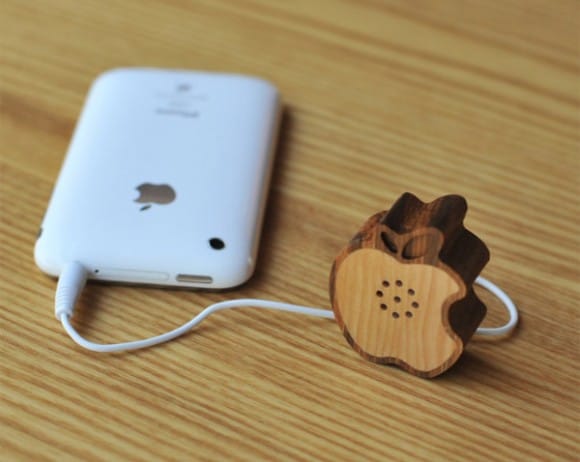 "Imitation is the sincerest/greatest/best form of flattery" according to an old saying and Apple products have been imitated to death.  Their lawyers don't think of it as flattery, but rather a pay check.  We'll see how long it takes them to go after a Korean company called Destination Seoul for making the cute little mini Apple logo wooden speaker.
The mini speaker is hand crafted from apricot wood and measures 2.6" x 2" x 0.5" and only weighs half an ounce.  The wooden speaker is powered by a lithium-polymer batter with a five hour life; it can be recharged by plugging it into a USB port.
I'm not sure how good the quality of the sound would be due to the small size of the speaker but it probably is just as good as, if not better than the speakers on the iPod and iPhone.  Most of the buyers are going to get this as a novelty item rather than a Bose quality sound system.  The speaker not only looks cool but is also easy to carry and if it sounds decent then it is a must have for diehard Apple fans, unless they care about copyright and all that good stuff.
Buy it while you can at etsy for $29.99.