The first time one sees the Archer AXE75 WiFi router, they are reminded of a futuristic spider skittering through the hallways in a late 80s SciFi horror flick. The 6 antennas, arranged in a halo around the top of this router, crown this TP-Link offering as the budget router king.
This article is a must-read if you're looking at the TP-Link Archer AXE75 for your home internet. We have compiled all the helpful information before you buy the AXE75, including its pros, cons, and key features.
Best Features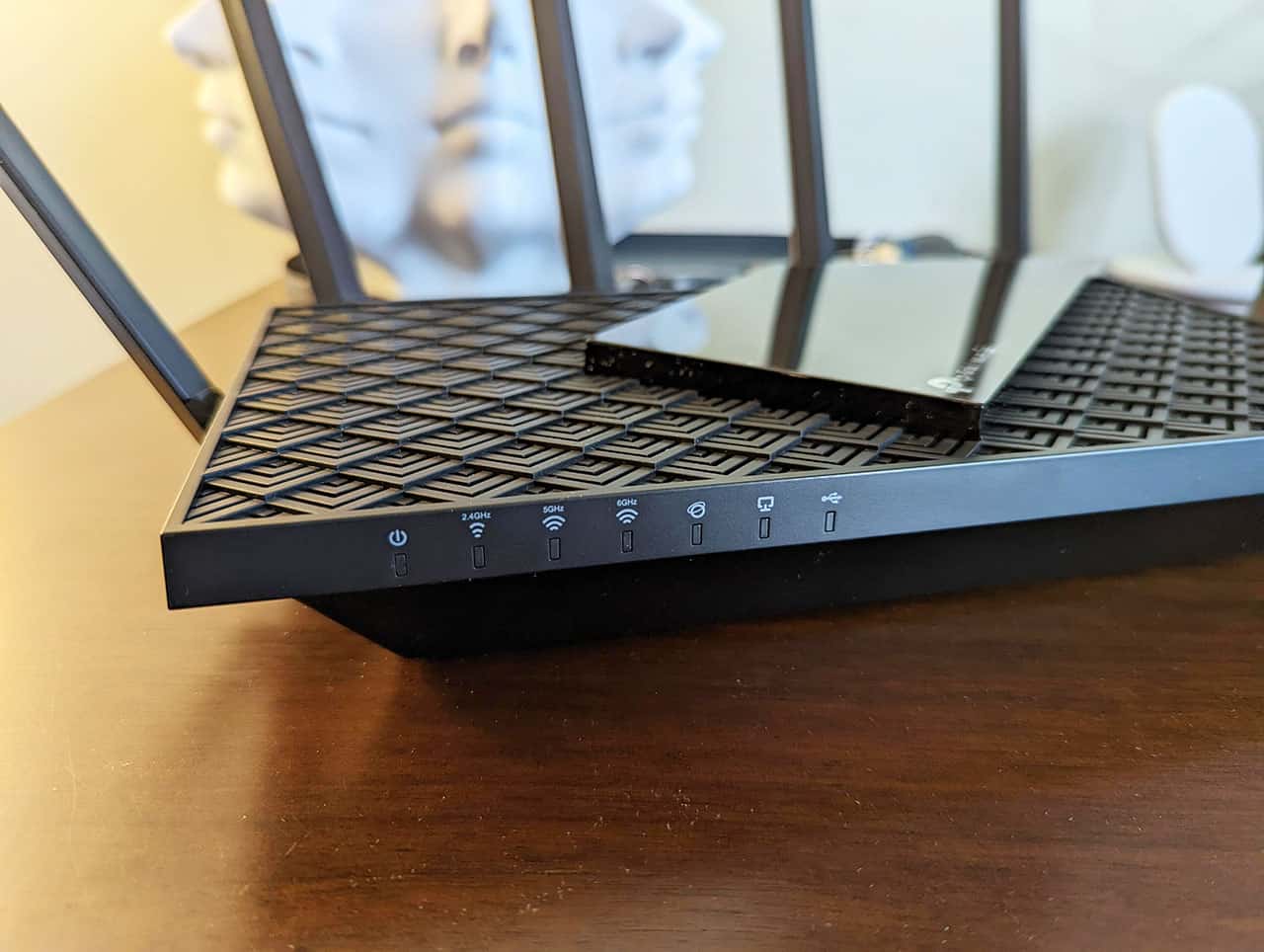 The best feature of this router is its price. At $200, this router provides a significant upgrade for almost any home network at a budget-friendly price. It supports WiFi 6e, an improved WiFi standard that supports faster speeds for specific devices. The router's antenna array boosts its range, making it easy to connect to the router around your house. As well as the browser management platform for PC, TP-Link gives you access to their Tether App, which allows you to manage your router from your phone.
If you can display this router on a wall or table, you should. The router's surfaces are beautifully designed. While the antennas seem unwieldy, the back of the router sports a slick, glossy panel surrounded by a cross-hatch pattern. This combination stands out, making the router look sleek and professional.
The hooks on the back of the Archer AXE75 router make it suitable for wall hanging. The router can be kept on a wall, table, or upturned surface. When scanned, a QR code on the router's surface can connect you to its network. The router also includes a fast USB-A 3.0 port and an Ethernet port by the side. The USB port supports hard drives and printers, which combine well with the router's networking features for easier printing and FTP. For example, you could connect this port to a hub and use that as a central printing station in a home or office. It has the normal WiFi router buttons and indicators in front of it, which light up when it is turned on.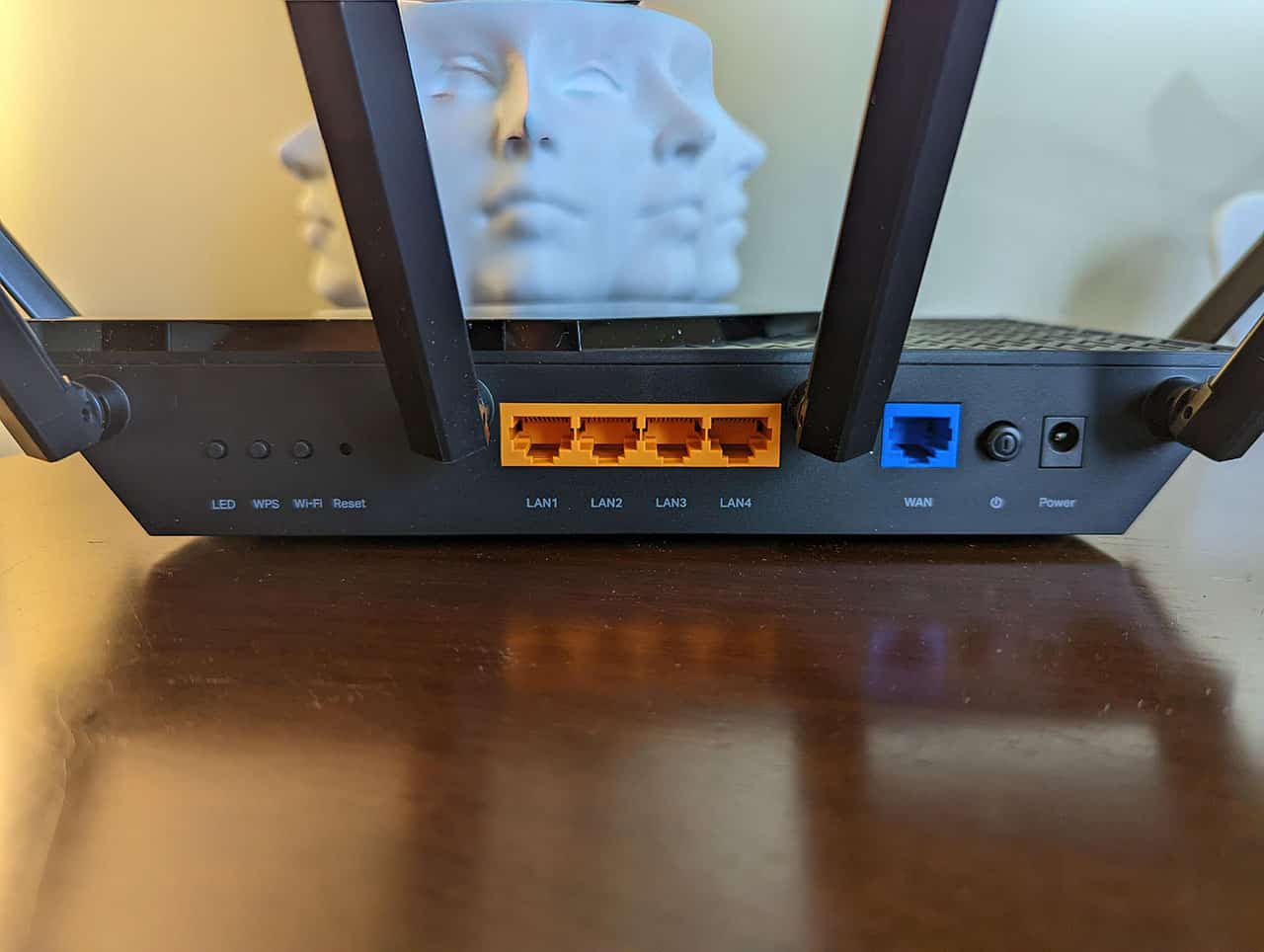 Gamers will likely appreciate the router's support for UPnP and NAT port forwarding out of the box. Setting these up for the best online gaming experience shouldn't take long, but you should probably be wary of changing these settings if you're unfamiliar with them. These networking options are available on the Tether App, the browser interface for the router, and the manual gives clear instructions about how to access them.
While this is not the fastest router on the market, that shouldn't be a problem unless you have multi-gigabit internet speeds since the AXE75 supports up to 5,400Mbps. This router should hold up well for anyone with simpler internet without going close to the maximum router throughput. The router will support as many devices as you can connect to it, handling video and game streaming with few, if any, hiccups. The strong WiFi 6e signal and 6-antenna array will spread that signal to almost a hundred feet, which should cover your house nicely. (Confused about what to do with all those antennas?)
What We Don't Like
While the antennas are powerful, their construction seems a bit shoddy. A few exposed wires are visible beneath each antenna, which could get damaged by a fall. The router feels light and fragile, making me even less confident about placing it on a shelf or the wall.
While testing this router, the Tether app was also a constant source of chagrin. Several features are locked behind the optional yearly or monthly subscription, which could leave some users dissatisfied with the router, especially if they need those features. These Tether HomeShield features include malicious content filtering, parental controls, detailed device statistics, and DDOS protection. TP-Link provides a full list of these features, so you should check those out if you aren't ready or willing to buy the subscription.
WiFi 6e is a relatively new technology that uses high-energy waves to transfer data faster. While this is a welcome update, the waves are more susceptible to interference and blockage than previous generations. While a few plant leaves or walls may not cause too much interference, its users may see a drop in performance with a few thick walls or floors separating them from it. To avoid this, try to keep the router in a spot with as many direct lines of sight as possible. This limitation also means that your router may perform worse if taken outdoors.
Another potential disadvantage of WiFi 6e is that older devices may not support their newer band. Compared to supported devices, this could lead to worsened performance, but the AXE75 supports the older 2.4GHz and 5Ghz bands, allowing older devices to connect to the network.
Our Verdict
The TP-Link AXE75 is a stellar product. Its features are perfect for you whether you need a new router to support upgraded internet, a better router to take advantage of your internet plan speed, or a router to complete a gaming setup. It has powerful signal distribution and future-proof connectivity.
If you are a gaming dad who needs a new or better router for your home or gaming use, you likely won't find one that ticks as many boxes as this one. If you do go through with that purchase, however, the best experience is gotten by downloading the Tether app and paying the $5/Month subscription.