Even if you don't know it, graphic design is all around you, making it a skill and job that is always in demand. People who are interested in becoming graphic designers can use this guide to learn how to make money as a graphic designer. Whether you're just starting or have worked in the field for a long time, this guide can help.
It's very easy to make money online through graphic design.
You don't even need a college degree in graphic design to get started these days, thanks to online learning platforms like YouTube and Skillshare, which make it easy to learn about the field.
Another Interesting Read: How Much Does A Structural Engineer Make?
10 Ways To Make Money As A Graphic Designer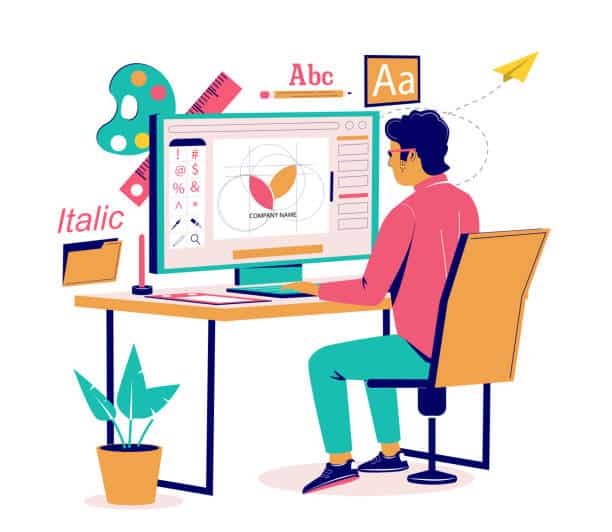 No matter what industry you work in, you can make money as a graphic designer! Learn how to become a graphic designer and how to make money as a graphic designer by checking out this list. Start by selling or making some of the items on it.
1. Make And Sell Templates
This is without a doubt one of the best ways for graphic designers to make money on the side. All you have to do with this method is make templates for any kind of project, whether it's an ebook, a poster, an invitation, or a Pinterest picture. Afterward, the templates can be sold on the web.
People who run small businesses or write blogs who don't have the time or skills to make their designs like to buy these products because they can be easily changed.
In the end, after you've set up your template shop and put in the time and effort, you can make money just by promoting your goods.
2. Share Knowledge Through Workshops
How to Make Money as a Graphic Designer: An Online Workshop is a great way to learn. I'm sure many of you who are reading this would benefit from an online workshop on how to become a good graphic designer.
People will pay for access to your online courses or workshops if they believe you know enough about graphic design to sell their access to them.
Even if you only talk about the basics, you can help a lot of people and make money at the same time. Teachable is a great tool for making online courses. Additional information can be found at this link.
3. Sell Stickers
Small sticker shops are becoming more popular because TikTok has become so popular recently. Photoshop or Canva is all you need to make text-based stickers, and an iPad is all you need to make a lot of different kinds of stickers.
How to Make Money as a Graphic Designer: The best thing about making stickers is that you don't have to pack and ship them yourself. You can use dropshipping to save time and money.
You can outsource all of your sales to a third-party vendor and still make money.
You should sell stickers on Etsy, RedBubble, and Society6 because they are the best places to do so, Also, Shopify can be used to make your website with unique designs.
4. Become A Designer's Advisor
It may be possible for you to make money as a graphic designer if you work on things that cost a lot of money, like cars or planes.
You're selling an hour or two of your time to someone who needs help with their own business's graphics. Your hourly rate is up to you. You also mentor and advise young designers, pointing them in the right direction.
5. Work With Creative Market To Create Fonts
As a graphic designer, fonts are a great way to make money without having to put in any effort. Fonts can be created in a variety of ways, including using your handwriting, and sold for upwards of $100 on sites like Creative Market or Etsy.
6. Make Pre-Made Logo Packages
How to Make Money as a Graphic Designer: Vector logos could be produced and sold in the same way that template designs are.
They use this to make their logos because they can't afford personalized branding. Open the design file, change the text and colors, and they're done.
7. Sell Customized Branding Packages
If you're in high demand and need a lot of work done on your business, a graphic designer can charge up to $4000 for branding.
These packages come with a custom logo, color scheme, fonts, and patterns to help businesses figure out who they are.
8. Create and Sell Printables
By creating and selling printables on Etsy, you can make money as a graphic designer without doing any work at all. Teachers, students, and those who travel could all benefit from your printables!
Because printables are a digital product, all you need to do is make your process so that customers get a PDF of the printable right away when they buy it. No need to worry about how the package will get to where it needs to go.
9. Work With Clients As A Freelancer
If you like to do a lot of different things, working with clients is a good choice.
As a designer for clients, you might work on logos one day and help with the layout of a printed magazine the next day. Further down in this article, there is more information on how to find these places.
10. Design Social Media Graphics and Highlight Covers
Another popular way for graphic designers to make money is by making social media graphics for people to use. Social media is complicated, and everyone needs help. You could charge a small fee for pre-made Instagram highlights or social media templates.
What Is Graphic Design?
Graphic design is the process of coming up with visual solutions for a specific goal, like getting someone to buy a product, watch a TV show, or go to a big event. Graphic design covers a lot of the things you see in your daily life.
For example, if you enjoy creating fonts and experimenting with type, you can specialize in graphic design and you'll learn how to make money as a graphic designer.
The process of creating graphics that entice people to buy products, watch TV shows, or attend events is known as graphics design. Everywhere you look, there's graphic design. Then there's typography if you want to create your fonts and experiment with them.
Final Thoughts
Although it can be difficult to make money as a graphic designer, there are a lot of different ways to do so.
The best way to find out how to make money as a graphic designer is to explore all of your options and find what works best for you. We hope that this article has helped you in some way!
You Might Be Interested In:
When Can You Buy Houses In Monopoly?
What Does Free Parking Mean In Monopoly?
Computer Science Vs Computer Programming: How Do They Differ?
Is Information Technology Hard?