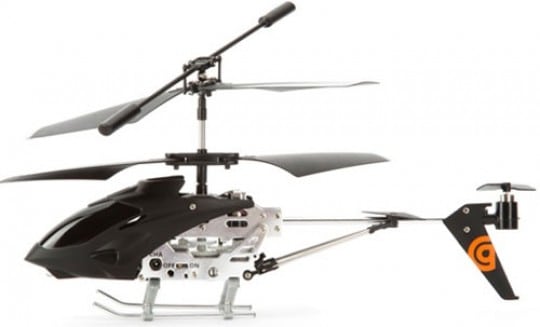 There is already an App-powered toy out there called the AR Drone Parrot but a bit pricey at $300. Here is an inexpensive solution, the Griffin Helo TC which is also App-powered helicopter for the Apple iPhone or iPod Touch.
The miniature indoor helicopter can be controlled by simply tilting your iPhone/iPod or using the touch screen features on the iOS App. One very cool feature is the ability to program up to three custom flight paths in advance. Once programmed, you can just back and watch the helicopter take flight all by itself. Even cooler, program multiple helicopters with similar flight paths or a cool aerobic air display.
Four AAA batteries are required for the transmitter which attaches to your iDevice. The Helo TC's built-in battery has enough juice for an eight-minute flight but is rechargeable via USB. The price tag of the Griffin Helo TC is expected to be $49.99 and available for sale in time for the busy Christmas shopping season.
You can also find out more on the official Griffin website.