What is Solar Energy & How Does it Work?
Solar panels are a great way to reduce your carbon footprint and help the environment. Solar electricity is generated by capturing the sun's energy and converting it into electricity. Solar panels are made up of solar cells that convert sunlight into direct current (DC) electricity.
Solar power has many benefits for the environment. It is a renewable resource, meaning it can never be used up. Solar power does not produce pollution or greenhouse gases. Solar power is also very efficient, as it can generate more electricity per square meter than any other energy source.
There are also some drawbacks to solar panels. They can be expensive to install, and they require maintenance. Solar panels also work efficiently when the sun is shining, so they cannot provide power at night and reduced power on cloudy days.
Now that you understand solar energy and its pros and cons, it's time to look for a starter solar kit. We have just the kit for you, provided to us by our friends at Geneverse (formerly known as Generark). Geneverse offers a variety of solar packages for the home and for on-the-go use. For our review, we received a Geneverse HomePower ONE system set, currently priced at $1,499 (the regular price is $1,597).
Geneverse Solar Generator (HomePower ONE Series) Review
The HomePower One consists of a battery power station and a pair of solar panels; however, this system can be expanded depending on how many people will use the system. Our system came with two solar panels and a battery power station, which the company estimates is good for 1 to 2 people. The system adds another battery bank for 2 – 3 people and is priced at $2,296 (the regular price is $2,596). The system can be expanded with additional battery power stations and solar panels, with the biggest package in this range consisting of 10 solar panels and five battery power stations, for 6+ people, with a price tag of $7,085 (the regular price is $7,985). You can also opt for a simpler system with only one solar panel and the same battery power station for $1,399 (the regular price is $1,897, which might be a typo because the regular price of the system with two solar panels is less than this ($1,597)).
Geneverse HomePower ONE Specs (1-2 People Kit)
The two solar panels that came with our kit have a max power output of 100 W each, so theoretically, they should provide 200 watts of power to the battery power station, but because of the losses associated with transferring electricity between two different mediums, there is usually a loss of power. So don't expect to be charging your battery bank at the max 200 watts. Each of the solar panels measures 24" x 21" x 1.38" when folded and 48" x 21" x 0.2" when unfolded. The panels are quite light, weighing 9.1 pounds each, making them great for carrying with you while camping or other such activities.
The battery power station is rated at 1,002 Wh (1.002 kWh) of storage; it comes with lithium-ion batteries and has a life cycle of 500+ cycles. The battery power station comes with various outlets, which should meet all (or most) of your needs. The battery bank has three 110V AC outlets rated at 1,000 W and 2,000 W surge power. There are two USB-C ports, a USB-A port, and a USB-A quick charge 3.0 port. There's also a 12V/10A car outlet for plugging small appliances normally used in a car or charging the battery power station.
The battery power station measures 13.07" x 9.15" x 9.57" and weighs 23.27 pounds (10.6 kg). This is a manageable weight for taking it in and out of the car. The operating temperature for charging is between 32 F – 104 F (0 C – 40 C), and the operating temperature for discharge is between 14 F and 104 F (-10 C – 40 C).
Charging the Geneverse HomePower One System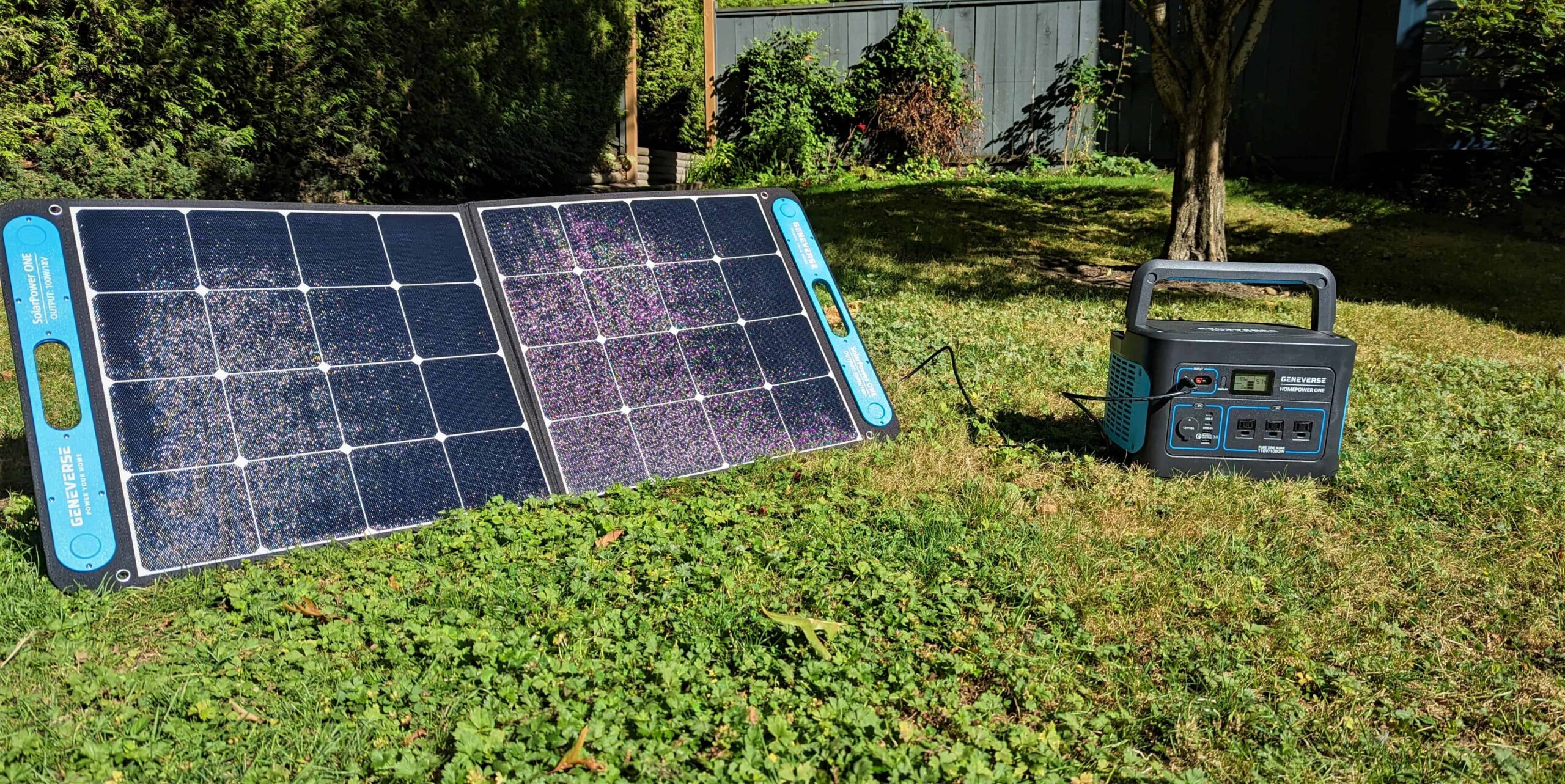 Charging the battery bank can be achieved in several ways. The first way is obvious, using the provided solar panels. In our testing, when I had just one of the panels plugged in, the battery bank showed an input of around 75 watts, and while both panels were plugged in, the display showed an input of 121 watts. The battery bank was at 61% full while I did this test. On my second test, with mid-day sun and one of the panels plugged in, the display showed 99-watt input, which is bang on. However, adding the second panel only increased the input to 125 watts.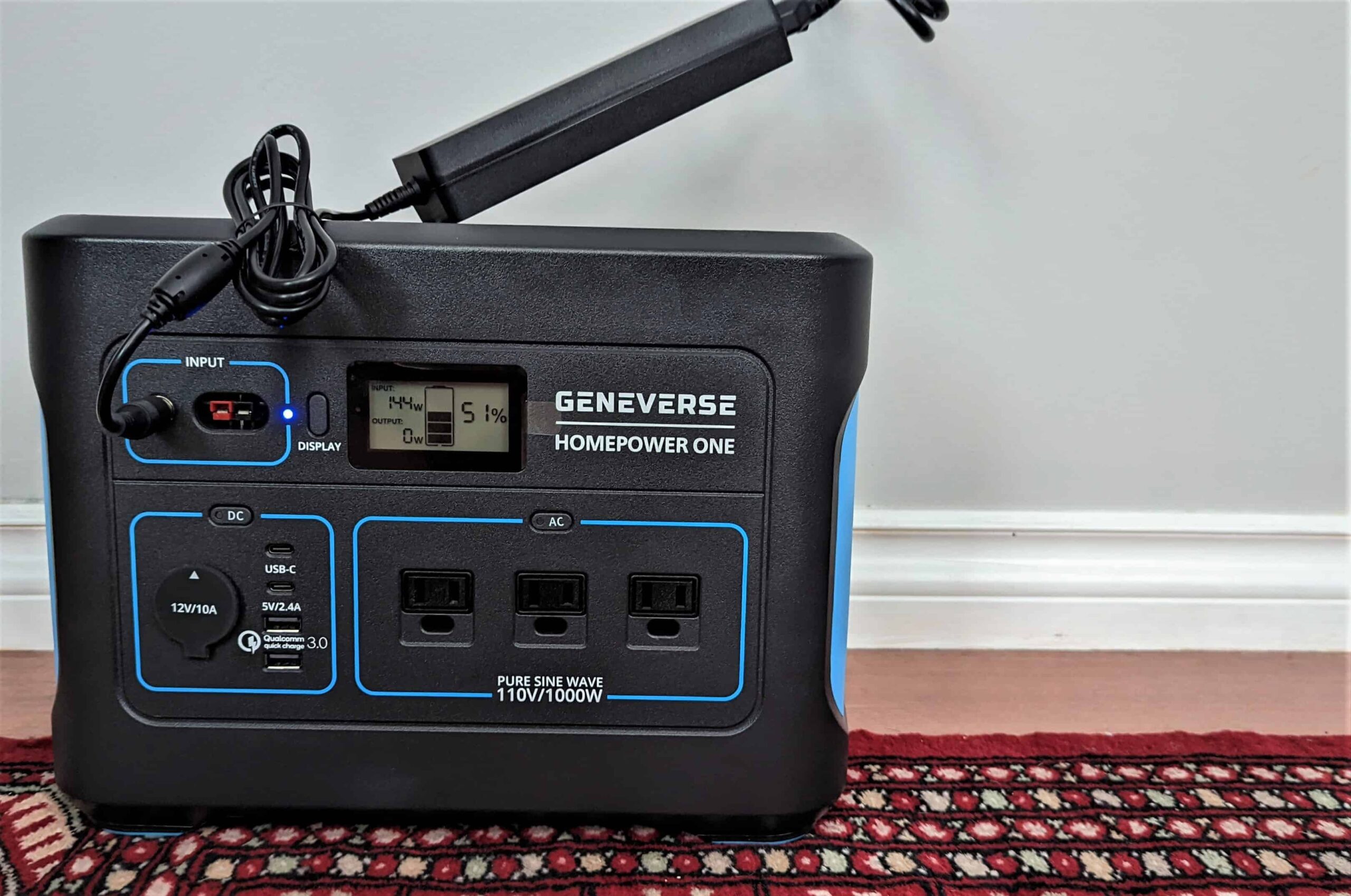 A second way to charge the battery bank is using a standard 120-volt outlet. If you're planning on using the battery bank as a backup for a power outage, especially in the winter when it's not as sunny, charging it this way makes sense. Charging the battery bank using a 120-volt outlet showed 144-watt input at 51% state of charge; based on that, it should take only around 7 hours to charge it from 0 to 100%.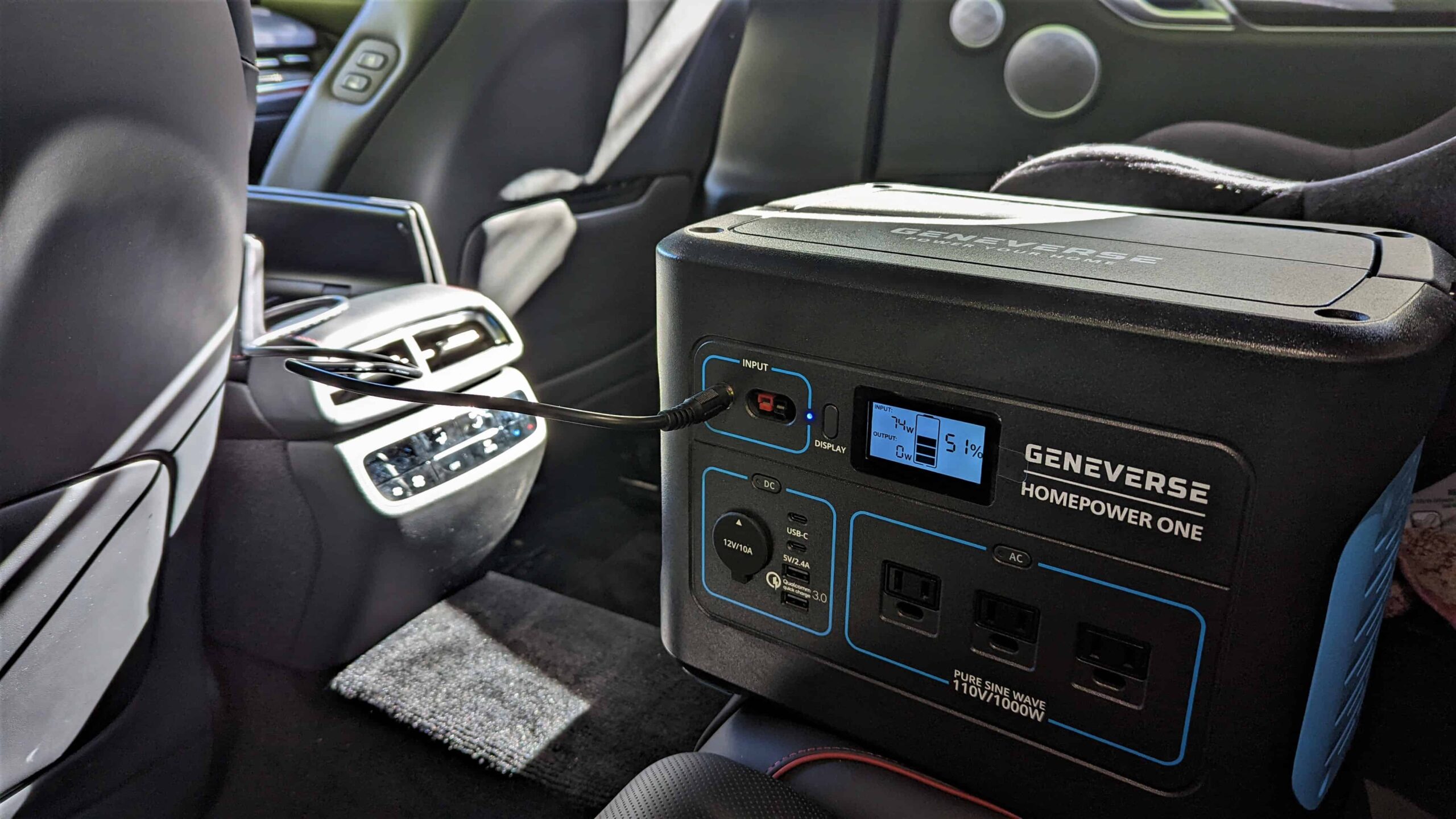 A third way to charge the battery bank is using a 12-volt car outlet (formerly known as a cigarette outlet). This will be a slower way to charge, but it's still an option. For a brief time, I had the battery bank plugged into the car; it showed around 74 watts of input, which is not too bad. However, I would have liked the cable to be much longer than it is; it's approximately 2 feet long. The reason is that if I'm going on a trip and want to charge the battery bank on the way, I'll keep it in the trunk and run the wire there; it'll charge as I drive to my destination.
The Geneverse battery power station's box shows a fourth charge option: a gasoline generator. I think this would be the least efficient way of charging it, as you're burning gasoline to create electricity, and I doubt many people would use this method, but it's available as an option.
Use Cases for the Geneverse HomePower One System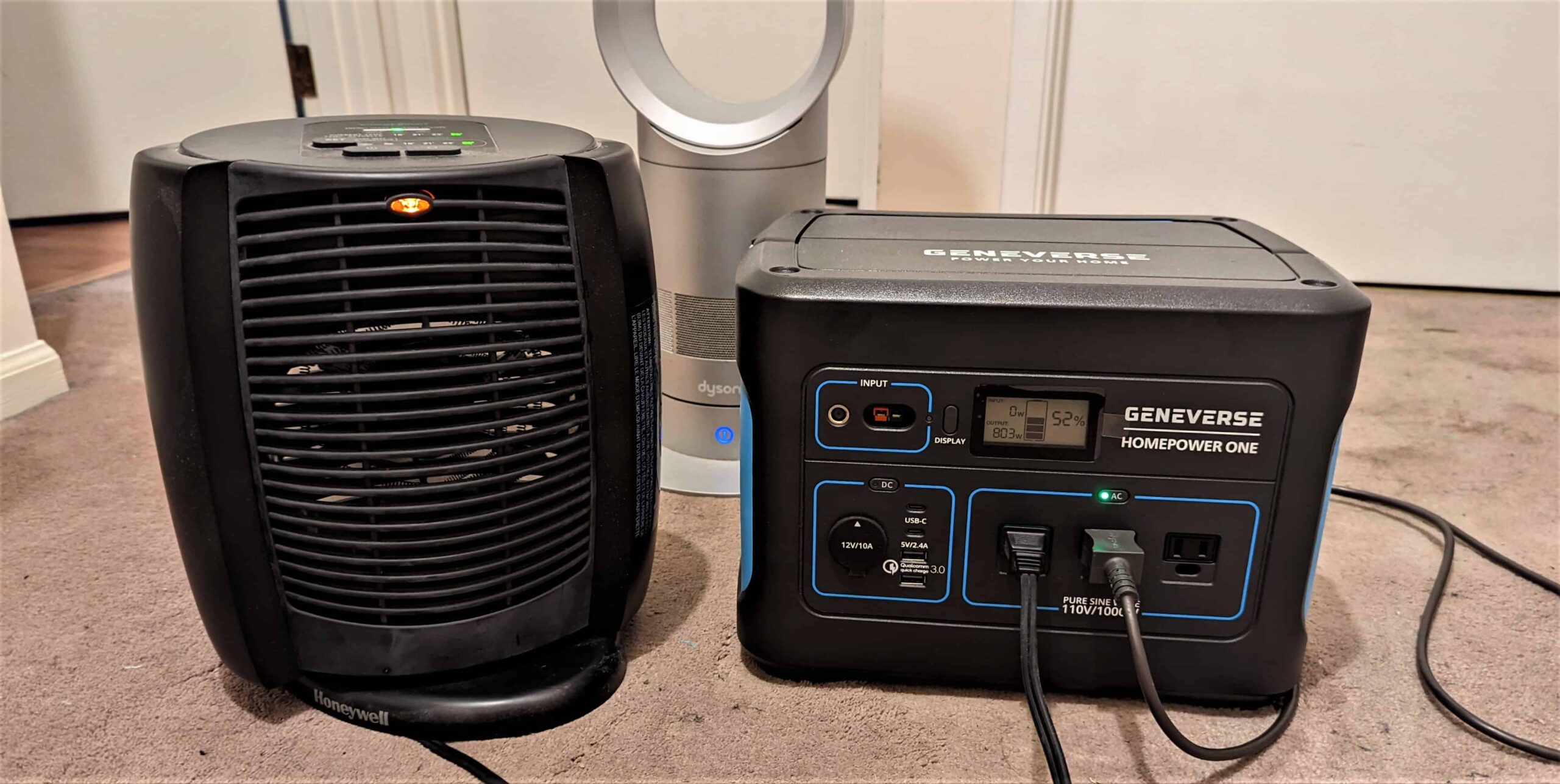 The Geneverse HomePower One is a handy tool in your arsenal, whether preparing for an emergency or using it for camping and other outdoor outings. I think this system would be perfect for a camping trip into the deep woods, where you can use appliances like a fan, charge phones, cameras, an electric stove, and lights. Thanks to its compact design, the battery power station doesn't take up too much room, and the solar panels can be folded to take up the least amount of room. The solar panels are great for charging the battery power station on the go, even if you're completely off-grid. As long as there's sun, you should have electricity. Even on cloudy days, these solar panels should generate some electricity. I can't say how much electricity the Geneverse solar panels would be able to generate on a cloudy day, as I haven't seen a cloud in months.
For home use in an emergency, you can use it to plug in a lamp, heat food in a microwave oven, power a computer/laptop, charge your phone, charge flashlights, and even run a fridge, albeit for a short time. The possibilities are endless. There have been numerous occasions where I could've used a system like this.
Geneverse HomePower One System Design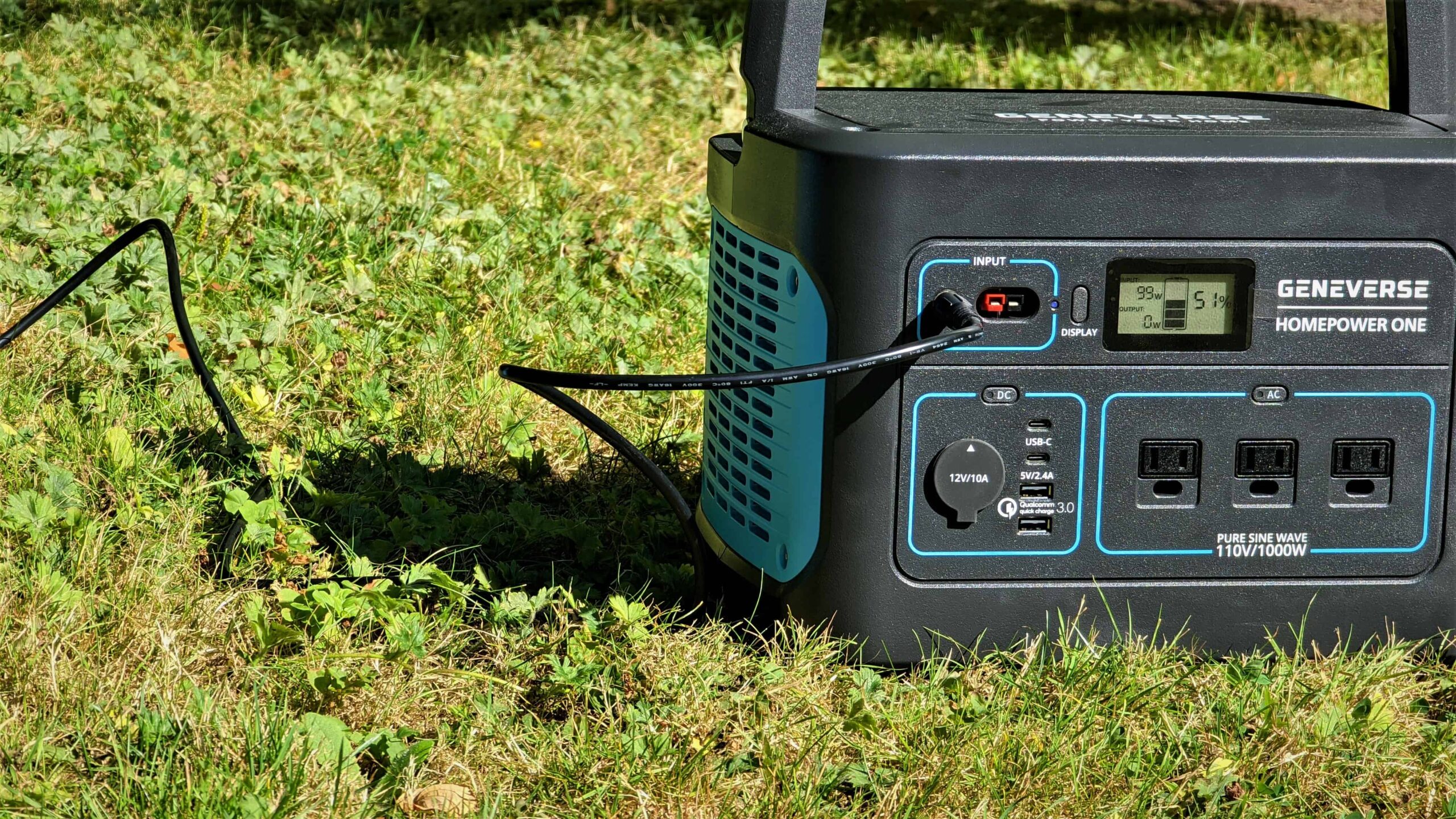 The HomePower one system comes in an attractively designed package; the battery power station and the solar panels look quite premium. The battery power station is black with bright blue sides and some blue highlights. The handle features rubberized material, which makes it quite easy to carry. The power station comes with an LCD display, showing the state of charge and the input and output levels. Being the data nerd that I am, I liked looking at how much power I was generating and how much power was being used.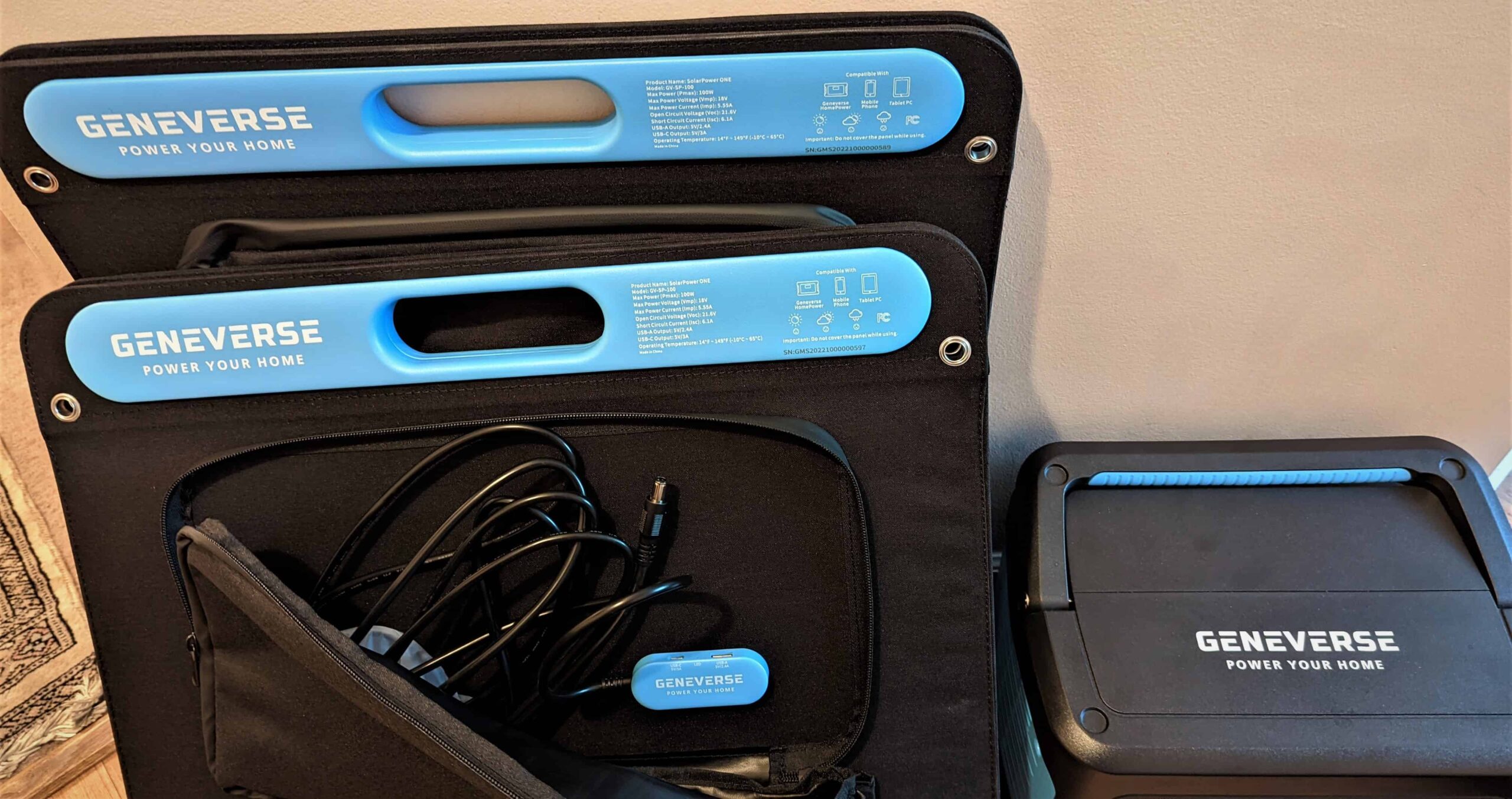 The solar panels also use the same black and blue color scheme. They are made of flexible material, making them great for transportation, but you shouldn't bend them just for fun because they're bendable. These panels come with magnets; when folded they clasp together and stay folded, which is another great feature. The panels come with foldable stands at the back, with Velcro to hold them in place when folded. Each panel comes with a zippered pouch in the back, which houses the wire to connect it to the battery power station and a USB-C and USB-A port to directly charge your phone or other small devices from the solar panel.
Geneverse HomePower One System Improvements
The Geneverse HomePower One System is quite a good system and there isn't too much I'd change. As I mentioned above, I would like a longer cable for the car charger or for Geneverse to include an additional longer cable charger.
Another thing I'd like is the inclusion of some material on how to take care of the battery. The ideal amount of charge/discharge and what level to charge it to when you're planning on storing it for a long time. Alternatively, Geneverse could include a QR code to a webpage that lists all the dos and don'ts of battery care. I don't think most people know how to properly care for a lithium-ion battery pack to make it last as long as possible.
Overall Thoughts on the Geneverse HomePower One System
Overall, I was impressed with the Geneverse HomePower One system. It has an attractive design, is compact, and is super easy to use. It should come in handy over the years as backup battery power for the occasional power outage and as a power device for when we go camping.
If you're in the market for a battery bank that also comes with solar panels, the Geneverse HopePower systems are a great option. Please visit the Geneverse official website for more information on the HomePower ONE and other Geneverse products.