Gamers, it's time to make a decision. The next big purchase you need to make will influence your gaming experience for years to come: a TV. That's right, no more playing on tiny laptop screens or squinting at your phone—it's time to upgrade and get yourself a big-screen TV.
But why should you choose a large screen? Well, for starters, bigger means better! With more space comes sharper graphics and superior picture quality. Plus, games like Fortnite and Call of Duty look amazing when played on big TVs with high refresh rates and superb sound systems. And let's not forget about the social aspect of gaming: now you can have your friends over for an epic game night and have plenty of fun!
Owning a big television also requires owning a modern TV stand. If you're a gamer or a movie lover, you know the importance of having the right equipment. And what better way to show your gaming prowess than with an extra-large TV stand? Sure, it might be a bit cumbersome and take up a lot of space in the living room, but that's why they make bigger houses!
We all understand that having a large TV stand is pretty much mandatory when it comes to gaming. It gives your setup more stability and prevents accidental slipping or falling off surfaces. Plus, let's face it – having a huge TV stand looks cool. The size of your stand should match the size of your gaming setup; after all, no one wants to be stuck playing on a tiny screen with a huge stand taking up the entire room.
But there are some downsides, too – it can be expensive, heavy, and difficult to move when you're ready for a change of scenery. Of course, that doesn't mean you shouldn't invest in one if you want to get the best gaming experience possible.
Ultimately, having an extra-large TV stand is a great way to show off your prized possessions and ensure your equipment remains safe and secure during game time. So, if you're looking for a way to up your gaming game and maximize your entertainment experience – look no further than an extra-large TV stand! It's guaranteed to take any setup from zero to hero in no time!
I have a 65" TV what Stand Should I Get?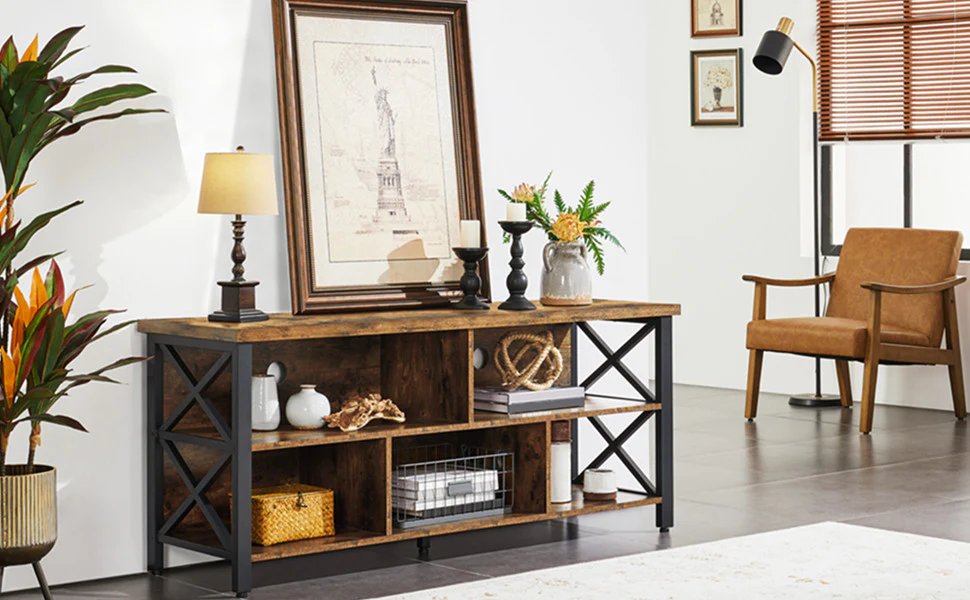 We recommend the Yaheetech TV Stand for TVs up to 65 Inch, priced at $174.99; the price includes two-day free shipping within the United States. If you order today, you can be gaming or watching the FIFA World Cup in no time.
The Yaheetech TV Stand comes in a stylish design with a large upper surface for the TV with five storage compartments below, which can house your PlayStation, Cable box, and other decorations. The Yaheetech TV stand is constructed out of 0.6" thick particleboard with metal sides. The TV stand measures 55" wide, 16" deep, and 24" tall. It's rated at a max weight capacity of 176 pounds, which is more than enough to hold a modern 65" television; thankfully, modern TVs are quite light.
Two compartments come with pre-drilled cable management holes, making your setup look cleaner and more professional. The Yaheetch TV stand comes in Grey or Rustic Brown finishes, and both designs look quite good. It's up to you to decide whether you want a modern look with the Grey finish or a warmer wholesome look with the rustic brown finish. The Yaheetech TV Stand is also available on amazon.com; click here to purchase.
About Yaheetech
Yaheetech is a cross-border e-commerce company established in 2003 with more than 500 employees worldwide. The company has 39 warehouses worldwide, providing a wide range of products with fast delivery to millions of customers in more than 10 countries, available on Amazon, Walmart, eBay, Wayfair, Wish, Cdiscount, ManoMano, OTTO, Rakuten, Real and more.