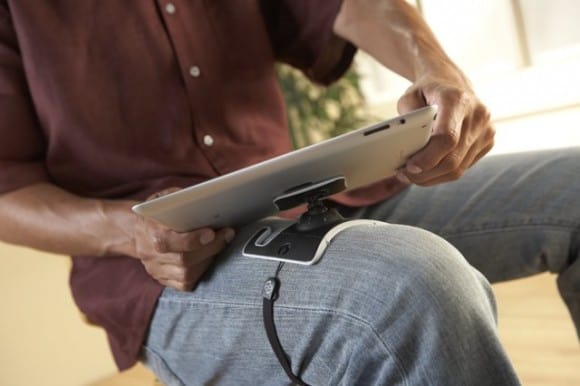 Most tablets users would agree that although these devices are portable and convenient, they can only be used comfortably if you are seated at a desk or when you use something else to support it against. If you let it rest on your lap for a long time, you can develop strain in your neck, a burning sensation between your shoulder blades or even a lower back pain.
Now there is good news for those who are hooked to their tablets and electronic devices. A unique, convenient and inexpensive accessory, Rocketfish PadPivot, is available where you can relax and enjoy your favorite device in style, comfort, and privacy. Strapped to your thigh or placed on a flat surface, you can use your tablet or mobile device whether you are at home, office, school, on a plane, or a bus. The flexible ball and socket attachment allows you to raise the tablet and gives you a flexible pivot to which you can position the tablet so you can use your device most comfortably within your own privacy. The full-fledged accessory can be folded and easily stored in your back pack or pocket.
Rocketfish PadPivot is compatible with most digital readers and tablets with a flat back. It attaches to the back of your device via a stick on grip plate. Simply remove the protective dust cover from the grip plate and stick the accessory to the back of your tablet. After your session is over, remove PadPivot and replace the dust cover over the grip plate.  Periodically clean the grip plate by rinsing it under warm tap water. Do not use solvents or paper products.
When seen clasped to your thigh, it is pretty much guaranteed to raise curiosity and that someone may ask, 'where did you get this?". Rocketfish PadPivot is available at Best Buy for $39.95.