GB Pockit Compact Stroller is the world's most compact and swift foldable stroller that gives you the ultimate freedom to get it anywhere with you as per to your utility and ease. It is your first priority to provide your kid the next level of comfort and luxury especially when you are going to take him or her out for a walk with you or for the outdoor visits. It is important for you to keep your little soul in the comfort zone so he will enjoy being out there in his comfort zone as well. Along with that you are provided with a facility to enjoy your outdoor life with your family and friends. Most of the time you are in great trouble with some kind of stubborn and heavy strollers that makes it difficult for you to cross roads, getting into market places or travel to the subways as well. This is due to their huge size, heavy weight and hard dimensions, but in GB Pockit Compact Stroller you are provided with some of great features that let you to have the next level utility and ease at your side all the time when you are out with your kid.
Ultimate Utility!
Traveling to subways, metro, shopping malls, narrow streets and even crowded places with your kid and the stroller is not a problem for you. With GB Pockit Compact Stroller you have the freedom to use it as per to your need and ease all the time. If you are walking on the road or somewhere in the garden you could have it open and make your little one ride into it. but, getting somewhere in rush or a surface that is not so suitable for strolling you can pack it up and carry with you just as a hand carry bag. It take just two steps to fold and unfold your stroller and get it all set to be used and carried away with you. It is simply an ultimate utility of course for you, no matter if you are out for shopping, movie picnic, walk or traveling to your friends place or office. You can easily carry your baby's stroller with you and could make its best use at the time of need as well.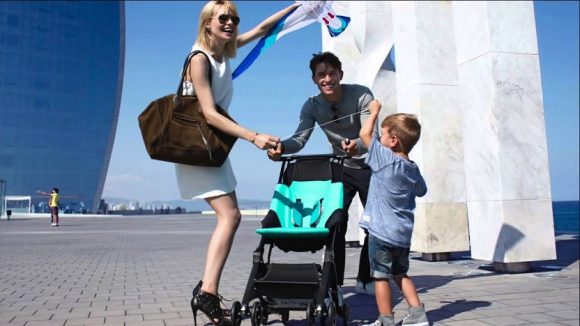 Lighter and better!
The best thing about GB Pockit Compact Stroller is its amazing light weight, whether you are using it a stroller or carrying it as a part of luggage. It is not a her material to handle, in fact it is lighter and smooth that only needs a little effort of yours. It is so fine folded and compact that you can carry it easily with your other stuff and even as a hand carry bag. Or if you are using it as stroller then it will be easy to move for you as you do not have to put so much of effort to make it move. Another thing that makes it a safer option for your kid is its lock system. All the folding joints get locked properly along with the front tyers so if you want to hold the stroller in a position then you can easily go for the option.
Comfortable and relaxing
Commonly the strollers you are using are made up of hard and raw material that are too heavy to handle and not so comfortable. GB Pockit Compact Stroller is not one of these; it comes with the best padding and comfortable technology that lets your kid to enjoy the best ride all the time. The padding of the stroller is soft but stable that provide a proper support to the kid and let him be stable with a comfort level. It never let your kid to be tired or irritated with the whole stroller thing. Most of the time your kid gets irritated form the stroller and do not like to be there because it is not comfortable but GB Pockit Compact Stroller is something that will make your kid fall into a love relationship.
Guinness World Record holder
The feature owned by GB Pockit Compact Stroller only is the Guinness Book of World Record title of being the most compact and light in weight stroller by the year 2014. There is not any other single stroller in the whole family that gets the title or could get it at all. All this is because of the ultimate features and qualities of the stroller and the amazing customer response it received worldwide.
Key Features!
The key features of GB Pockit Compact Stroller that make it exceptional out of rest are the following:
Feather light when folded

Ultra Compact

Easy two step folding

Durable

Simple storage and transport

Comfortable pads

Safe locks make it gripped and steady

Storage compartments to hold blankets and handy bottles

Light weight and durable material that is totally safe for kids

One hand push stroll, easy to handle
Ideal for young family!
GB Pockit Compact Stroller is an ideal product for the young and urban families that believe in keeping everything compact and instant. The design and features totally support all the needs and requirements of the swift and modern life style and gets fit into the remote routine of the young couples as well. For the young parents now it is not a major problem to handle their little kid along with the professional and other social activities. The stroller lets them to be a little modern and enjoy all of their activities and outings along with the kid in a happy mood as well. In fact you can easily bring the stroller anywhere if you are traveling aboard even it will be conveniently get fitted into your luggage and will not bother your with the weight and too much of space. It will be your step forward towards a better and easy lifestyle along with a better and safe traveling option for your youngest soul.