Buying a unique gift for your man can be challenging, especially when you want to get him something special that he'll treasure.
Most gifts are either dull or common. So what's the point of getting a gift if it's just going to end up collecting dust in the corner?
Well, a fire extinguisher mini bar is the perfect gift for a man. It's unique, cool, and most importantly, it's something that man can put in his man-cave to use and enjoy.
Also, he will love showing this firefighter gift to his friends and family and use it for years to come.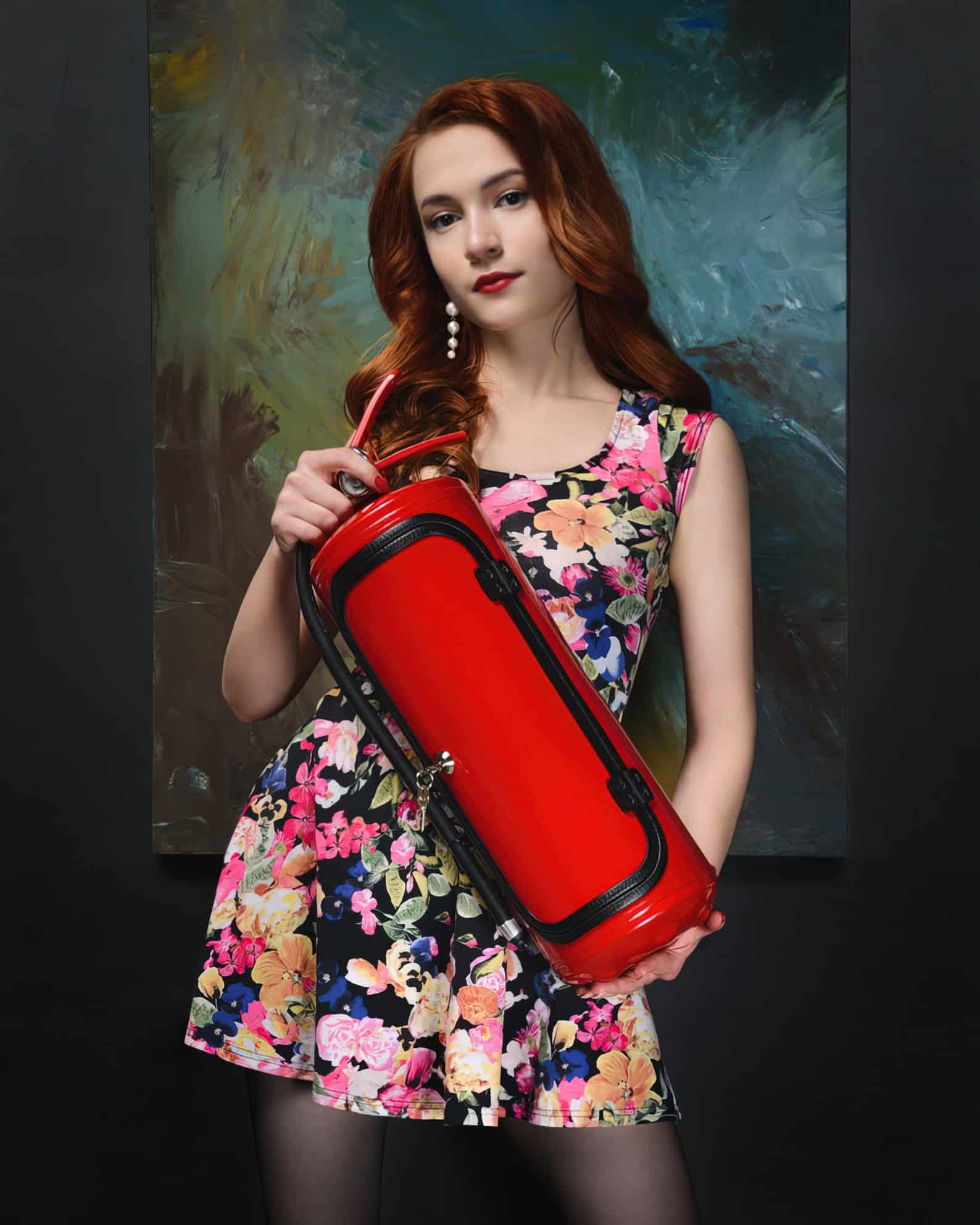 Imagine being able to offer your guests a drink from your very own extinguisher minibar. It would be the perfect way to show off your unique style.
Not to mention, it would make for great photos too.
So if you want to gift a bottle of whiskey or wine creatively, then a fire extinguisher mini bar should be on top of your list.
And to know more about this mini bar, how it works, and which liquors look fantastic on it, please keep on reading.
The Perfect Gift Idea for Everyone
A fire extinguisher mini bar is a gift that all types of drinkers will thank you for.
Not only does this gift appeal to those who enjoy making their drinks with friends, but it's also perfect for anyone who is throwing a party soon and looking for a fun gift idea.
Additionally, if you'd like to surprise a man with an extraordinary gift they'll love, then this mini-bar would be a perfect choice.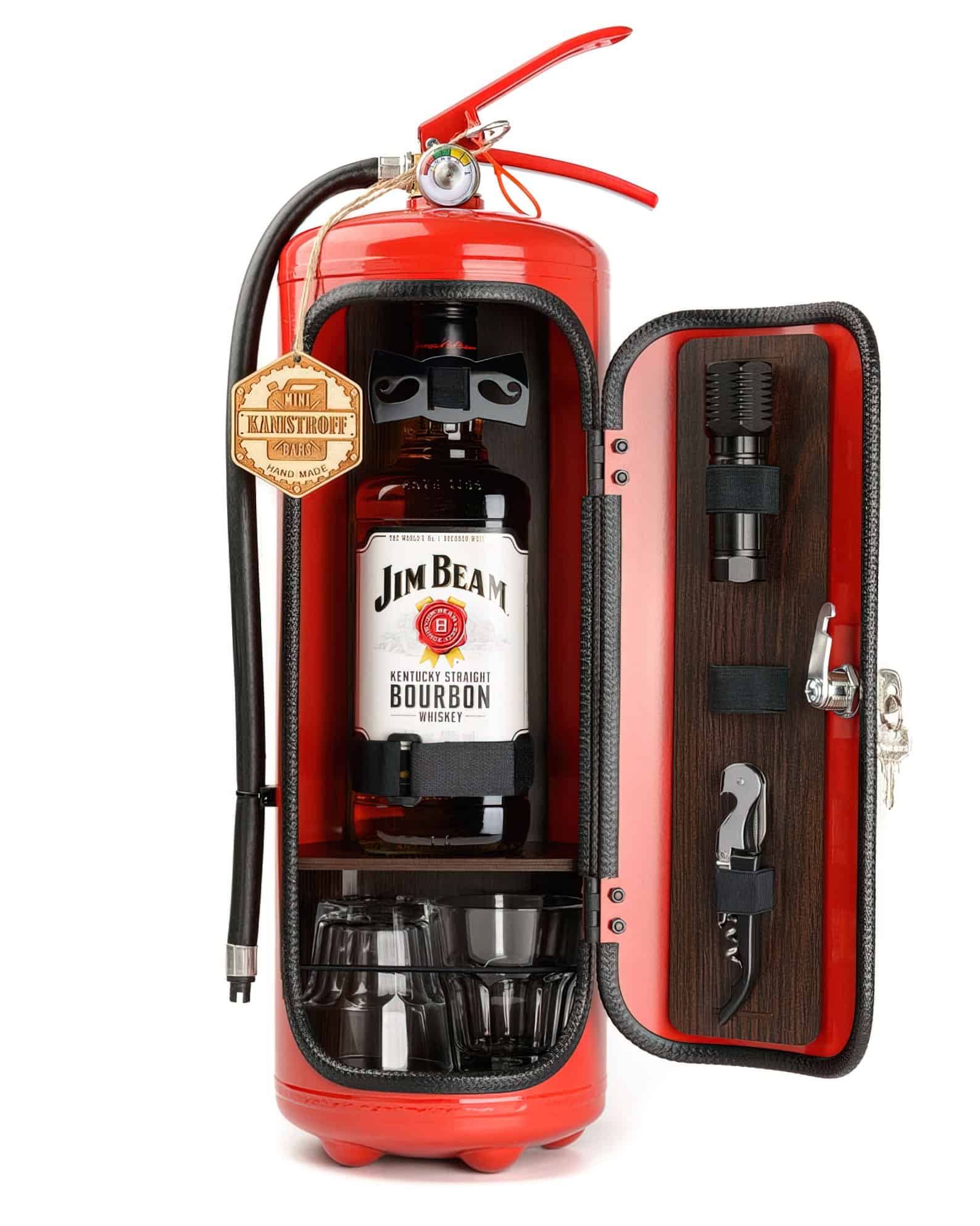 It enables them to have everything they need to make delicious cocktails at their fingertips.
There are just so many ways that the fire extinguisher mini bar makes drinking more effortless and more enjoyable for anyone who owns one.
So if you know someone who loves to mix drinks or throw parties, this is the perfect gift idea for them.
The 5 Best Liquor To Stock In Your Fire Extinguisher Mini-Bar
To have a well-stocked bar that everyone enjoys, it's essential to pick liquors that won't break the bank but will still appeal to your guests.
When picking liquors for a fire extinguisher mini bar, make sure they are attractive and appealing to all. Here are five of the best liquor brands to store in your mini-bar –
This iconic brand is a must-have in any bar. It is attractive to guests, easy to find at most liquor stores, and won't break the bank.
This brand will give you the same great taste at a lower cost than Jack Daniels. It is another liquor that your guests are sure to enjoy.
Captain Morgan is delicious for people who like spiced rum. The black label version also has quite a bit of bite so it will appeal more to advanced drinkers.
Tequila is always a crowd-pleaser, and very few may turn it down. When guests say they do not drink hard liquor or don't want to drink anymore, they still will like Jose Cuervo Tequila. It's a must-have in a fire extinguisher mini-bar.
This vodka is guaranteed to be a crowd-pleaser and goes great with all kinds of mixers. It also won't break the bank and has a high alcohol by volume (ABV), making it much more appealing.
Overall, it's up to you which liquor you want to store in your minibar. Just be sure to choose a liquor that you and your guests will enjoy.
Fire Extinguisher Mini bar is Great for Traveling
One of the many benefits of having a firefighter gift is that it's highly portable at only 1.32 pounds.
As a result, it ensures you can take your mini bar with you wherever you go and enjoy it anywhere.
Whether you want to share drinks with friends at a tailgate or surprise guests at your next party, all you have to do is carry your fire extinguisher mini-bar with you wherever you go.
It's also great for camping trips, vacations, weddings, and more
Not only that, but who knows what kind of fun drink ideas you or your guests may come up with using this mini-bar you have. The possibilities are endless for you.
Fire Extinguisher Mini Bar – Excellent for Guests
If you're throwing a party anytime soon, whether it's for friends at your house or just having some family over to celebrate a special occasion, then a fire extinguisher mini bar would be an excellent choice.
Not only will guests love the novelty of drinking from a firefighter gift, but they'll enjoy mixing multiple drinks and trying new flavors as well.
And because there is enough space on the bars to store liquor, mixers, and even glasses, everyone can make their favorite drink without worrying about running out of supplies quickly. In fact, most people who see this unique piece will likely want to try it out themselves.
So you'll have a whole crowd of happy drinkers – guaranteed.
Fire Extinguisher Mini Bar for Experienced and Advanced Drinkers
Experienced and advanced drinkers can also appreciate the design of your fire extinguisher mini bar.
While most people don't know that this piece is designed after an actual fire extinguisher, those who do see the fun novelty in it.
And with all the supplies you can fit on it, it's guaranteed to make making drinks much easier and more enjoyable.
Anyone who enjoys mixing multiple kinds of liquor with various mixers will be able to do so without any trouble using this unique gift idea.
Unique Gift Idea for Firefighters
If you know someone who works as a firefighter, this is also a great gift idea for them. And since the design originates after an actual fire extinguisher, chances are they'll be excited every time they see it sitting out because no one else will have a piece like it.
Since this unique mini bar is highly functional and turns into a beautiful decoration as well, they'll be able to use it every day as part of their kitchen décor.
Get your Fire Exhingusher Mini Bar Today
Overall, this firefighter gift is excellent for people who like novelty barware and want to start mixing drinks at home.
Also, it's a beautiful addition to any bar. It is small, easy to maintain, and portable.
It's a unique gift item for men, and men will surely love to get this mini bar. Also, it's even a conversation starter for those who see it.
So if you're looking for a fun new way to have fun with your friends or excitingly serve guests drinks, then the fire extinguisher mini bar is just for you.