Think of your favorite cosplayers. Those masters of cobbled-together clothing, EVA foam, and custom-built props take our favorite characters (some beautiful, some grotesque) and bring them into stunning in-person reality. Who among them could pull off the best Misty from Pokemon or Tifa Lockhart from Final Fantasy, then fly around the world with a flawless Dimitrescu look from Resident Evil Village, and return home and become a gender-bent Isaac from Dead Space?
Who is designing and building their own costumes, has become a mainstay of conventions, is hosting video game streams on Twitch, and does modeling to top it all off? The name that comes to mind is Danielle DeNicola. Don't believe me?
Take a trip over to her Instagram or watch one of her streams, and you'll see how this talented woman of many faces and many costumes is doing what she loves and earning a hefty living doing it. With fans around the world clamoring for more and jet-setting around the globe to attend more conventions, it seems like Danielle has no off switch. The acclaimed cosplayer/video game streamer/model/costume-maker/photographer, who is currently preparing to return to GalaxyCon in Columbus, Ohio, this December, loves to hustle, as you can probably tell.
Most recently, she took a two-week trip to Japan, and in a few week's time, she will attend GalaxyCon, a three-day event celebrating "Comic Books, Pop Culture, Sci-Fi, Fantasy, Anime, Gaming, Cosplay, and more!" where Danielle will appear in costume. She's put the call out to her followers to suggest the costume they'd most like to see, and we can't wait to see what she comes up with this time! From Armageddon Expo in New Zealand to events like Geekfest and PAX East in cities around the world, this woman never stops moving.
But, believe it or not, Danielle wasn't always interested in cosplay. Cosplay (aka costume play), the art of wearing costumes and accessories to transform into a character, is often a staple of fan conventions that feature panels of actors, artists, experts, and (above all) fans gathered together to celebrate what they love. Danielle grew up in a traditional Italian household in New York. And for years, she'd dress up to play, but it didn't go beyond that.
She watched anime, played video games like Halo, and watched Saturday morning cartoons. Little did she know, her passion for gaming and other properties like Dragon Ball Z and Avatar: The Last Airbender was fueling something deep inside her that is now the basis for a decade of her celebrated work.
At first, stepping out of her traditional box, she started writing articles and game guides on gameskinny.com. There, she was celebrated for writing an article on cosplay that brought in over 120,000 views! But still, for much of her time there, she saw herself as a writer, not a performer. It wasn't until 2013, when a friend asked her to do a partner costume, that something ignited within her. Like the seductive, nine-and-a-half-foot-tall Countess Dimitrescu, designing and wearing costumes might have seemed daunting at first, but she couldn't turn away.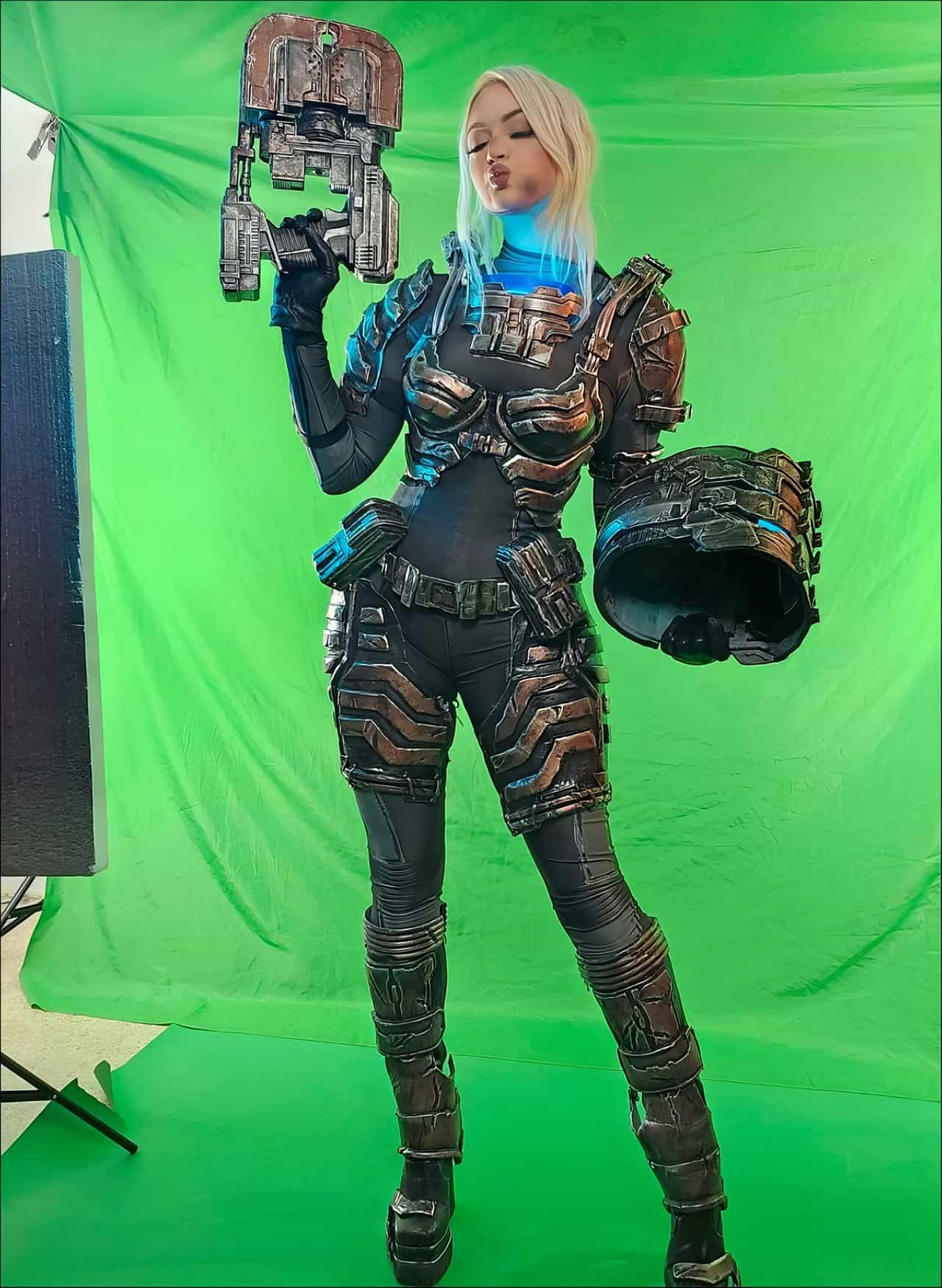 And when fans realized that she was designing the costumes herself (turning herself into characters from countless fandoms and across so many genres), her following grew. This past May, when another streamer's audience members saw her in costume as her female version of Isaac (the engineer turned Necromorph slayer from the Dead Space games, shown at the top of this article), they voted her their favorite and crowned her as the winner of the cosplay contest, the first contest she'd ever even entered.
What started as a fun hobby started to attract photographers, too. And soon, she wasn't just attending conventions as a guest. With partners like Acer Predator gaming PCs and HyperX gaming gear, she was becoming a phenomenon.
Hosting panels and cosplay contests became part of a flourishing full-time gig for her, where she now balances cosplaying, modeling, Twitch streaming (check out her latest vid where she swings into PS5 exclusive Marvel's Spider-man 2), photography, and (of course) costume making.
And, now that she's moved to Los Angeles and is attending events and conventions around the world, this content creator is getting paid to do what she loves. With brand deals and worldwide work, she signed with Arsenic Agency, an artistic collective that is aiding her blossoming career to reach even greater heights (now nearly 700k Twitter followers, over 633k Instagram followers, and 31k Twitch followers).
She took what some might see as a hobby or side hustle and is earning a bunch of money doing it. But, more importantly, she's inspiring others with her creativity and getting them excited about their favorite characters in new ways. Don't miss her at GalaxyCon!