The difference between a custom-built PC and a pre-built PC can go anywhere between 20-35% in terms of cost as well as performance. It may sound less, but it's huge. Basically, you end up paying 30% extra for a PC that performs 30% slower than the cheaper one.
Since you're here, I shall assume that you're looking for websites or apps that can help you build a computer. However, there are two ways to build a PC: one is to order from reputed custom PC builders, and the other one is to use PC Part Picker websites like PC Brim & PC-Builder.io, etc.
I prefer the latter, i.e., picking my own parts, ordering individual parts from reputed vendors like Amazon, eBay, NewEgg, BestBuy, etc, and assembling them. It might seem like a lot, but it's totally worth it. It is not only cost-effective compared to buying a custom PC, but knowing where the parts are helps you know your PC deeply, which helps you save a lot of time while troubleshooting issues in the future.
Below, I've listed down both the types of sites, the sites that sell custom-built PCs, as well as the sites that allow you to pick individual parts, check for compatibility, and order parts from reputed vendors.
1. Best PC Builder: PC Brim (FOR DIY Builders)
If you're interested in picking your own PC parts and assembling your own computer, then PC Brim should be your go-to website. It works like magic. This PC builder not only helps you pick different PC parts and check for compatibility but also has a blog section that helps you with the installation of different PC parts and, in some cases, reviews of the latest PC hardware.
The PC Builder tool, however, is the key highlight of this website and allows you to browse through a large list of components, check their compatibility, and add all of them to your Amazon cart in just a single click. When I tried it out, it streamlined the entire PC buying experience right at one platform instead of navigating from one website to another.
User Interface and Design
PC Brim provides the perfect blend of beauty and performance. The website has a very clean UI and a color scheme that doesn't take a toll on your retina! In terms of the User Experience, I'd rate it pretty high because it's got everything – all the filters, all the ratings, and even compatibility in just one place.
Another thing I love about PC Brim is that I don't have to check the components from here and manually add them to my cart, as the website does that for me! Lastly, I love how responsive this website is – as I started off by building my PC on my desktop browser but had to leave for work. However, when I tried it on my iPhone, it still maintained that neat layout where everything was easily accessible. I was very impressed by this!
Features
All PC Parts included.
Latest PC Parts database.
Share your Builds on social media.
Best-in-class PC part compatibility checking.
Clean UI, helpful UX.
Here's how you can build a PC using PC Brim:
Let me now tell you about the highlight of this website: their PC builder feature. As I have pointed out earlier, one of the biggest problems that people face when it comes to assembling their own custom PCs is that they have to jump from one website to another and finally end up at Amazon to manually add all the parts to their cart. PC Brim takes care of all of that by bringing everything under this one umbrella.
Another rookie mistake that a lot of people tend to make is that they get different parts together but end up with incompatible hardware. For instance, there are some motherboards that may not support some kinds of CPUs or GPUs. Similarly, your power supply also needs to be at par with the processors you are getting.
There's a unique compatibility checker feature on PC Brim that will warn you in case there's some incongruence in the hardware you're purchasing. The website also highlights certain additional things you might want to check before you buy the accessories, such as the pin types, etc.
After I tried it out, I shared it with my uncle, who comes from a non-tech background and is in his mid-50s. What truly amazed me was the fact that Uncle Jeff was able to assemble his own PC without any hiccups. This is so easy to use! Do note that this is the same man who keeps forgetting his Instagram password, and the solution to most of his tech problems is generally, 'Have you tried turning it on and off again.' Bonus points to you, dear reader, if you get the IT Crowd reference here.
Another really cool PC Brim feature that I loved was that there were certain pre-built combinations featured and chosen by the website. These are pre-built PCs, which you can straight up click and buy, in case you do not want to spend too much time deciding which components you want. This not only makes the PC-building experience simpler but also ensures users feel a part of a larger community.
In case you're building a PC for someone else (we all have our own version of Uncle Greg, don't we), you can add all the components you believe they'll need and send them a sharable link, and they'll get everything in one place! Lastly, the filters that PC Brim uses are magnificent. Don't want a certain brand to appear? Filter it out. Don't want to exceed a certain price point? Filter it out. Don't want to see components below a 4-star rating on Amazon? Filter it out. PC Brim will make you a master builder in no time!
Product Range
The range of products, as well as brands available on the PC Brim platform, will never cease to amaze me. They've got everything you need, from essentials such as CPU, Motherboard, RAM, GPU, Monitor, and Storage to a large variety of Power Supply Units and PC cases, as well as coolers – for both the case as well as the CPU.
They even take care of the peripherals and the accessories: keyboard, mouse, headphones, webcam – everything that you'd need along with your PC. Lastly, if you think they're only about the hardware, you might be mistaken. The website also takes care of the OS that you'd install in your newly assembled PC. Want to add multiple RAMs or Storage devices? Don't fret; PC Brim has your back on this as well.
The variety of brands that they've listed is also impressive. You get CPUs from both Intel and AMD, and you get to filter them on the basis of Microarchitecture as well as core family. The website goes into a great level of detail when it comes to the filtering aspect, giving you multiple options so that you can hyper-locate THE hardware that you desire (and deserve!)
Similarly, when it comes to GPUs, you've got every brand ranging from MSI and ASUS to Gigabyte and XFX, among others. You've got RAMs ranging from a measly 1 GB all the way to 128 GB, as well as a very wide variety of storage options. PC Brim has got everything you need.
Pricing and Availability
When it comes to the pricing, the website has got you covered. Firstly, the accuracy of the pricing information. Amazon (and other web stores) often tend to increase or decrease the price of their products based on offers and sales promotions that they run. PC Brim ensures that you always get to see the latest price that's on offer. What you see is, in fact, what you get.
Secondly, in terms of the price range, you get options from across different price points. From the most expensive components out there to the cheapest ones that you can use, you can easily sort them based on their price and choose as per your budget and preference.
Another important factor here is that you can view the availability of the product on Amazon straight up on the PC Brim website itself. If there's a product that's out of stock, you'd know right away. There's no risk of adding everything to the cart and then realizing there's an out-of-stock product on your list and coming back to go through the list of products again.
User Reviews and Ratings
When it comes to making a purchase decision regarding PC Parts (or actually quite anything online), the rating system is very important. PC Brim ensures that you can view the ratings as well as user reviews right here.
You can also choose to filter out low-rated products and see only certain star ratings and above. This gives you access to only the best options out there.
Blog and Guides
Other than offering you one of the best PC builder tools out there, the PC Brim website also carries a list of blogs and guides that can be of great use to users looking forward to building a new PC. These blogs cover everything from the likes of 'best GPUs under $500' to answers to questions like 'Which way do PC fans blow?'. There are some things that sound rather simple, but there are many nuances to it that we don't often think of. These guides and blogs provide a detailed answer to those questions.
Customer Support
PC Brim is by no means the only website that offers you PC-building features. However, what gives it a clean win over many others out there is the presence of active customer support.
Whether you have any problems using the feature itself or want expert guidance from pro builders, the website's got you covered. A feature such as this builds user trust and helps guide you in the right direction with advice from experts. This also assures you that this isn't just some automated website, but there are actual PC experts behind it!
Is PC Brim Worth Using?
As the website says, 'Click and Pick until the parts stick!' Much like this tagline, the process of building your PC here is also pretty smooth. Whether you're a pro gamer or an absolute beginner (Cough! Uncle Jeff, I'm looking at you), PC Brim not only makes it easy to pick parts but also provides the most trusted and highly-rated products where you have access to only the best options out there. I'd highly recommend this website.
2. Best Custom Builder: PC Builder & Part Picker Pro
This website looks similar to PCBrim but has a different data set; it also has its own iOS & Android app, which syncs great with their website. I generally use this website whenever I'm traveling and have to build a PC on the go. The website is really well-designed, and the apps are really smooth; I was able to make builds, browse PC builds, and even save my builds. And all of them synced so well.
All you need to do here is select the components that you require and choose the products in each of these categories. You get a whole list of components, such as the CPU, GPU, CPU Cooler, RAM, Storage, etc., over here.
You are provided with a list of key indicators about each product. For instance, you'll get the core count, core clock speed, boost clock speed, TDP, Integrated Graphics, and simultaneous multithreading options while choosing a CPU. Basically, it gives you everything you might require to make a decision under one umbrella.
Key Features:
Compatibility Checking (95% Accuracy)
App Support (iOS & Android supported)
Best-in-class UI & UX
Large product database (around 65000+ products)
Large vendor support.
Offers API for B2B requirements ($700/month)
Among one of their key features is the ability to tell you whether all the products that you have selected are compatible with each other. This makes the process foolproof, ensuring that there's no chance of a mismatch and that all your components work seamlessly with each other. This is a feature which I found pretty neat on a personal level.
Another cool feature that PC Builder & Part Picker Pro offers is the ability to save your build, as well as share it with friends and family and on social media. There are custom links that you would be given, which you can share across social media platforms like Reddit, etc. Want to brag about your rights as a master builder? This is exactly how you do it!
Once you're done adding all the products to the list, the PC Builder & Part Picker Pro app gives you the ability to buy everything all at once instead of going to Amazon and adding each of these products manually. You can just check out in one click and get all your parts delivered to your doorstep.
If you aren't really comfortable with building a PC on your own and might need some assistance, you might actually want to check out this other section where the Expert Builders have listed their builds. These are pre-assembled units with all the components already in place, and you can order them straight up. These are trusted options, too, as they have been compiled by people who hold quite an authority in this domain.
User Experience:
Coming to this section, I really want to highlight the fact that even as a first-timer on this app, I faced absolutely no hiccups when it came to assembling a PC. You can be a pro-builder, or you could be a first-timer; this app has got you covered on all fronts! The UI is very smooth, and it is very easy to navigate. All in all a pretty decent option for those specifically looking for a mobile app for building PCs.
3. Best For RDY Pre-Built PC: iBuyPower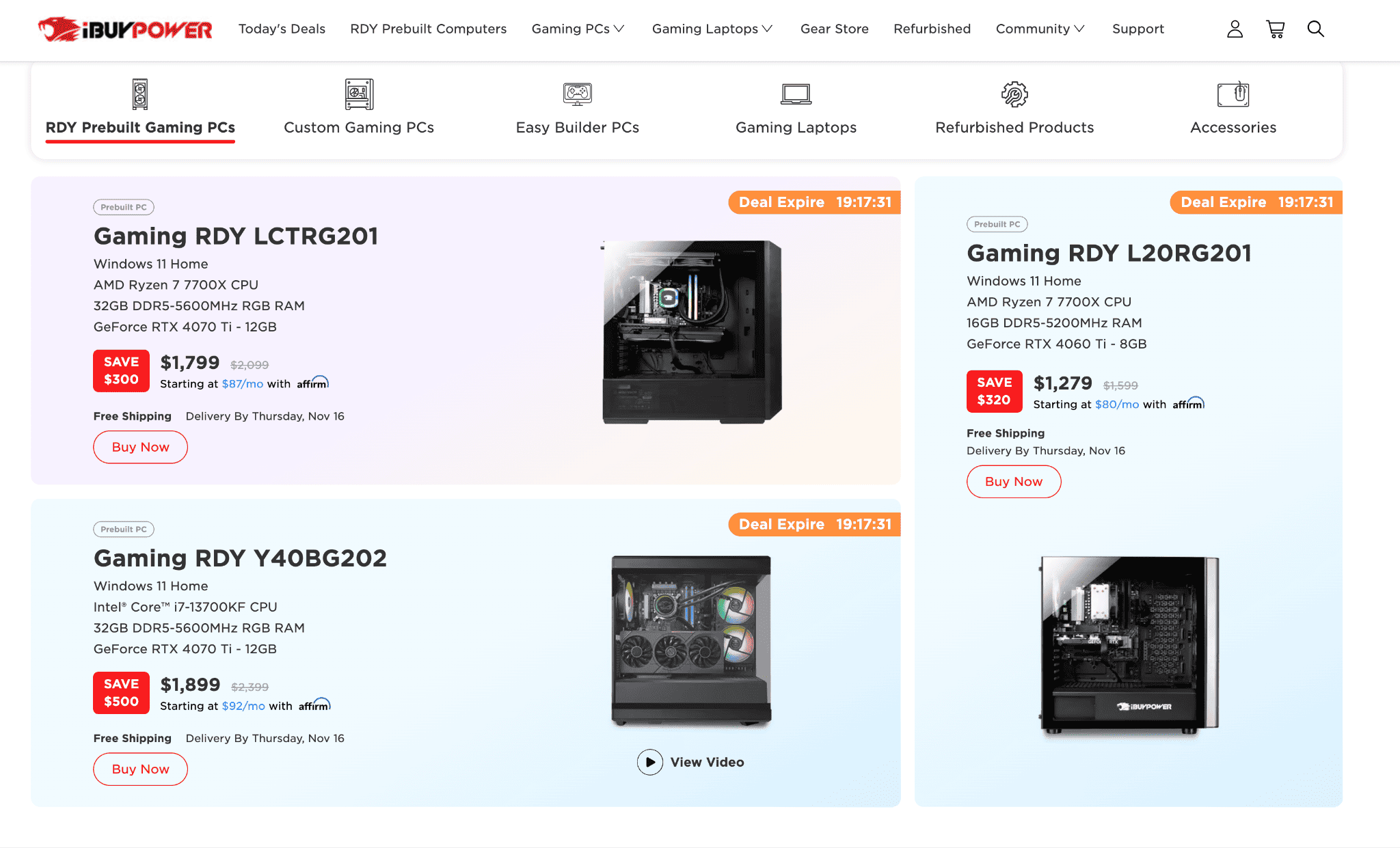 iBuyPower is among one of the best options out there for people who are looking forward to building custom PCs. However, this website is even more special for those who are looking forward to building Gaming PCs, as there's a special focus on that aspect.
The website has a ton of pre-built PCs, as well as options for you to customize them and truly make them your own. If you're a gamer looking forward to building a gaming PC, iBuyPower should be your go-to website!
Key Features:
Among the highlights of iBuyPower is the availability of a large number of pre-built PCs. The website caters largely to an audience that is interested in hardcore gaming, and some of the best gaming PCs have already been configured by them. You can even check the compatibility of these PCs with the game that you want to play with it. This will make sure that you're only shown those PCs that are compatible with your games.
One of the key highlights of iBuyPower is the fact that the website allows you to set a budget and operate within the same. The budget filter will also show you pre-built custom PCs that will suit your needs the best within your budget!
iBuyPower actually has very good customer support, which is really impressive. The website has options to contact them via phone, email, and chat. It also allows you to track your orders, get all the drivers that are required, as well as provide their own special warranty services.
Another interesting aspect here is the fact that they have a special section for refurbished products, which you can get hold of in case you don't want to spend a bomb on new components.
User Experience:
In terms of user experience, the website is pretty smooth. First-time users might tend to get lost here as there are just way too many things happening on the home page. However, once you navigate to the other sections, browsing the website becomes easier for you. Do note that if you are looking for a gaming PC, this is totally the website for you.
4. Best For Pre-built Custom PCs: CyberPowerPC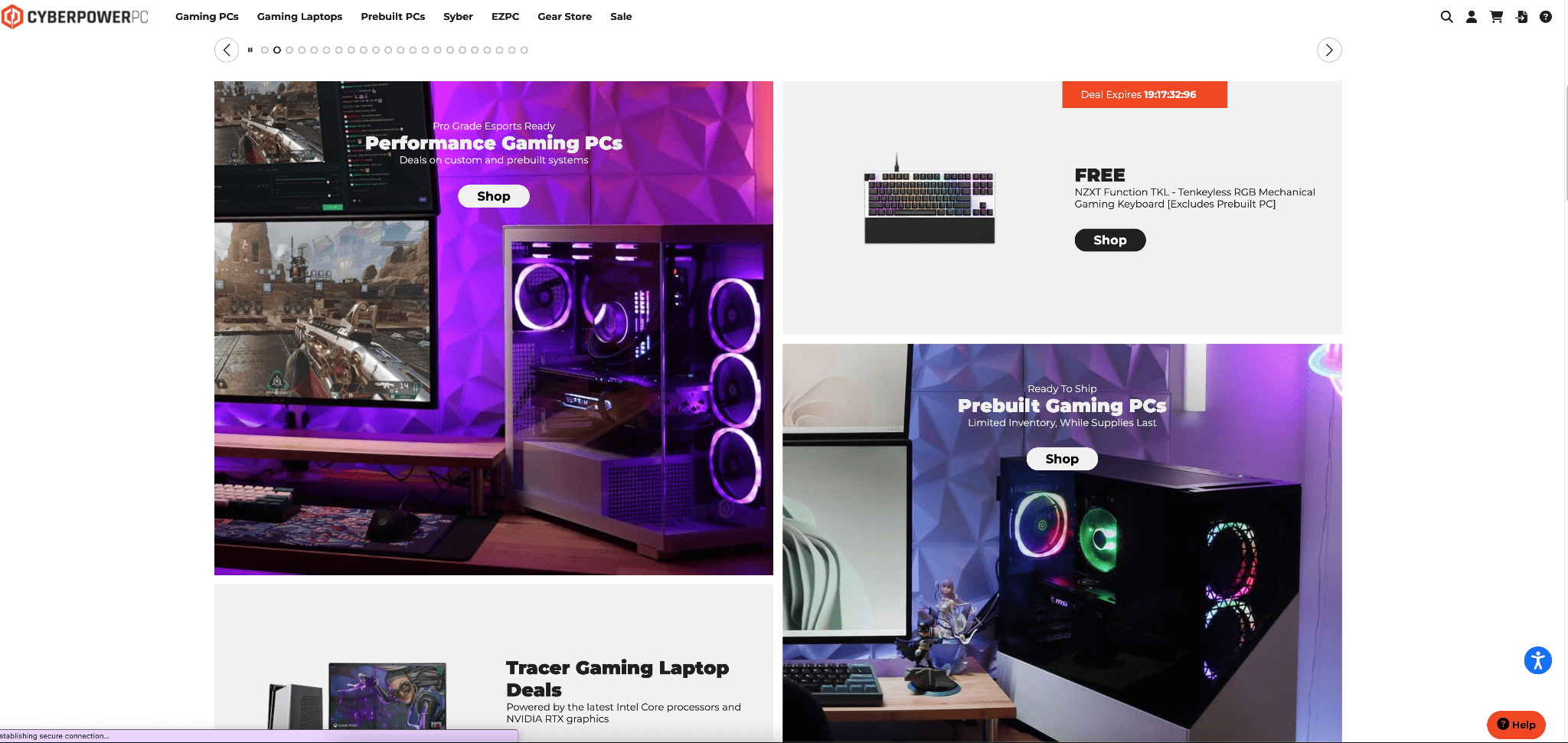 CyberPower PC is another PC builder website that you can try out if you need a power-packed machine. They have a tool called 'EZPC,' which allows you to easily customize your PC. The process here is very simple, and this, too, is a great option for those who are looking forward to assembling a gaming PC. The website offers you options to set up both – a gaming desktop as well as a gaming laptop, the latter being a category that many PC builder websites and apps tend to ignore.
Key Features:
The budgeting option is present on this website as well, allowing you to ensure you're not burning a hole through your wallet and that you stick to a budget.
There's also an option in the EZPC section where you can choose an 'Instant PC' that promises a 2-day delivery. You can get your custom-built PC up and running in only a matter of 2 days!
As I pointed out earlier, the focus is not just on building a desktop, but CyberPowerPC also gives you the option to build a custom PC in the form of a gaming laptop!
User Experience:
The user experience at CyberPowerPC is really incredible. You just have to click the buttons that pop up and keep selecting the various options – starting with the choice between a desktop and a laptop, followed by setting up the budget, followed by choosing the processor, and lastly, selecting the games you want to play (as well as the resolution you want to play them on). Based on this, CyberPowerPC will give you multiple combinations to build your own PC.
The website claims it takes only 5 steps and can be done within a minute! Do try it out.
5. BLD by NZXT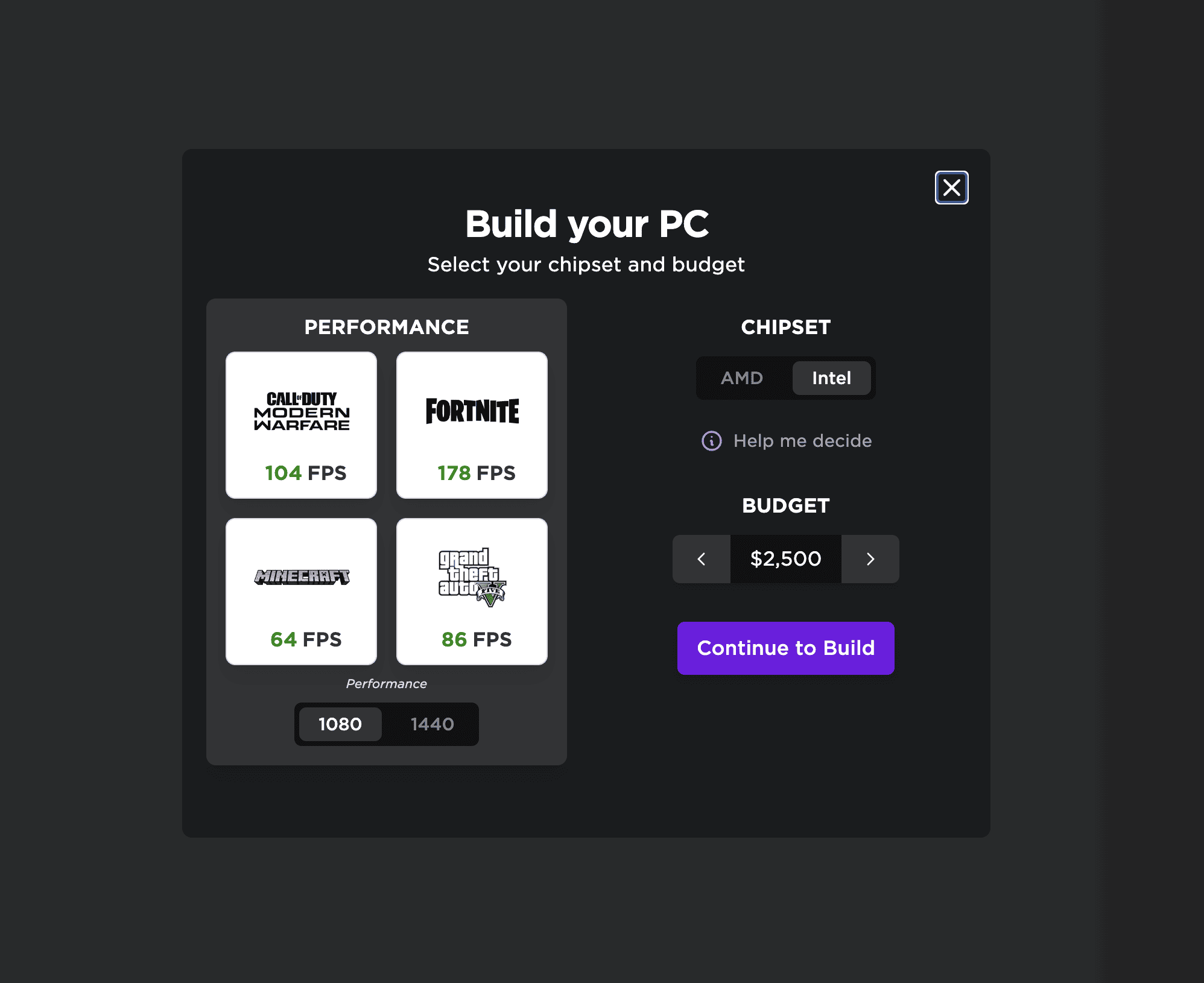 BLD by NZXT is one of the most visually appealing places you can log on to build your PC. The website specializes in gaming PCs and offers you a large range of combinations. Here, you can set your performance based on the frame rates, set a budget, and start building your PC.
Key Features:
The website has 8 base variables that you can choose and assemble: The CPU, GPU, Cooling, Motherboard, RAM, Storage, Power Supply, and the case. You get a lot of options here, and the attention to detail is pretty impressive as they have multiple options, even when it comes to the color of the case.
Other than the base components, you can choose from add-ons as well. These include the monitor, custom lighting, the OS, etc. In case you're a pro gamer who's looking to get custom-made matching keyboard and mouse combinations that reflect your personality and your own color scheme, BLD has got you covered for that as well. There's a separate section where you can customize your keyboards, too.
You can also save your custom builds on this website by creating an account. You can later log on and load them to continue building your PC from where you left off. There's also an option to share a custom build where you can configure a PC for others and share the link with them.
There's also a special 2-year warranty, which covers all the parts as well as the labor, giving you complete peace of mind when you buy your custom PC from BLD.
User Experience:
All said and done, be it the color scheme or the smooth and easy-flowing process to build the PC, BLD by NZXT has got you covered on all fronts. From customizing your gaming machine to the all-immersive gaming experience by getting the perfect lighting, as well as a custom keyboard and mouse, it takes care of all your gaming needs.
6. Best For Deals: Origin PC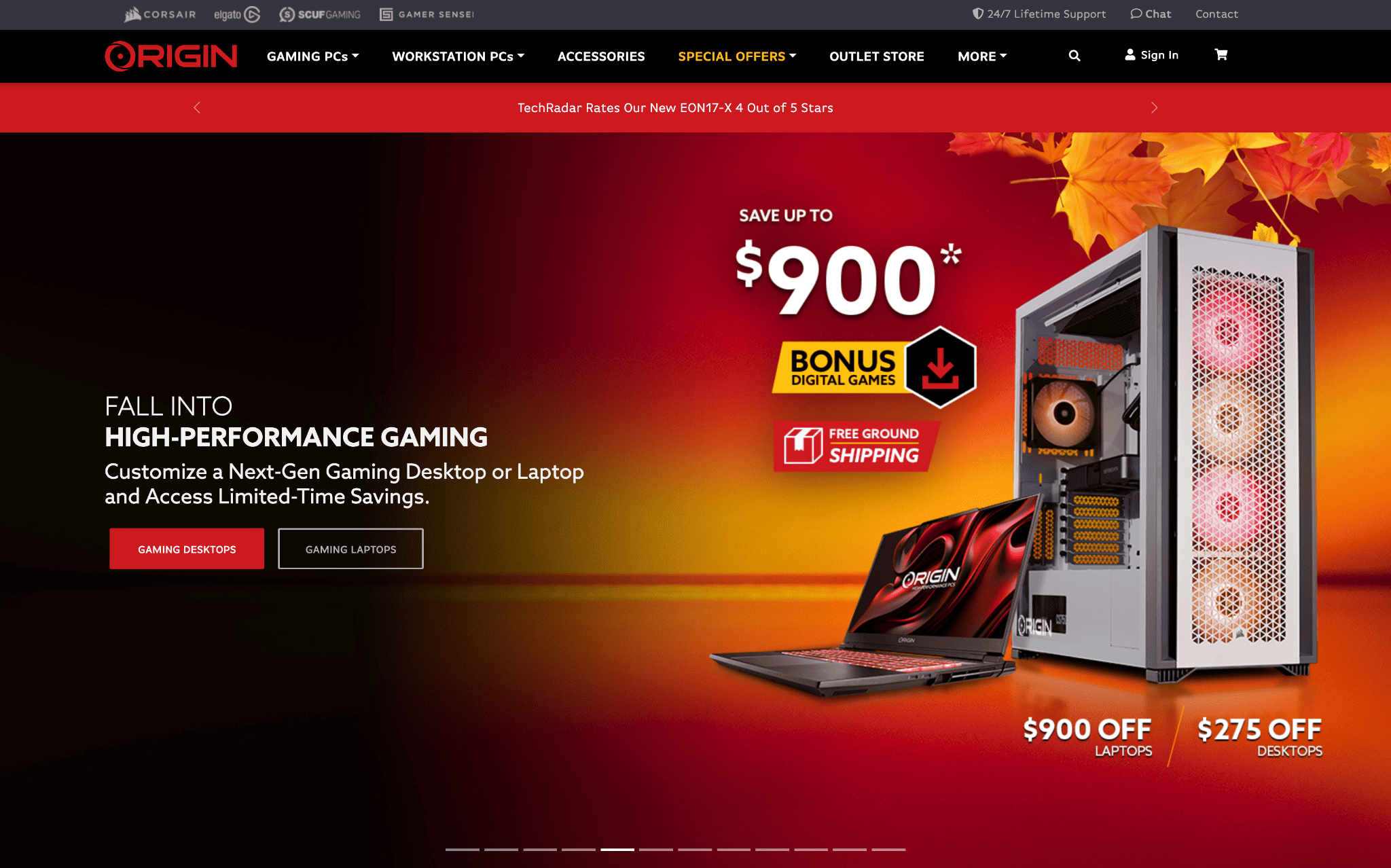 Origin PC is one of the larger sharks in the business when it comes to offering assembled and custom PCs. They have a section called 'Configure your System' where you can choose between various options and get a custom-built PC for yourself. This, too, primarily caters to the gaming audience but offers a solution for anyone who requires a power-packed PC.
Key Features:
First up, I love the fact that Origin offers solutions not only for a gaming PC but also for workstations. There are lots of options under both categories – from gaming desktops to laptops and from workstation desktops and laptops to entire Nvidia studio setups. It's got something for all kinds of users. Origin also has a special option for corporations and governments!
Origin also offers a lot of deals and discounts from time to time. There's always an offer running on some of the products that they have to offer! Besides that, Origin also provides financing options where you can get a PC instantly but pay for it in installments over the months.
From gaming keyboards and mice to headsets, media card readers, and speakers, origin has a special section for accessories, where over 20 categories of products are on sale and can be bought alongside your custom PC. This is the one-stop shop for all your PC solutions.
User Experience:
In terms of the overall user experience, the first thing that I'd like to comment on is the fact that the Origin website, despite carrying everything that it needs to, is a little cluttered. A first-time user can easily get lost in the labyrinth of hyperlinks and move from page to page before they reach the option where they can create their own custom-configured PC.
That aside, when it comes down to the actual customization part, there's no denying that Origin is the 'big daddy' in the game, just by the sheer number of options you get!
7. Best For AI PC Building: Newegg PC Builder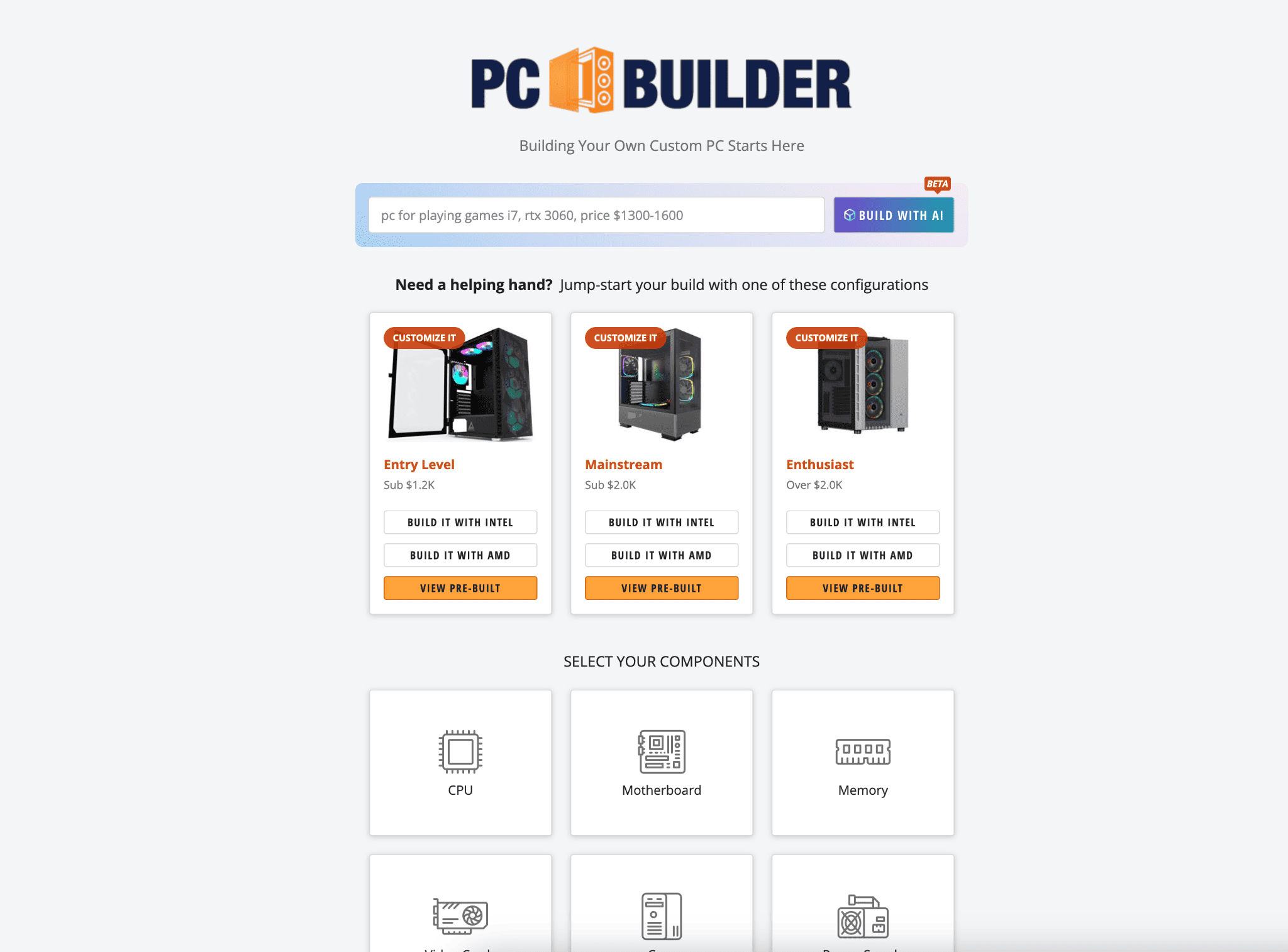 Newegg is one of the bigger names when it comes to e-retail, specifically buying PCs and Laptops, as well as accessories. They offer all things electronics, including TVs, smartphones, and even drones! The website is also a hub for furniture and sporting goods. However, one thing that often gets overshadowed amid all this excitement is their custom PC builder. When I logged on to their PC building tool, I was pleasantly surprised.
Key Features:
Newegg's custom PC builder offers three options at first based on the kind of needs you have – Entry Level, Mainstream, or Enthusiast. You can choose to build these PCs using Intel or AMD. It is based on these choices that your configuration and budget will be decided. There are also options to view multiple pre-built PCs in each of these three categories.
There are 9 customizable elements under each type of PC: The CPU, Motherboard, Memory, Video Cards, Case, Power Supply, Storage, Cooler, and OS. As you select them one by one, you'll be met with a list of features that will help you determine the component that you should be buying.
There are also multiple sorting options available in each of these components. For instance, when it comes to CPUs, you can choose to sort them either by star rating or by no. of cores, clock speed, memory, etc. This way, you can decide which option you should be going for.
Lastly, another cool feature of Newegg's custom PC builder tool is that of 'compare.' It allows you to easily add two products and check them stat by stat, which will help you determine exactly how one product is different from the other and which one suits your needs the best.
User Experience:
Newegg offers you everything – from a bicycle to a gaming laptop. However, their custom PC builder should not be taken lightly! It is actually one of the better UIs out there when it comes to PC builder websites. It's quick, not too complex, and shows you a lot of options at one glance while giving you detailed information about all of them. I am personally very impressed and would strongly recommend you to check it out.
8. Best with Community Support: PCPartPicker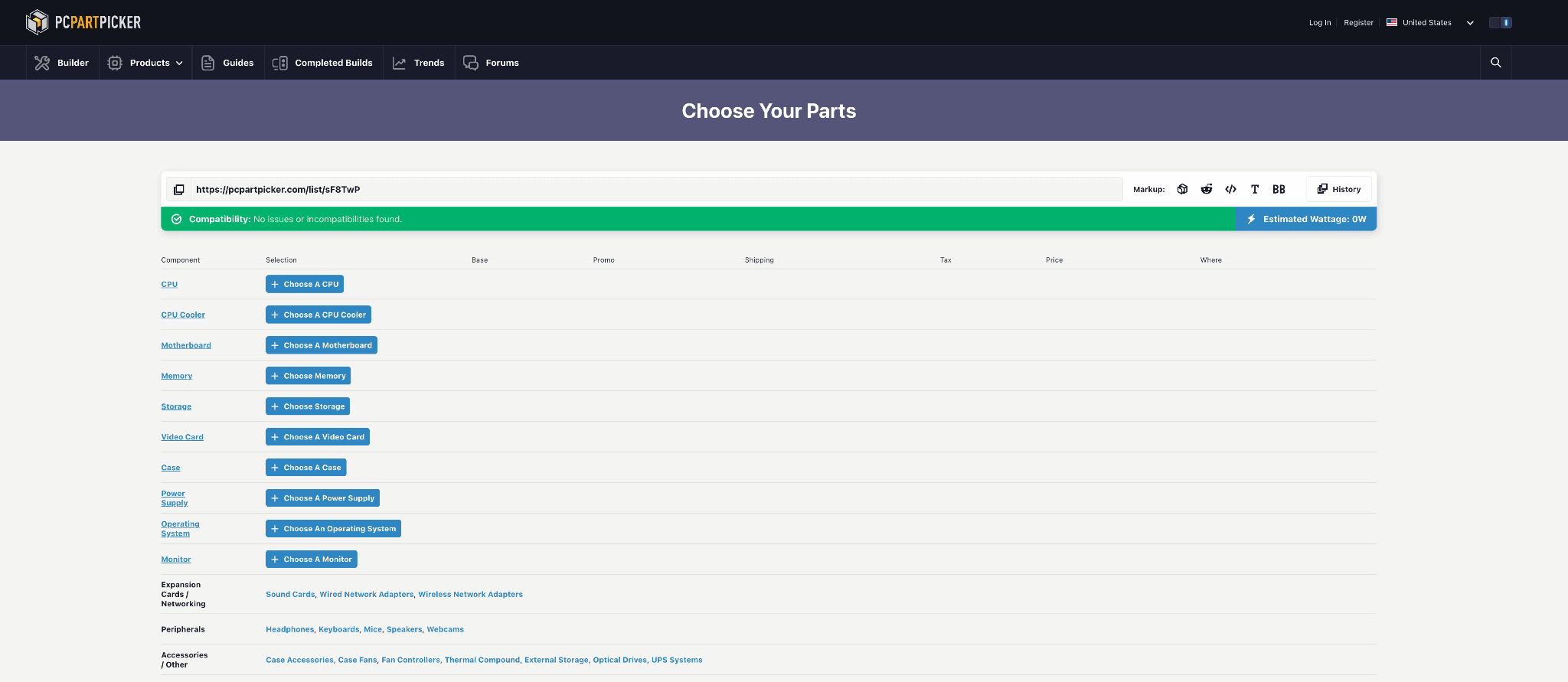 PC Part Picker is old-school. It is a simple website for a lot of complex needs. The moment you open it, the website tells you in a big, bold font: 'Pick Parts. Build Your PC. Compare and Share.' It sums up pretty much everything this website does. The moment you hit the Start button on the website, you're taken to a screen where you can customize your PC. We love the minimalism on display here. Plain and simple PC-building without any added frills.
Key Features:
The moment you start adding your components, the PC Part Picker website shows you all the details (such as the base price, promo and discounts, shipping, taxes, etc) in the same place. There are 10 major components, as well as expansions, accessories, and peripherals, that you can buy from here.
Once you have picked your components, you also get some notes from the website that tell you about the compatibility details, as well as some converters or other important accessories you might need to operate these components.
PC Part Picker also gives you the option to share the list of components that you have created with friends and family. If you've got an Uncle Jeff of your own, this feature can help you solve their problems with ease!
User Experience:
As I pointed out earlier, the website is pretty minimalistic and easy to navigate. I also love the fact that it gives you multiple pricing details (including the shipping costs) in just one glance. Furthermore, if you doubt yourself when it comes to building a PC from scratch, you can also browse through the set of 'completed builds' that the website offers. Pretty neat option for those who want a clean and simple method of building their PC.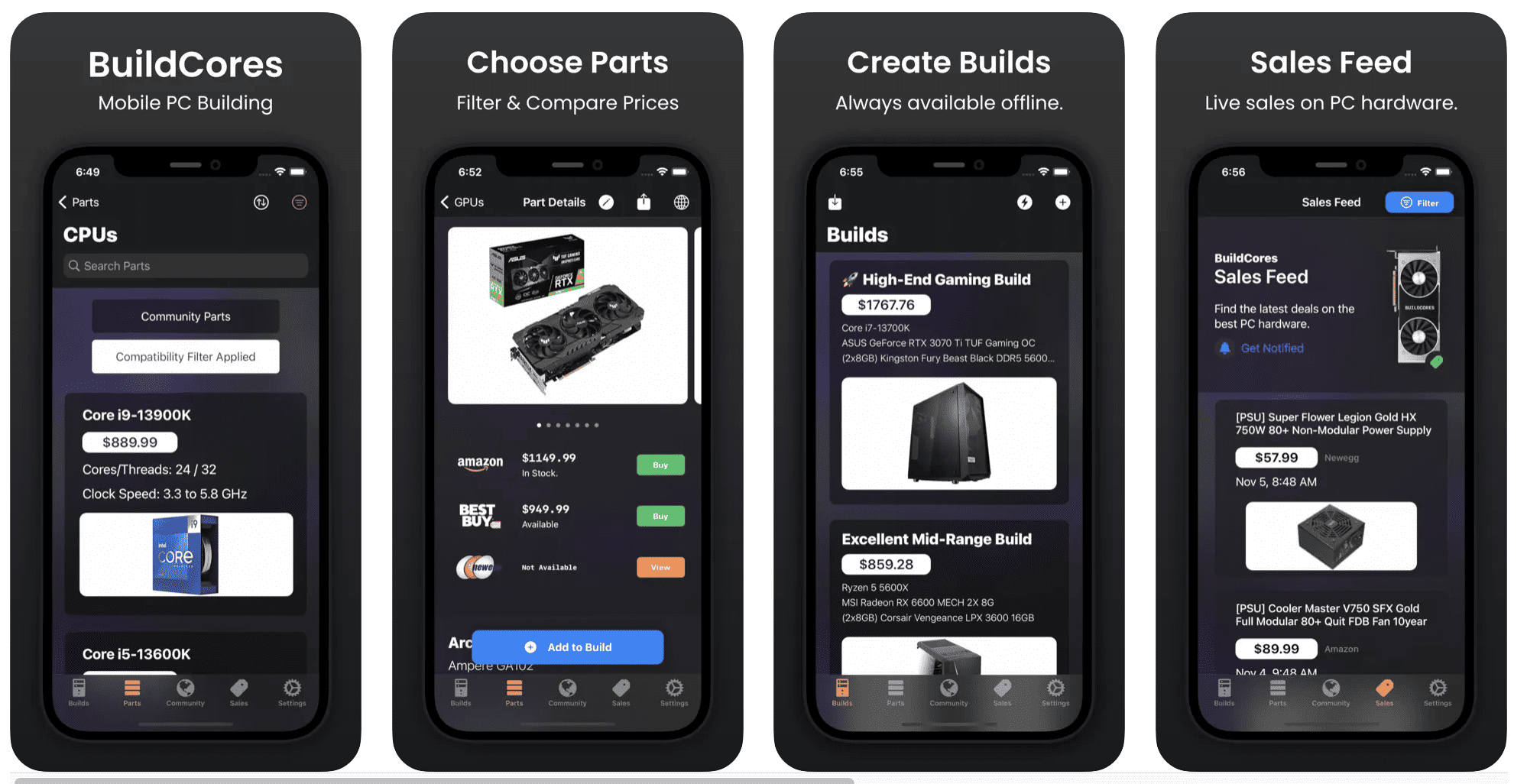 After going through a bunch of websites, we're back at an app! BuildCores is another solution that you might want to try out if you're building your custom PC. However, the app offers just the bare-bones solution to build a PC; don't expect anything that's too fancy from this one. But when it comes to getting the job done, this is a pretty good mobile app.
Key Features:
One of the best features of BuilCores that really impressed me was the fact that it allows you to pick components for your PC and then compare their prices across Amazon, Walmart, NewEgg, and other platforms. This way, you can buy from the place which offers the best discounts.
Another feature that we see across many PC-building websites is present here as well – the compatibility checker. It will make sure that once you've picked various components, they work in harmony with each other. In case there's some discrepancy, the app will notify you.
The app also shows you benchmarks for CPU and GPU – giving you the exact data on your selected component's performance. The CPU benchmarks are from 3DMark and Cinebench, and the GPU Benchmarks are from 3DMark and Passmark.
User Experience:
The app has pretty much everything you'd ask from it except a good UI. It's somewhat old-school and clunky when it comes to visual appeal. However, for the hardcore PC builder, it also offers the ability to save builds, as well as share individual parts or entire builds via Reddit. It even allows you to build a table format that is designed specifically for Reddit's Build A PC community. All in all, nothing spectacular, but certainly worth a shot.
When it comes to customizations, Build My PC is, hands down, one of the best options for you out there. I was quite surprised to see the amount of customization options that this website carries. There are over 20 types of components that you can include and change based on your needs and preferences. This is extremely simple to use, too!
Key Features:
While most websites are developed keeping the US/UK/Canada regions in mind, Build My PC actually has a country filter where you can choose your country and order components based on local availability. This is a big plus for people outside the US/UK/Canada region. The website even shows the price of the components in your local currency.
Apart from the 'System Builder' tool, there's also an option for you to explore some pre-built PCs. The website offers Gaming PCs, All-in-One (AIO) devices, as well as budget PCs as an option. Furthermore, if you don't want to build a desktop and are looking forward to buying pre-built laptops, you can also find them here.
Lastly, there's the ability to share your build online with friends and family. This makes it pretty useful for those who want to build PCs but for other users' needs.
User Experience:
In terms of user experience, I'd rate the compatibility feature here pretty highly. It is present right at the top, and in case of any mismatch, it gives out an alert to the user – immediately letting them know that the components are unlikely to work well with each other. I also love the user interface of the website, which has a very no-nonsense approach to it, making the navigation really easy even for a first-time user.
FAQs About PC Builder Websites & Apps
Conclusion
I spent quite a bit of my time researching these websites and another bit preparing this list for you. However, nothing beats the joy of going through different websites and exploring different options when it comes to building a custom PC. To be able to get exactly what you want out of a PC! Ah, that's just sheer joy. I hope this list helps you build your dream PC.