Are you captivated by the fiery and bodacious character of Mad Moxxi from the Borderlands series? Do you find yourself dreaming about recreating her look for your upcoming cosplay event? As a committed cosplayer, I found myself in the same boat.
Completely smitten by her charm, I decided to dig deep and explore every little detail that contributes to this vivacious Pandora's queen look – right down to her iconic red tailcoat.
This blog post is your ultimate guide for transforming into Mad Moxxi herself! We'll delve into costume selection, accessorizing, makeup application, and hair styling with clear step-by-step instructions.
Ready to morph into this fabulous figure? Let's get started!
Key Takeaways
Mad Moxxi is a fun and bold character from the Borderlands game. Her look includes a red tailcoat, fingerless gloves, and a top hat.
Makeup for Cosplay involves dark purple eyeshadow, black liner with wings, and bright red lipstick. Brown loose curls complete the look.
Acting like Mad Moxxi makes your cosplay seem real. Learn how she talks and moves from the game series to feel more like her.
You can choose between buying or making a Mad Moxxi costume based on what you prefer. Each option has its own pros and cons to consider before deciding.
Table of Contents
Who is Mad Moxxi?
Mad Moxxi is a key player in the Borderlands series. People know her for her love of fun and danger. She also has a fond liking for nice things. She runs fights in the Underdome and owns many drinks spots in Pandora, a land from the game series.
Moxxi has had lots of lovers and ties. This gives her big power over others. But she is not only about charm; Moxxi is also a mom to Scooter and Ellie, who fix cars in the games.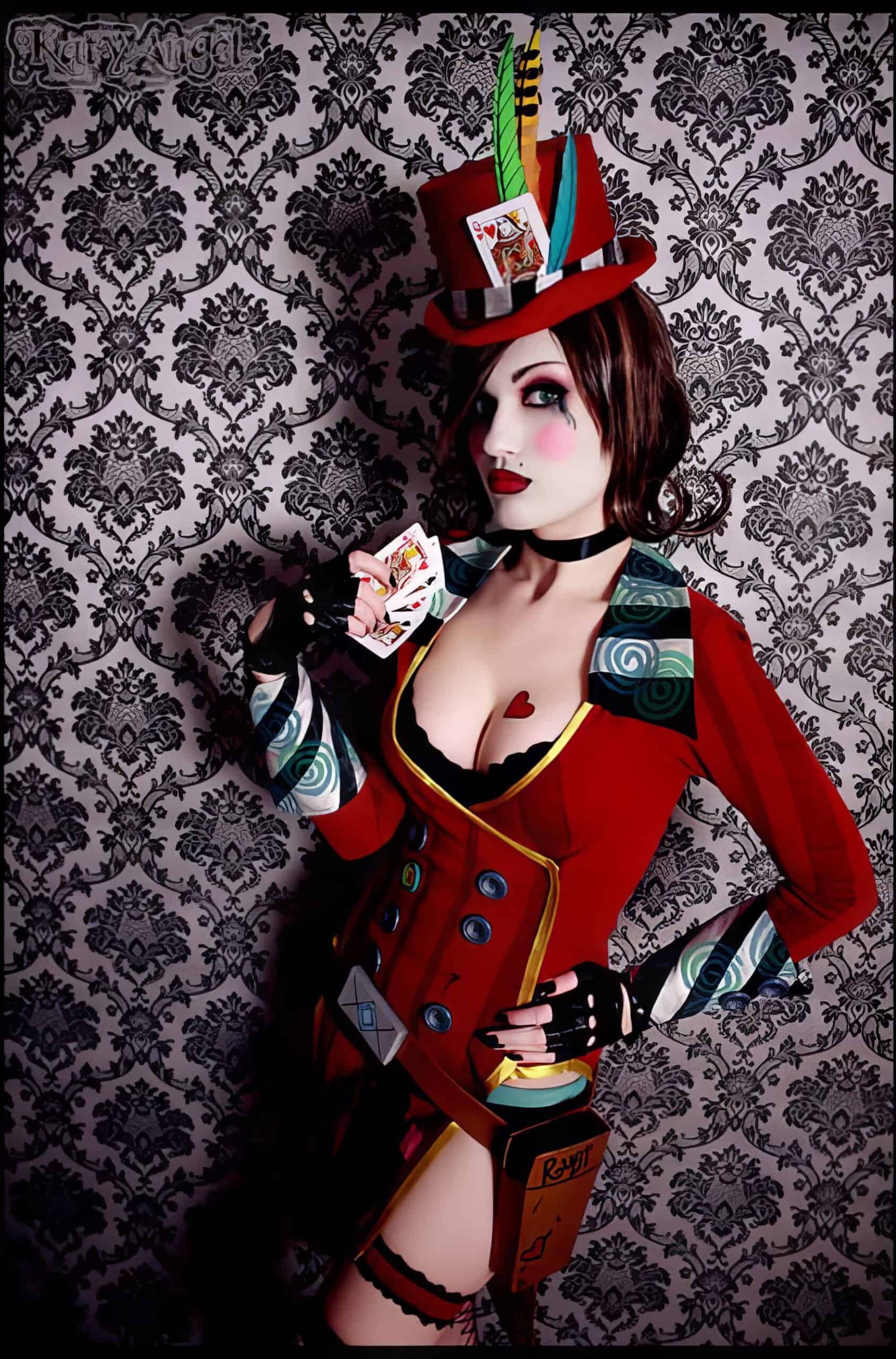 What really makes Moxxi shine? Her look! Mad Moxxi wears heavy makeup on her face that gives off a funny clown vibe. She also rocks shoulder-brush brown curls, which wave out at the tips.
To cosplayers, dressing as Mad Moxxi feels almost as cool as role-playing Lara Croft!
Steps to Create Your Mad Moxxi Cosplay
To create your Mad Moxxi cosplay, start by picking out the right costume – a sexy red tailcoat, strapless dress, and knee-high boots from the Borderlands series. Accessorize appropriately with items like fingerless gloves, a megaphone bullhorn toy gun, and an over-the-top hat.
Give some attention to hair styling; brown hair in loose curls would be perfect for this character. Perfecting your makeup look is key! Follow makeup tutorials that emphasize dramatic eyes and bold lips common to Mad Moxxi fanart sexy art.
Remember, gender-bent cosplay can add an interesting twist to original costumes, too!
Choosing the Right Costume
It's fun to pick the right costume for your Mad Moxxi cosplay. Here are some tips:
Look at pictures of Mad Moxxi from the Borderlands series.
Choose a sexy Mad Moxxi cosplay that fits your size and style.
The outfit usually has a red tailcoat, fingerless gloves, and a top hat.
The ProCosplay online shop has many options and is ready to ship.
You can buy an original costume or make your own with key items like a megaphone and knee-high boots.
Check the customer fit guide for an exact fit.
Use the sizing chart to find the perfect outfit.
Think about picking up accessories like toy guns with soft bullets.
Accessorizing
Adding the right items can bring your Mad Moxxi cosplay to life. Here is a list of things you need:
Belt: A belt made from leather sets off the whole look.
Gloves: Fingerless gloves are a must-have for any Mad Moxxi costume.
Stockings: You'll also want some thigh-high stockings to go with your outfit.
Bag: Don't forget a small bag to carry your things while you're showing off your cosplay!
Boots and Shoes: Finish off the look with some knee-high boots or shoes that match your costume.
Care Instructions: Keep in mind how to take care of your costume—hand wash and remove metal accessories before cleaning.
Makeup and Hair Styling
Let's talk about makeup and hair styling for Mad Moxxi cosplay. First, give your face a clean base with foundation. Make sure to pick a shade that matches your skin. Second, apply bright red lipstick. Mad Moxxi has full and bold lips. Third, create a pointed black liner on your upper lid and under the eye with wings at the edge. This gives a sexy cat-eye look! Fourth, use dark purple eyeshadow on your eyelids up to the crease line. This brings out the color in her Borderlands outfit.
Tips for a Stunning Mad Moxxi Cosplay
Mastering Mad Moxxi's fabulous look involves paying close attention to details and practicing the character's persona for an authentic representation. Let's dive into how you can perfect your cosplay game with the tips I'll be sharing next.
Paying Attention to Detail
Small things make a big difference in cosplay. For a perfect Mad Moxxi look, you need to pay close attention to details. Look at her costume from Borderlands 2 or Borderlands 3. Notice the fingerless gloves? The knee-high boots? Every tiny part of her outfit counts.
Use the right colors, too. Her red tailcoat and purple outfit cannot be missed! Also, don't forget about character accessories like her top hat and megaphone. They help bring your sexy Mad Moxxi cosplay to life.
Make sure your makeup matches Mad Moxxi's as well. A good makeup tutorial can help with this. It will teach you how to get that sexy Mad Moxxi art look just right!
Lastly, take care of your costume once it's done! Hand wash it and let it air dry, as advised by ProCosplay customer service on their page.
Getting every detail right may seem hard, but keep going! Your effort will shine through in your final look.
Practicing Characterization
Acting like Mad Moxxi is a big part of cosplay. Study how she talks and moves in the Borderlands series. This will help you feel like her. Watch videos or play the games again to really get it down.
Talk with her sass and walk with her grace at all times during your cosplay event or photoshoot. Practice makes perfect! Show off your best Mad Moxxi look by bringing her character to life.
Buying vs Making Your Mad Moxxi Cosplay
Navigating the debate between buying or creating your Mad Moxxi cosplay, this section tackles the pros and cons of each option, giving you an informed choice. Curious about it? Keep reading!
Pros and Cons
As a cosplayer looking to pull off a successful Mad Moxxi cosplay, it's important to weigh the pros and cons of buying versus making your own costume. Here's a table to help you compare:
| Pros | Cons |
| --- | --- |
| You have the option to buy a pre-made Mad Moxxi cosplay costume. This takes a lot of the work out of the process and gives you more time to focus on other aspects of your cosplay. | Buying a pre-made costume may not give you the same sense of achievement and authenticity as making your own would. It's more likely to be one-size-fits-all and may not fit you as perfectly as a custom-made version would. |
| Many costumes come with customization options. This allows you to tweak the design to better suit your personal style and preference. | Customization options may be limited depending on where you're buying from. You may not be able to get the exact style or fit you're looking for. |
| Some sellers also offer the option to purchase matching boots and shoes along with the costume, which can save you the trouble of finding a pair on your own. | Boots and shoes may not always be included and could lead to extra costs. The style and size might not match your preference or fit you perfectly. |
| You usually get information on processing and shipping times, so you can plan your events accordingly. | Shipping times can be unpredictable, especially if you're ordering from overseas. Delays could mean not having your costume in time for your event. |
| There's often an option to return or exchange an order within 7 days if the costume doesn't meet your expectations or fit properly. | Policies can vary and sometimes, you might not be able to return or exchange the costume if the sizes are incorrect or if there are any quality issues. |
Remember, the choice between buying and making your own Mad Moxxi cosplay costume ultimately comes down to your personal preference, skills, and the amount of time you have.
Ready to Cosplay Mad Moxxi?
Creating a Mad Moxxi cosplay can be fun and exciting. Follow this guide and show off your unique style. Be bold, feel great, and let the world see your stunning Mad Moxxi look!
FAQs About Mad Moxxi Cosplay
Who is Mad Moxxi in the Borderlands series?
Mad Moxxi is a character from the video game Borderlands series who is known for her purple outfit and role as hostess of Underdome.
What does Mad Moxxi's cosplay costume include?
A typical Mad Moxxi Cosplay Costume includes a red tailcoat, strapless dress, fingerless gloves, knee-high boots, and a top hat. Some also have an optional megaphone accessory.
Can I make my own sexy Mad Moxxi fanart or cosplay at home?
Yes! Following makeup tutorials and using tips on character portrayal can help anyone create their racy rendition of Mad Moxxi's outfit with brown hair styling and knee-high boots.
Is there any way to size costumes properly?
Refer to sizing charts for measurements like height, chest, waist, arm length, and weight when ordering your Cosplay costumes online so they fit right!
What should one be careful about while dressing up as characters like Scooter or Ellie?
Whether it's alternate character cosplays like Scooter or Ellie from the same game series or gender-bent versions, thematic elements paired with accurate accessories are key to pulling off any look!
Are there places where I can buy pre-made Borderlands 1 & 2 Character Costumes?
Yes! There are many stores that offer video game cosplay, including those from popular games like Borderlands' Mad Moxxi outfits.