I've never read The Walking Dead comic books but I'm a huge fan of the TV show on AMC, it's at the top of the list of my favorite TV shows.  Although the second season doesn't have as much action as the first one, I still wait eagerly until the next episode.  Now we can take our love for the show to the next level with the Walking Dead Action Figures Set Series 1 with 6" tall action figures.
The action figure set comes with four figures; two good guys and two zombies.  Obviously the set would not be as cool without officer Rick Grimes who comes complete with his police uniform and his signature cowboy hat.  The Rick Grimes action figure also comes with a duffel bag full of removable shotguns and 20 points of articulation.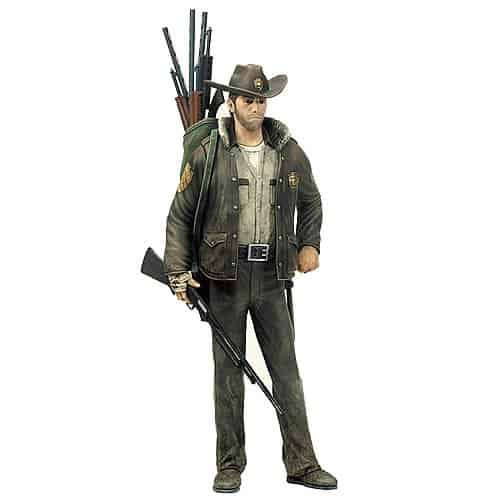 Up next is Michonne figure, I'm not familiar with this figure because this character is taken from the comic book, issue #19.  The Michonne action figure comes with a katana sword, pliers, hammer, power drill, and a spoon and has 22 points of articulation.  Hopefully Michonne makes it to the TV show, she sounds like a bad ass!  She would make for a perfect partner with Daryl Dixon.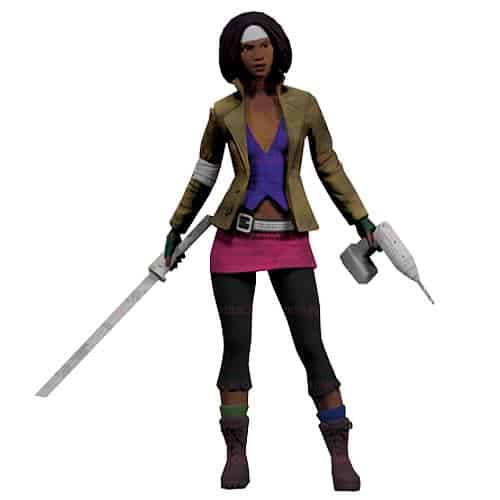 On the walking dead front we get a Zombie Lurker that splits apart at the waist exposing all the nasty/gooey zombie goodness and splits into a legless crawler.  The arms can be removed and the head splits at the jaw, giving you a good look at the dead muscles, bones, and blood.
The fourth action figure in the Walking Dead action figure set is a Zombie Roamer, which comes with a splitting head that exposes zombie brains and gooey blood.  This figure comes with a removable axe stuck in its head and breakable arms with exposed bones and muscles.
The Walking Dead Series 1 Action Figure Set is sure to keep you occupied for hours and the best part is you don't have to worry about getting bitten and turning into a mindless "walker".
Buy It: $54.99