Don't have a dishwasher at your place? Or perhaps you don't use it often because it takes a few days before you have enough dishes to make good use of it and have a full-load? Whatever your situation, the Tetra dishwasher is a smart solution for many people. The dishwasher requires no plumbing, sits on your countertop, and only needs to be plugged into a standard electrical outlet.
The Tetra has a much smaller capacity than your average dishwasher capable of accommodating two full place settings, or 10 plates, or 12 pint glasses. The Tetra was designed to have a small capacity on purpose because the average household has 2.58 people while the average dishwasher has the capacity to hold 13 plate settings or more. This results in most people hand-washing their few dirty dishes and end up wasting 10 times more water than using a dishwashwer. Or they wait for the dishwasher to get full before turning it on (I'm guilty of doing that).
The waster is loaded into the Tetra dishwasher by hand so you know exactly how much water is being used. In the case of the Tetra, that's about half a gallon of water per load. The dishwasher also has an internal detergent reservoir which should last a few dozen cycles. And to make things interesting, the dishwasher is transparent so you can watch your dishes get clean. Each cycle is ten-minutes.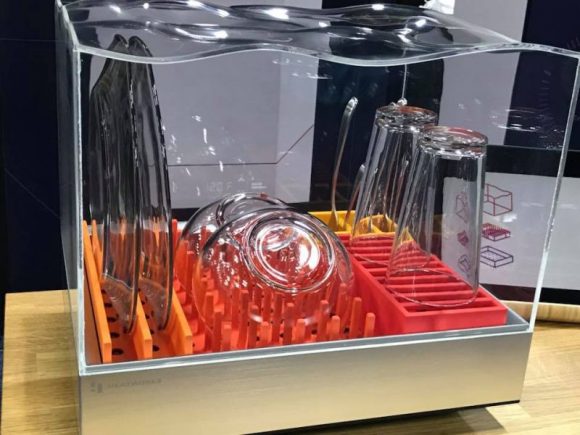 The Tetra uses Heatworks' patented Ohmic Array Technology which does not rely on traditional metal heating elements. They use graphite electrodes and advanced electronic controls to 'excite' the naturally occurring minerals found in water resulting in efficiently heated water. This method of heating allows for a more precise temperature control. You can use the Tetra dishwasher to also sanitize baby products like bottles and pacifiers, clean plastic storage containers, clean fruit, or even cook seafood!
The Tetra is expected to cost under $300 and will be available later this year. The device does require you to have home Wifi. Why? I honestly don't know but I wouldn't be surprised if it came with a compatible app to have control over some of the settings. If that is the case, I'll be a little disappointed. Sometimes you just need to keep things simple. Right?