Capturing memories in the form of photographs is an essential part of our lives, and losing those precious moments can be devastating. Whether it's due to accidental deletion, formatting issues, or corrupted files, a reliable photo recovery solution has become indispensable for photographers and professionals alike.
Enter STELLAR Photo Recovery – a powerful tool designed specifically to retrieve lost images from various storage devices with ease! In this comprehensive review, we'll explore the software's key features, weigh its pros and cons based on user experiences, and compare it with popular alternatives in the market – all to help you decide if STELLAR Photo Recovery is your ideal choice for restoring cherished memories. Keep reading to unravel whether this highly-acclaimed software meets your expectations or not!
Table of Contents
Overview Of STELLAR Photo Recovery
Have you ever experienced the heart-wrenching feeling of losing all your treasured photos due to a system crash or accidental deletion? Fret not, as there is an array of photo recovery software available in the market. However, choosing one among many can be quite arduous, given their different features and benefits. This is where STELLAR Photo Recovery comes into play – a powerful photo recovery tool specifically designed for photographers and media professionals.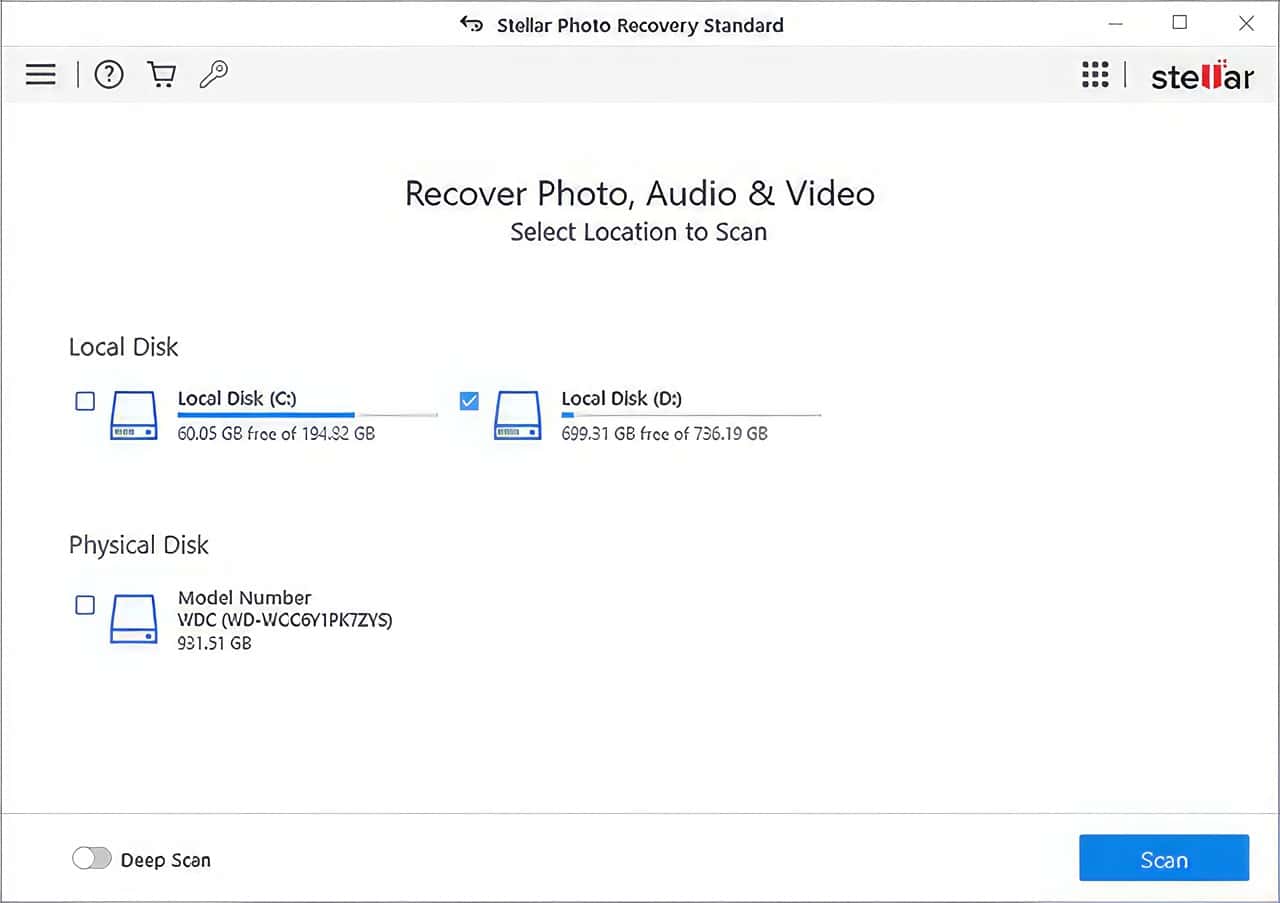 With its ability to retrieve various file formats from memory cards or hard drives, Stellar Photo Recovery has become one of the most sought-after photo recovery tools on the market today. In this blog post, we'll explore everything you need to know about STELLAR Photo Recovery – its pros and cons, user experience feedback, alternative options, and more! So let's dive into it together!
What Is It?
As a photographer, you may be familiar with the nightmare of accidentally deleting precious photos or dealing with corrupted files. That's where STELLAR Photo Recovery software comes to your rescue. It is a photo recovery tool specifically designed for photographers and media professionals who need to recover lost or damaged images, videos, and audio files from various storage devices.
Whether it's a memory card or a hard drive, STELLAR Photo Recovery conducts an in-depth scan to find deleted or lost files—even from formatted memory—and allows you to preview these files before finalizing the recovery. This powerful software supports numerous file formats such as JPEG, RAW images, video formats (MP4 & AVI), and many more. With its user-friendly interface and advanced options like deep scanning, this software has been widely acclaimed by many users for its effectiveness in retrieving valuable digital memories.
Key Features And Benefits
As a photographer, you'll appreciate the key features and benefits of STELLAR Photo Recovery software, which include:
Comprehensive photo recovery: This versatile tool can retrieve not only deleted or lost photos but also videos and audio files from various storage devices like memory cards and hard drives.
Broad file format support: It supports a wide range of file formats, including JPEG recovery, RAW photo recovery, and other digital image file types.
Deep scan option: When a quick scan doesn't find your missing files, the deep scan feature ensures a thorough examination of your storage device to locate all recoverable photos.
Preview feature: Before fully restoring your images or media files, you have the option to preview them to ensure they're intact and what you were looking for.
User-friendly interface: The software's ease of use has been praised by reviewers from reputable sources like SLR Lounge, Digital Camera World, and ePHOTOzine for its intuitive design that makes photo restoration simple, even for beginners.
Formatted device recovery: Stellar Photo Recovery is capable of recovering files from formatted memory cards or other storage devices – an essential function when accidental formatting occurs while managing photos on the go.
In summary, STELLAR Photo Recovery offers photographers an easy-to-use solution when it comes to retrieving precious memories in the form of photos as well as video and audio files across multiple formats – always handy when accidents happen!
Pros And Cons Of STELLAR Photo Recovery
Let's dive into the advantages and limitations of STELLAR Photo Recovery, so you can decide if it's the right choice for your photo recovery needs. From a user-friendly interface to slow scanning speeds, we'll explore everything in between!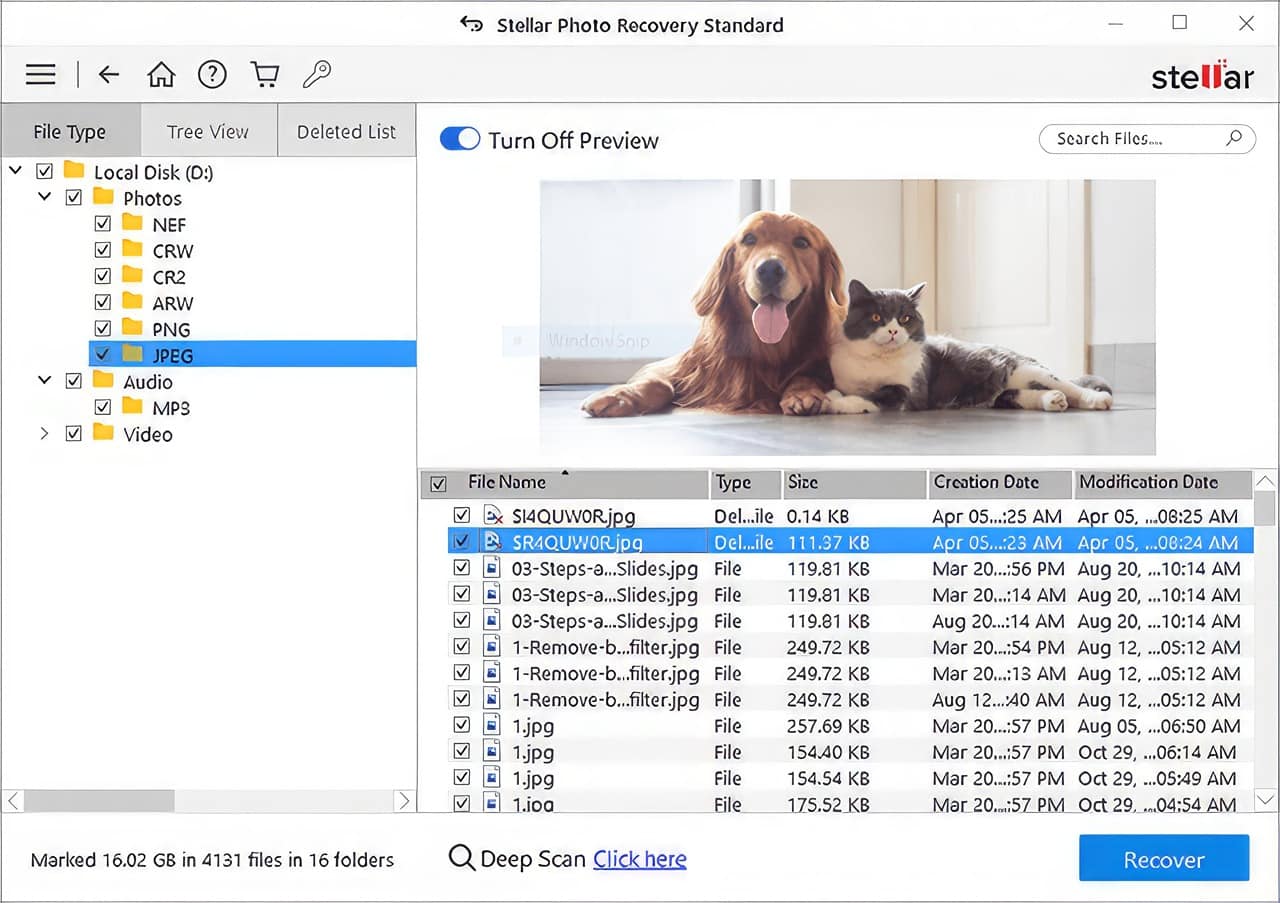 Advantages: User-friendly Interface, Wide Range Of Supported File Formats, Deep Scan Option, Preview Feature
As a photographer, I know the importance of preserving my images. That's why I've tried and tested STELLAR Photo Recovery software, and here are some of the advantages that stood out to me:
The user-friendly interface made it easy for me to navigate through the recovery process without any hassle.
The software supports a wide range of file formats, which is a bonus because I work with different types of files.
The deep scan option allowed me to perform a thorough search of my device or disk, ensuring that even the deleted or lost files were recoverable.
With the preview feature, I could see if my files were recoverable before committing to the recovery process, saving me time and effort.
Overall, I found STELLAR Photo Recovery to be an excellent tool for restoring my images.
Limitations: Slow Scanning Speed
As a photographer, I was disappointed to find out that STELLAR Photo Recovery software comes with certain limitations. Here are the cons that I discovered:
Slow scanning speed – Many users have reported that STELLAR Photo Recovery can take a long time to scan and recover files, especially when compared to other similar software options on the market.
Overall, while STELLAR Photo Recovery has its benefits, such as its wide range of supported file formats and preview features, these limitations may be deal-breakers for some photographers looking for a reliable photo recovery solution that won't break the bank or eat up too much time.
User Experience And Customer Reviews: Ease Of Use Feedback, Quality Of Retrieved Files Feedback, Customer Service Feedback
I was impressed by how easy STELLAR Photo Recovery software is to use. As a photographer, I don't have much time to waste figuring out complicated recovery processes. The user-friendly interface of this tool makes it simple even for beginners to recover lost images and other media files without much hassle.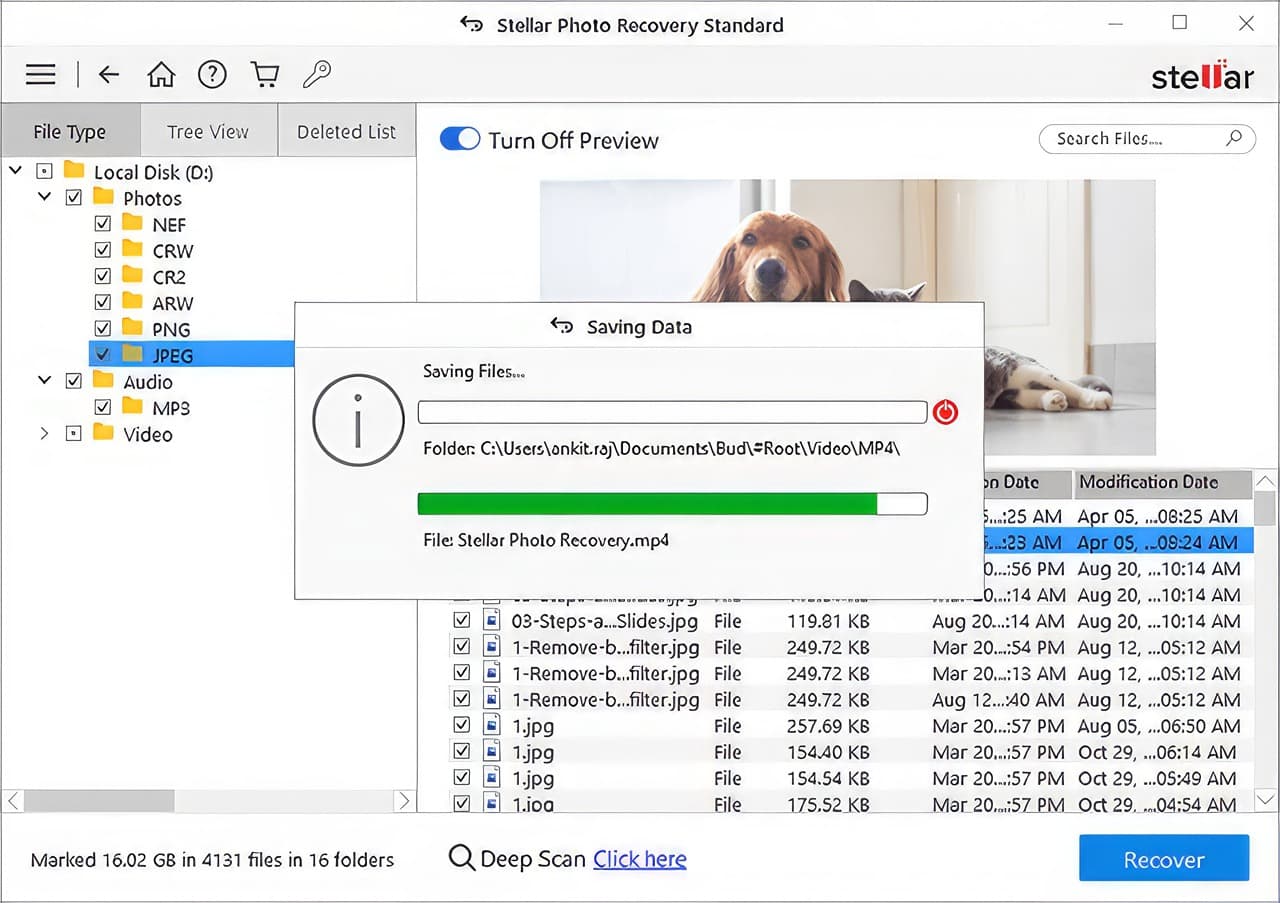 Moreover, the quality of retrieved files using STELLAR Photo Recovery is outstanding. This tool can successfully restore pictures and videos that seemed lost forever due to deletion or corruption. Besides, the deep scan option available in the software ensures that users can locate every recoverable file on their storage devices.
Finally, Stellar Photo Recovery's customer service team is responsive and helpful in solving any issues you might encounter while using their product. Although the price point may seem high compared to other photo recovery tools, it's important to note that you get what you pay for with STELLAR Photo Recovery software- top-notch performance and excellent customer support.
Alternatives To STELLAR Photo Recovery
If you're looking for more options, we've listed four alternative photo recovery software that you might want to consider. Keep reading to find out which one suits your needs best!
Recuva Pro
Recuva Pro is a highly recommended alternative to STELLAR Photo Recovery. It can recover data from any rewritable media type, including hard drives, external hard drives, flash drives, and camera memory cards. For only $19.95 USD, Recuva Pro offers an array of features that allow users to retrieve missing photos and files with ease.
As a photographer myself, I find Recuva Pro's ability to recover lost RAW photo files particularly useful. Both Recuva and Stellar Photo Recovery are highly capable of recovering both Windows-based and non-Windows-based document formats, making them ideal for anyone in the photography industry looking for reliable file restoration software at affordable prices.
Furthermore, users may not care that it recovers fewer files than other software tools; its low cost outweighs this limitation for many photographers who use it as their primary method of photo recovery when working on various projects or events.
EaseUS Data Recovery Wizard
As a photographer, I rely heavily on my equipment and data storage to keep my work safe. That's why I was excited to try out EaseUS Data Recovery Wizard as an alternative to STELLAR Photo Recovery. The easy-to-use software has won me over with its advanced features like artificial intelligence that can identify specific file types for recovery.
One of the aspects of EaseUS Data Recovery Wizard that stood out is its deep scan option, which helps locate lost photos even when the device or storage medium has been damaged or formatted. Alongside this feature, the software supports a wide range of file formats, such as JPEGs and RAW files, making it an excellent tool for photographers seeking to recover their images quickly.
Although there are some limitations in comparison to Stellar Photo Recovery – most notably not having selective recovery options – EaseUS Data Recovery Wizard offers a great alternative that comes highly recommended by photographers everywhere.
Disk Drill
As a photographer, Disk Drill has been one of my go-to options for recovering lost photos. Its advanced file recovery capabilities cover multiple devices and file types, making it a versatile tool that photographers like myself can rely on. Plus, the user-friendly interface makes it easy to navigate through the recovery process.
However, one downside to Disk Drill is its scanning speed. Compared to other photo recovery software options out there, it may take longer to complete scans and retrieve files. But despite this limitation, I still highly recommend Disk Drill PRO v5 as an efficient data and photo recovery solution for photographers in need of retrieving their precious memories.
PhotoRec
As a photographer, you understand the frustration of losing precious photos and files due to digital mishaps. That's where free, open-source software like PhotoRec comes in handy. It's specifically designed for file data recovery, including damaged images caused by viruses or hardware problems.
Unlike STELLAR Photo Recovery, PhotoRec is completely free and doesn't require any license purchase to recover images. It supports various digital storage devices such as memory cards, USB drives, and hard drives. If budget is your concern when it comes to image restoration or photo repair tools, then this could be a great option for you.
Another advantage of using PhotoRec is that it can work with Testdisk together to rescue photos from corrupt drives making it an unbeatable powerful duo for data recovery in the photography world!
Conclusion And Final Thoughts
In conclusion, STELLAR Photo Recovery is a powerful tool for any photographer or media professional looking to recover lost or damaged photos. While the software comes with a high price tag and slow scanning speed, its wide range of supported file formats, deep scan option, and preview feature makes it worth considering.
User feedback on ease of use and quality of retrieved files has been positive overall. And if you're not sold on STELLAR Photo Recovery, there are several viable alternatives available such as Recuva Pro and EaseUS Data Recovery Wizard. Ultimately, when it comes to photo recovery software, investing in a reliable tool like STELLAR can be crucial in saving those cherished memories that would otherwise be lost forever.
Frequently Asked Questions
What is STELLAR Photo Recovery, and how does it work?
STELLAR Photo Recovery is a software program designed to recover lost or deleted photos from various sources, including hard drives, memory cards, USB drives, and other storage devices. It works by scanning the selected device for any recoverable images using advanced algorithms to help restore them back to their original state.
What are the benefits of using STELLAR Photo Recovery?
STELLAR Photo Recovery offers several benefits, including ease of use with its simple interface, fast recovery times even for large-sized files, and support for various file types such as JPEGs and RAW image formats along with videos and audio files too – all while providing reliable recovery results that can save you time & money compared to potentially losing cherished memories.
Are there any cons to using STELLAR Photo Recovery?
One potential downside of this software could be its cost which may seem high compared to free alternatives available online, like Recuva, that do not offer the same level of features & tech support offered by this paid product. Additionally – Recovered images may not always be restored in perfect quality depending upon original source file that was stored & the degree of damage sustained during the data loss event (e.g., physical device damage).
Do I need technical skills or knowledge to use STELLAR Photo Recovery?
Nope! Even if you're not technically savvy, recovering pictures from your device should be easy thanks intuitive interface available within Stellar-based products like Stellar Phoenix Windows Data Recovery, which simplifies the process considerably, allowing anyone, regardless of experience levels easily retrieve lost/deleted content without needing specialized training first before effective usage possible.