Do you feel your home is not safe when you're not around? It would help if you considered installing this 2-in-1 protection gadget that detects smoke and carbon monoxide. The detector goes off as soon as the danger is detected, thereby letting you take the right steps before your loved ones or property is destroyed.
Through constant monitoring, you don't have to be at all times to know when there's danger. It leverages the latest technology to protect your home and loved ones from the two common threats. Many homeowners prefer this alarm since it's easy to install and doesn't interfere with its original décor.
An Intelligent Chipset
This innovative device comes with electrochemical and photoelectric sensors alongside an intelligent chipset. That means the device can easily detect potential and hazardous smoke and possible CO leaks. Users are encouraged by the manufacturer to ensure that everything is in place ahead of the installation.
The Battery Lasts 10 Years
That's a heck of a long time! As such, you can rest assured that nothing will go wrong when you are around or away from home. Sleeping safe and sound helps you gain a fundamental level of mental health, and you can get that from the 10-year battery life. Extra valuable when your home's power goes out and you're relying on the device's battery.
Easy-to-Read LCD
The alarm comes with an in-built LCD that helps indicate real-time CO (Carbon Monoxide) concentration within the surrounding air. In that case, with a glance, you can know whether there's a possible CO leak. You can then take the right measures to prevent the hazard. It's the one feature that every home needs, and you can get it from this smoke & carbon monoxide alarm.
LED Indicator
With this alarm comes a three-colored LED indicator. The colors are yellow, red, and green. The indicator is connected to the alarm so that from a glance, you can check and see the status of the alarm. Note that the colors have their meanings, and you need to get familiar with what they mean. That information is available on the user manual, but you can easily guess what a red color would mean.
Silence/Test Button
The silence button helps you stop a false alarm and get everything back to normal. The test/silence button is located somewhere close to the center of the device, and it's huge enough for you to see.
Loud 85-dB Buzzer
This is a useful feature of this smoke & carbon monoxide alarm. Suppose it senses danger in your house, and the alarm leverages an 85-dB siren to alert the whole household. The buzzer is so loud that it can be heard, even by individuals with impaired hearing or those who are in a deep sleep. This alarm will never let you down if you and your loved ones are in danger.
Interconnect Function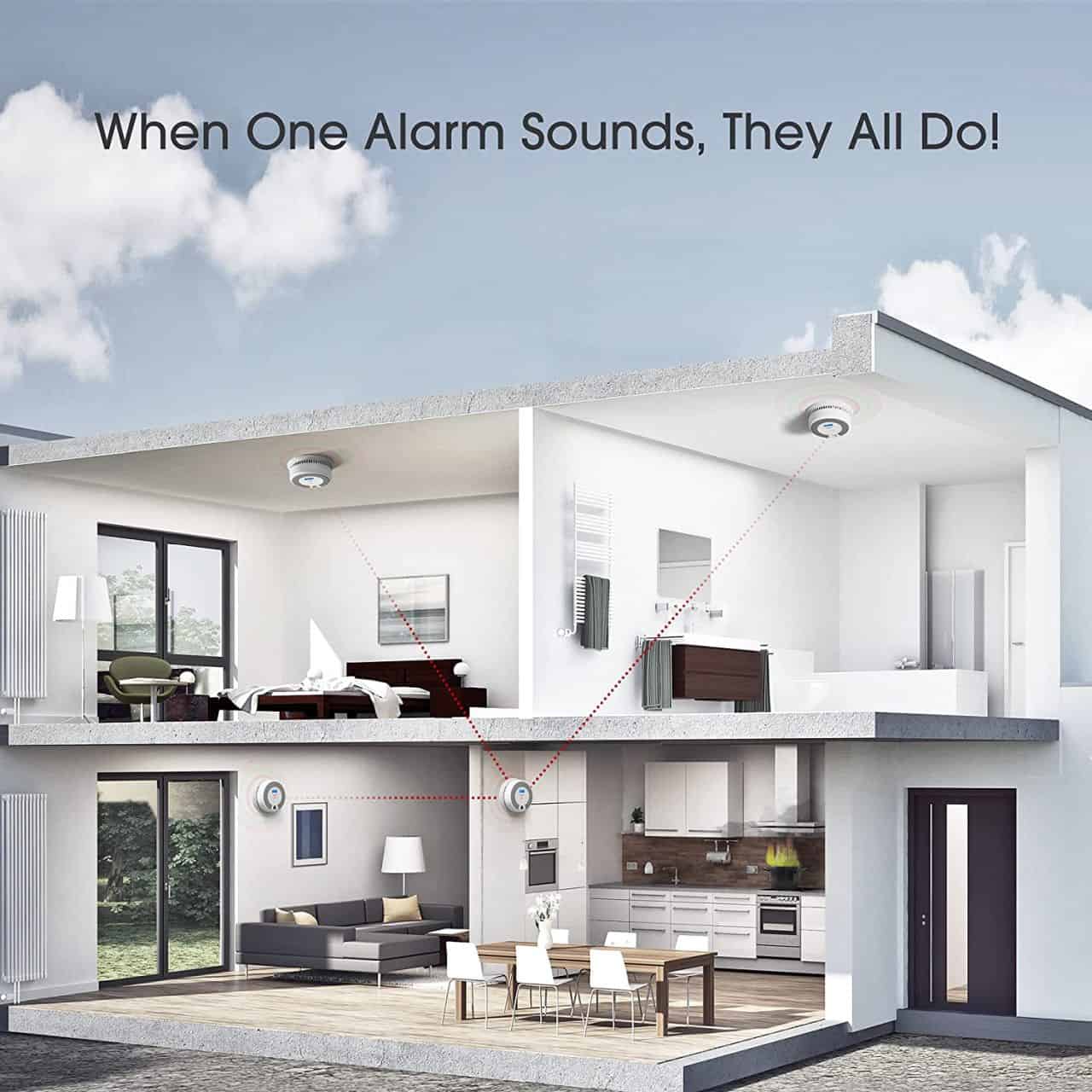 Your X-Sense devices can all be linked together, which means that if one device sounds an alarm, they all will. This is extremely valuable, especially if you live in a larger home.
Reliable, Accurate, and Highly Sensitive
An alarm is only as good as its level of accuracy, reliability, and sensitivity. This alarm features an X-sense combination co alarm and smoke that has been redesigned in a manner that it's inside out. In that case, the smoke will only trigger the alarm instead of interfering with it. Did you know that the device can take up to the three smoke samples from the surrounding air?
That's the reason it's currently the best thing you can ever find on the market. That also means it'll give you an accurate alert without any blind spots. The air samples are taken consistently, so there're zero chances of your house being in danger without receiving an alert.
Quality Assurance
It's imperative to only purchase and install a device you can trust. This smoke & carbon monoxide alarm meets the UL 2034 and UL 217 standards and is fully approved by ETL. Once you receive the package, you'll notice that it comes with a 60-day money-back guarantee to indicate that the manufacturer is confident in the quality of the device. Beside, it comes with lifetime customer support and a 5-year warranty.
Final Words
This smoke and carbon monoxide detector leverage the latest technology to keep you and your loved ones safe at all times. Note that the features mentioned above are some of the many perks you'll enjoy from the device. As such, go ahead and place your order today and keep your home safe for up to ten years before changing the battery.