We've written about the very popular DJI Phantom 3 drone and the company has just stepped up their game with the release of the all-new DJI Phantom 4 drone. This drone is just as amazing as the Phantom 3 and then improved in many aspects. For starters, you no longer have to worry about crashing into walls, trees, people, and other flying objects! The DJI Phantom 4 drone makes aerial photography and videos much safer thanks to its on-board cameras which helps the pilot avoid obstacles such as buildings, people, and trees. 
This quadcopter features an array of cameras built into its body that can see various obstacles in 3D and is able to make split second decisions whether to come to a halt or veer to a new flight path to avoid collision, a feature that almost every single DJI Phantom 4 review mentions. This is the first consumer drone to avoid objects in its flight path but don't get too comfortable because the drone is lacking sensors on its rear side. If you fly it backwards, it will run into objects. And keep in mind, this is new technology and it isn't foolproof. The drone won't be able to detect thin obstacles such as power lines and cables. Despite these minor "flaws", you will feel a lot more comfortable flying this drone than anything else on the market at the moment. The cameras are able to detect objects as far as 49 feet away!
DJI Phantom 4 In Action
Although some may consider drones such as the DJI Phantom 4 to be pricey toys, they are in fact creative tools. The Phantom 4 features a sleek body and a larger battery which allows the drone to fly for over 28 minutes and has an amazing maximum control range of 3.1 miles (just under 5km). A camera built into the undercarriage is able to record beautiful 4K video while capable of taking 12-megapixel photographs. The new wide-angle lens also allows for sharper and clearer shots in the corners compared to the previous models while the video has a Hollywood Steadicam like look thanks to its motorized gimbal that's able to keep the camera balanced, even in windy conditions.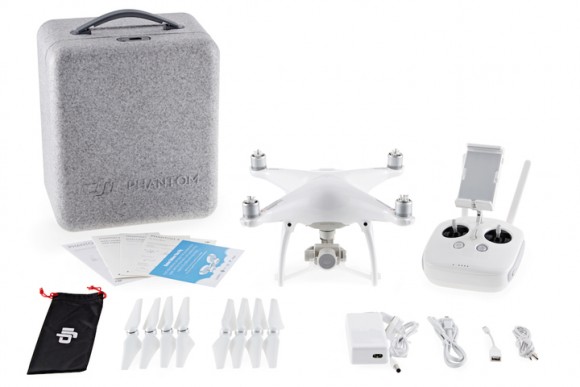 Flying the Phantom 4 is now even more simple with the controller featuring just two joysticks, a power button, and a landing button. The propellers are now also much easier and simpler to install. To see what your Phanom 4 is seeing in real time, you simply connect your iOS or Android device to the drone controller via USB. There is an available app which has extra automatic flight modes and guided tutorials. The new drone is also a lot more powerful and in 'Sports Mode', the Phantom 4 can reach speeds up to 45mph (72km) and is able to gain 20 feet of altitude in a mere second.
Another very useful function is called TapFly which uses four cameras to fine an unobstructed path to a spot you send the drone to. Simply tap a destination on the app screen, and it will find the best path to get there. The ActiveTrack mode is probably one of the coolest functions on the drone. On your app screen, you can draw a box around moving objects such as people, bikes, or cars and the Phantom 4 will keep its camera trained on them, even if they are on the move. Other drones that feature a "follow-me" mode require the target to carry a phone or a tracking device. I'm just curious if someone being tracked walks into a building and then comes back out, will the drone be able to identify said person?
One thing to keep in mind is the DJI Phantom 4 relies on visible light to detect objects which it avoids so flying at night is not recommended. The DJI Phantom 4 is currently available for $1399 plus Free Shipping! That's a lot of technology in a small package and definitely something to look into. If you're not in a hurry, you can also get DJI promo codes to save even more before shopping.