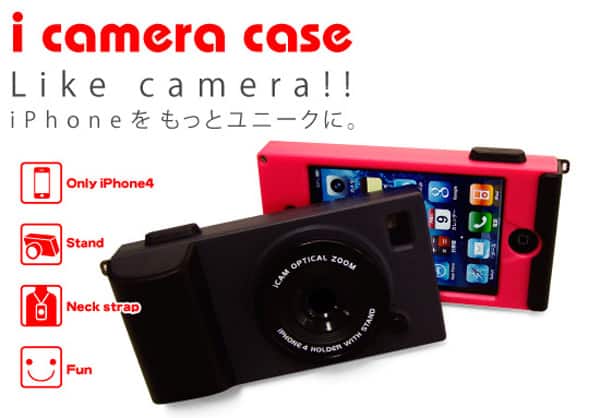 At Geek Extreme, we've posted about quite a few iPhone cases that give the iPhone a new look and some even give it extra functions.  We've seen covers that make the phones look like cameras (not covered on our site) but we've never seen anything like the iCamera Case by Hashy.
Not only does the iCamera Case makes the iPhone look exactly like a camera from the 90's, it also makes the phone bulky and hard to carry in your pocket.  The back of the phone/case actually has a lens and a "film hump" that stick way out.  Of course they don't add any functions to the phone.
At least the iCamera Case comes with a neck strap because it will be pretty hard to shove it into your pocket and that "film hump" thing acts like a stand for the phone.  So if you are after that retro look and don't mind wearing the iPhone around your neck, then this is the case for you.  Personally I like to make things less complicated and this just doesn't do it for me.
Buy it: ???