Only a few weeks ago, the local hydro company had a planned blackout in our neighborhood that was supposed to last three hours. Those three hours turned into five and then eventually into ten hours straight of no electricity. It wasn't the end of the world but was still pretty annoying. Dutch Design firm, Weltevree, has come up with an innovative take on the traditional root cellar. The prefabricated GroundFridge uses the earth's own insulating properties to help keep food fresh without the use of electricity.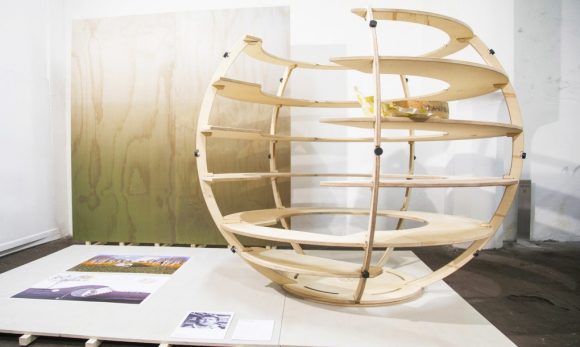 Root cellars are something that has been around for quite some time now but the GroundFridge is supposed to be a take on the original and then enhanced to meet the needs of the modern folks of today. The GroundFridge is light weight, well-built, and relatively easy to install. The entire device weighs in at 300kg (661 pounds) and measures in at 2.28m (7.48-feet) in diameter. The prefabricated cellar is built using hand-laminated polyester and comes with integrated cabinet and lighting. The GroundFridge can be installed underground on your property which you are able to access by a hatch-like door and steps that lead into the cellar.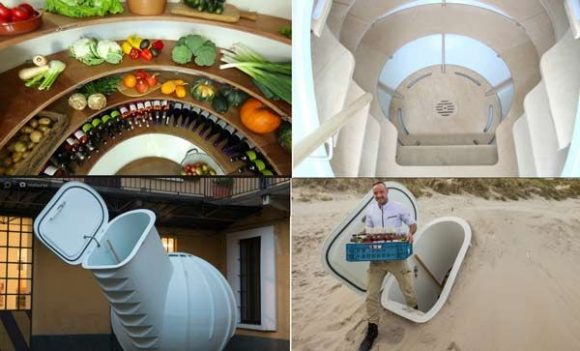 According to the company, the Groundfridge's storage capacity is equivalent to around 20 traditional refrigerators and it has enough space to store the harvest from a 250 square meter garden (2,690 sq-ft) which is approximately 500kg (1,102 lbs) of food. The GroundFridge is also able to maintain a steady temperature of between 7 to 15 degrees Celsius (44.6 to 59 Fahrenheit), even if the temperature above ground varies anywhere between -10 to 35 degrees Celsius.
The GroundFridge is available for 9,900 Euros but for more information, please visit Weltevree. I bet this could also be used as an emergency shelter should a tornado come your way.