Have you ever wondered to yourself: "What if there was a modular power station that could be charged with solar panels, via a wall outlet or by harnessing the power of the wind? A modular power station that I could bring with me anywhere I go and get up to 12,288Wh with only 3 additional batteries?" Bluetti has the answer for you: the new Bluetti AC300 is the exact Modular Power Station that you've always wanted.
Why choose Bluetti's AC300?
Available for pre-order from September 15th, this industry first modular power station is the successor of the previous model, AC200, which was funded thanks to a successful Kickstarter campaign. The AC300 does not come with an internal battery back, as it is expandable with up to four B300 battery modules. This innovative design allows for weight reduction (at a whooping 47.62 pounds) if the station needs to be moved and for swapping batteries any time you might need to do so. The station comes with a built-in 3000W inverter, while the single B300 battery module carries a capacity of 3072Wh, thus allowing a capacity of up to 24.6kWh with all four battery modules attached and 6000W of power. Considering that with a mere 1000Wh you can heat 15 meals in the microwave, use your desktop PC for around 6 hours and run a big fridge for around 10 hours, power outages should not be a worry with the AC300. The station recharges really quickly: only 1.6 hours with a maximum input of 5400W (via both solar and AC), and you're good to go.
While the main draw of the AC300 is the possibility to charge it via solar panels, you can also use a generator, a lead-acid battery, a wall outlet, a car battery and even an EV charging station. And this is just the tip of the innovation iceberg that Bluetti is releasing on the market! Their technology allows for hot-swapping, meaning you can easily swap the battery pack during use. The AC300 also comes with its own app, that allows you to control the status of your station and modules on your smartphone. The station has both Bluetooth and Wi-Fi connection. Moreover, you don't have to fear for your own safety: Bluetti purchases state of the art LiFePO4 batteries cells from the world's best suppliers.
Bluetti provides you with the possibility to expand your power output with the Fusion Box Pro, which allows you to connect two AC300, meaning you get up to 8 B300 battery modules at a time, more than doubling your power output.
Why should you go solar?
We're constantly being bombarded with news of floods, forest fires, ice caps melting, and it is easy to feel overwhelmed. While it is true that we need change at a worldwide scale, we can start small from our own choices in regards to our power needs. The AC300 has zero emissions and can be powered by sunlight alone. It is incredibly quiet, at an incredible 35dB. It also comes with seamless UPS in the event of power outages. The AC300 has also the advantage of being very low maintenance, due to few moving parts inside of it. A gas/propane generator, on the other hand, will emit toxic substances and noise pollution with its 70dB or more. Moreover, a gas/propane generator will have no UPS and will require spending your hard-earned cash to refuel. On top of that, should anything break, a gas/propane generator will require expensive repairs. An average American family spends around $1500 a year on electricity coming from fossil fuel. Making the transition to solar energy, you will be saving $100 every month, and that is no little amount of money!
Specifications of the AC300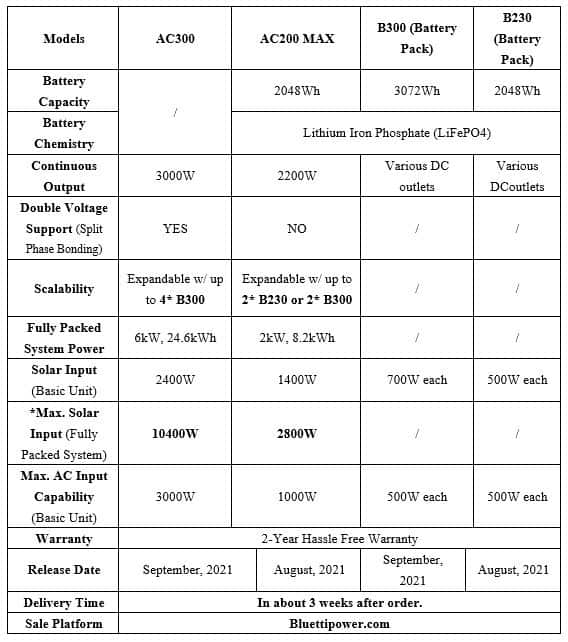 How to purchase an AC300?
You can purchase Bluetti's AC300 from their website. The starting price is $2899, and the AC300 comes bundled with a B300 battery module. Separately, a B300 module comes at $1599. The Fusion Box Pro has a debut price of only $129 (including shipment). All the items will be available for pre-order from September 15th, and will be delivered 3-5 weeks after your purchase. Besides the US, the AC300 will be available in Canada and UK. Worldwide, you will be able to purchase it under the Power Oak branding.
Get your off-grid life started now with Bluetti's AC300 Modular Power Station, available for pre-order starting on September 15th!