Any time you go online to view awesome skateboarding tricks and maneuvers, chances are that there is some sort of track playing in the background. People play music all the time while they workout, go for a jog, ride a bicycle, roller blading, or even skateboarding. While playing music via earphones is great and pumps you up, it's also dangerous as you can't hear what's happening around you if you are on public roads. With the GLB-GSB Blazer skateboard, you can enjoy your music while still be well aware of your surroundings.
The GLB-GSB Blazer is a skateboard that comes equipped with Bluetooth speakers and is the world's first Bluetooth Speaker Board. The skateboard was a collaboration between Globe Brand and Boombotix. The built-in speaker gives the rider freedom from headphones and a unique riding experience as the rider gets to their destination.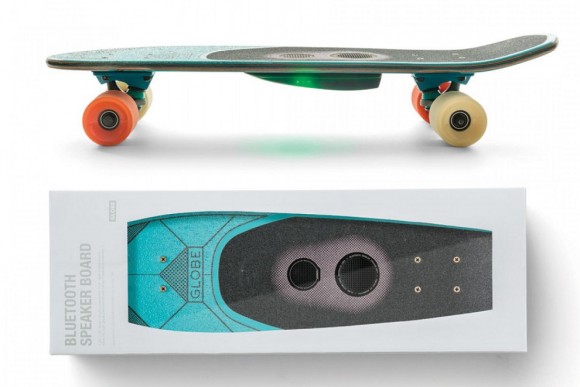 The GLB-GSB Blazer features a 50mm driver including a passive radiator allowing the rider to actually feel the bass under their feet while they ride. The sound system is enclosed in a rugged unit which is not only impact resistant for tough asphalt conditions but is also water-resistant. The unit comes with a six-inch USB cable for easy charging and will work with any smart device that is Bluetooth enabled.
The speakers on full volume will last you just over two hours of music while at 70% volume will give you just over six hours of music play time. To fully charge the speakers from a completely drained battery will take approximately three hours. The GLB-GSB Blazer skateboard is available for $249.95.
There is also the sister board, GLB-GSB Pinner Complete, which has larger dimensions and is available for $299.95.