Do you ever wonder about the backstory of your favorite fast-food mascots? As an avid fan myself, I often wondered about Birdie, the Early Bird – McDonald's first female character.
After diving into the archives, I've compiled everything there is to know about this chirpy mascot hailing from the mystical world of McDonaldland. Stick around; it's a flap – or rather, a fact-filled journey.
Key Takeaways
Birdie the Early Bird is McDonald's first female character and was introduced in 1980 to promote breakfast items.
Birdie's cute and charming personality made her a beloved mascot, appearing in TV ads, Happy Meal toys, and even inspiring clothing and accessories.
Birdie has had a lasting impact on pop culture, making appearances in movies and TV shows, as well as being celebrated through events and promotions like fun runs, birthday parties, parades, costume contests, art exhibitions, and charity golf tournaments.
Table of Contents
History of McDonaldland and its Characters
McDonaldland, a fast food-themed media franchise created by McDonald's in the 1970s, introduced viewers to a fictional world inhabited by beloved characters like Ronald McDonald, Grimace, and The Hamburglar.
Birdie the Early Bird's Place in McDonaldland
Birdie the Early Bird flew into McDonaldland in 1980. She was not just any bird, but the first girl character there! Her job was to tell people about breakfast at McDonald's. Over time, she became a big part of this fun place along with Ronald and his friends like Grimace and Hamburglar.
These characters have changed a lot over the years. Some left because of rules and laws, but not Birdie. She is a bright spot in McDonaldland's long story!
Unveiling Birdie: The Early Bird Mascot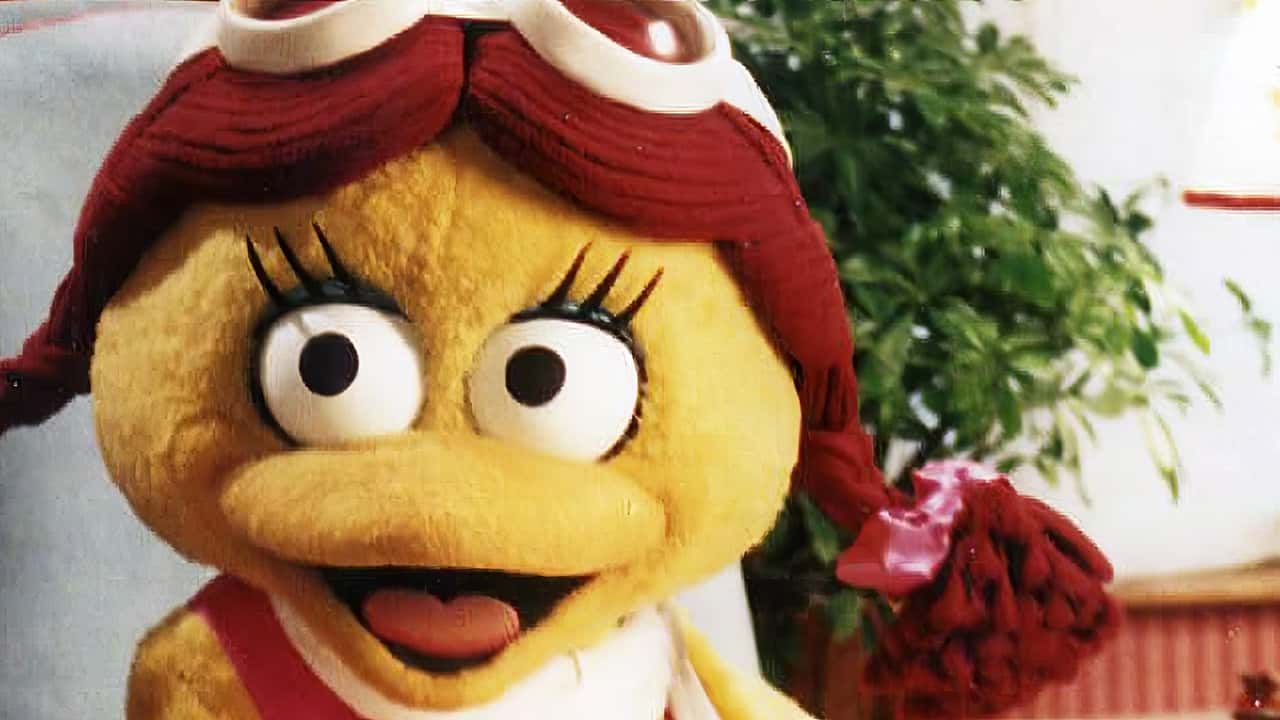 Birdie the Early Bird made her debut in McDonaldland, joining Ronald McDonald and his gang of characters. Discover how Birdie's charming personality and unique role influenced McDonald's advertising and marketing strategies.
Birdie's Debut and Characterization
Birdie the Early Bird flew into McDonaldland in 1980. She was the first female to join Ronald and his gang. Dressed in a pink jumpsuit, flight cap, and scarf, she made her mark quickly.
Her job was to sell breakfast items for McDonald's.
Over time, Birdie changed but kept true to herself. Even though she is a bird, she gets stuck on land most of the time because she cannot fly well. So you see her often riding in hot air balloons and airplanes.
The exciting thing about Birdie is that even if things get tough, like when trying to fly, she will always find a fun way out!
Birdie's Influence on McDonald's Advertising and Marketing
Birdie the Early Bird flew into our hearts in 1980. She came to tell us about yummy breakfast foods at McDonald's. Birdie was on TV a lot. We saw her in fun ads during our favorite shows.
Happy Meal toys and other things had Birdie on them. People got to know her as one of the happy faces of McDonald's. Even Ronald McDonald House Charities used pictures of Birdie to help spread their word.
So, she did not just promote food but also helped with good works! This is how Birdie made a mark on McDonald's way of talking to people.
The Role of Birdie in McDonald's Merchandise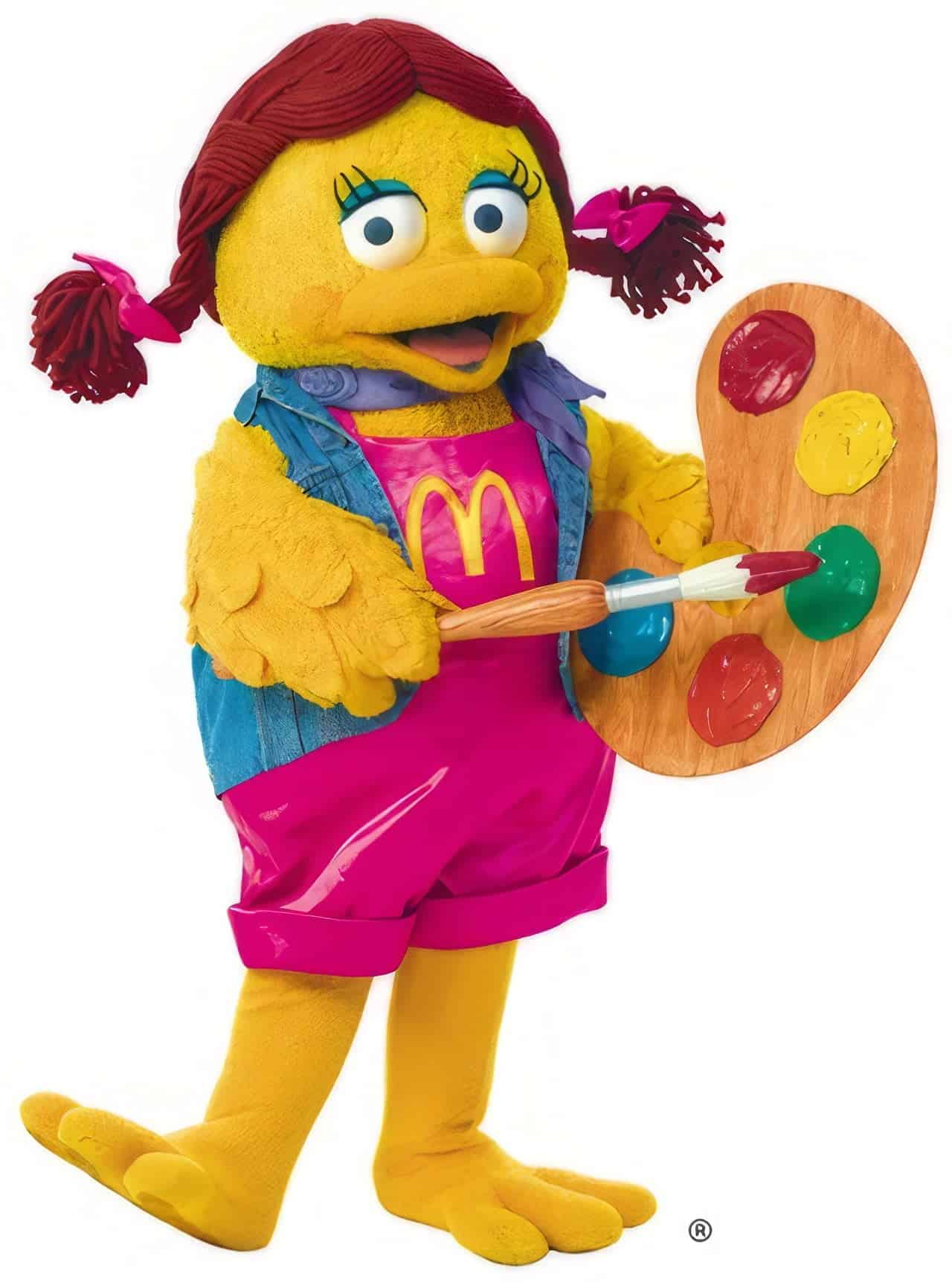 Birdie's adorable charm has translated into a wide range of merchandise, from toys to clothing and accessories. Find out how McDonald's embraced Birdie's popularity in this exciting blog post!
Birdie-Themed Toys and Collectibles
I have a cool list of Birdie-themed toys and collectibles from McDonald's. Birdie is not just a mascot; she is also part of the joy kids get from Happy Meal boxes. Here are some fun items:
Birdie Plush Toy: Soft and cute, this toy brings joy to children.
Glassware: Not only for use but perfect for phone case designs as well.
Foam Purse: A funky purse design that kids can play with or use to keep small things.
Happy Meal Noisemakers: Makes mealtime more enjoyable and musical with noises inspired by Birdie.
Mcdonalds Birdie Figures: Small figures of Birdie that can serve as cake toppers or a desk accessory.
McDonald's Birdie-inspired Clothing and Accessories
I love geeking out over cool merchandise, and McDonald's has some awesome Birdie-inspired clothing and accessories! Check out this list of fun items you can rock to show your love for the early bird mascot:
Plush Stuffed Animals: Get your hands on a cute Birdie plush toy that you can cuddle with whenever you want. It's like having a little bird friend with you all the time!
Glassware: If you're a collector, McDonald's sells vintage Birdie glassware items, including cool Coca-Cola drinking glasses. Drink up in style!
Foam Purses: Want something unique and eye-catching? McDonald's offers foam purses in the shape of Birdie. They're super fun and add a touch of whimsy to any outfit.
Sling Bags: Stay organized and show off your Birdie love with a sling bag featuring the early bird mascot. It's practical and stylish at the same time.
Birdie's Impact on Pop Culture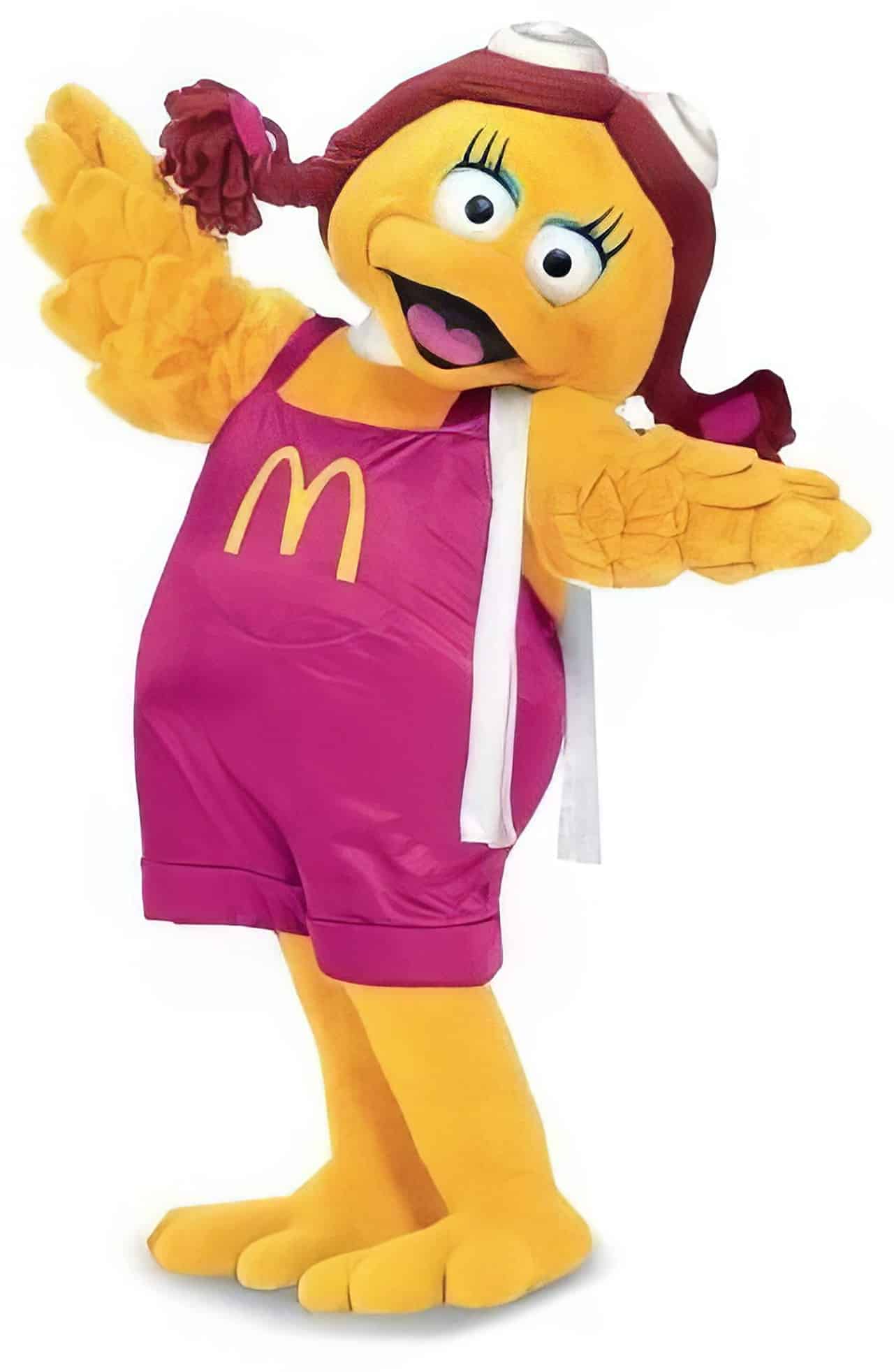 Birdie the Early Bird has made a lasting impact on pop culture. From her appearances in television shows to special events and promotions, Birdie's infectious personality has captivated audiences of all ages.
Discover how this beloved mascot has become a true icon in the fast-food industry and beyond.
Birdie in Television and Other Media
Birdie the Early Bird, the beloved McDonald's mascot, has made appearances in various television shows and movies over the years. In the 1980s, you might remember seeing Birdie in films like "Mac and Me" and "Ronald McDonald and the Adventure Machine." She also starred in TV specials such as "The Adventures of Ronald McDonald: McDonaldland Treasure Island" and "The Wacky Adventures of Ronald McDonald." Birdie's cheerful personality and love for breakfast items have made her a memorable character in pop culture.
Whether it's on the big screen or small screen, Birdie has brought joy to fans of all ages.
Birdie-themed Events and Promotions
Birdie's popularity led to exciting events and promotions that celebrated her character. Here are some of the highlights:
Birdie Fun Run: Join thousands of fans dressed as their favorite yellow bird for a fun run event held in various cities across the country.
Birdie Meet and Greet: Get the chance to meet Birdie in person at select McDonald's locations. Take pictures, get autographs, and create lasting memories with this iconic mascot.
Birdie Birthday Party: Celebrate Birdie's birthday with a special party at your local McDonald's. Enjoy games, activities, and delicious treats while honoring our feathered friend.
Birdie Movie Night: Gather your friends for a movie night featuring classic films starring Birdie and other McDonaldland characters. Enjoy popcorn, burgers, and a good dose of nostalgia.
Birdie Collector's Edition Toys: Don't miss the limited-edition toys that pay tribute to Birdie. Collect all the different variations released over the years and display them proudly in your collection.
Birdie Day Parade: Be part of an extravagant parade dedicated to celebrating everything about Birdie. Watch colorful floats and energetic performers, and join in on the festivities.
Birdie Costume Contest: Show off your creativity by dressing up as Birdie for a chance to win prizes and be crowned the ultimate fan during this annual contest held at McDonaldland conventions.
Birdie-themed Happy Meals: Enjoy exclusive toys featuring Birdie when you order a Happy Meal during special promotional periods throughout the year.
Birdie Art Exhibition: Immerse yourself in a world of avian artistry at this one-of-a-kind exhibition showcasing talented artists' interpretations of our feathery friend.
Annual "Birdies for Charity" Golf Tournament: Participate in this charity golf tournament where each birdie scored helps raise funds for Ronald McDonald House Charities, supporting children and families in need.
Birdie's Legacy in the Fast Food Industry
Birdie the Early Bird has left a lasting legacy in the fast food industry, particularly as a mascot for McDonald's. Introduced in 1980, she played a significant role in promoting the brand's breakfast items.
Her influence can still be seen today in various aspects of McDonald's marketing and advertising campaigns. Birdie has been featured in Happy Meal toys and even had her own clothing line called McKids.
She is one of the memorable characters from McDonaldland, a fictional world created by McDonald's that continues to be used in commercials and materials supporting Ronald McDonald House Charities.
Frequently Asked Questions
Who is Birdie in the world of McDonald's?
Birdie is an early bird mascot in McDonaldland, a high fantasy world with low fantasy interactions created by McDonald's Corp.
What role did Birdie play among other famous mascots?
Birdie shared adventures with mascots like The Hamburglar, The Fry Kids, and Mayor McCheese and was part of the Happy Meal Gang.
Where can we see Birdie apart from food ads?
Birdie also showed up in PlayPlaces at various McDonald's restaurants and on merchandise like Funko Pop! figures.
Did Birdie ever take part in any video games or TV shows?
Yes! Not only does she appear in SEGA's game "McDonald's Treasure Land Adventure," but you can also spot her on the animated series "The Wacky Adventures of Ronald McDonald."
How did Birdie influence corporate culture at McDonald's?
As one of the key characters of McDonaladland, Birdy played a big part in shaping McDonald's corporate personality along with others like Officer Big Mac.
Are there any collectibles or items featuring Birdy available for purchase today?
Yes indeed! You can find items such as Remco Action Figures or Etsy crafts, including jewelry & accessories showcasing our beloved mascot. Birdy merchandise serves as unique gifts & gift card ideas for fans, too!
Conclusion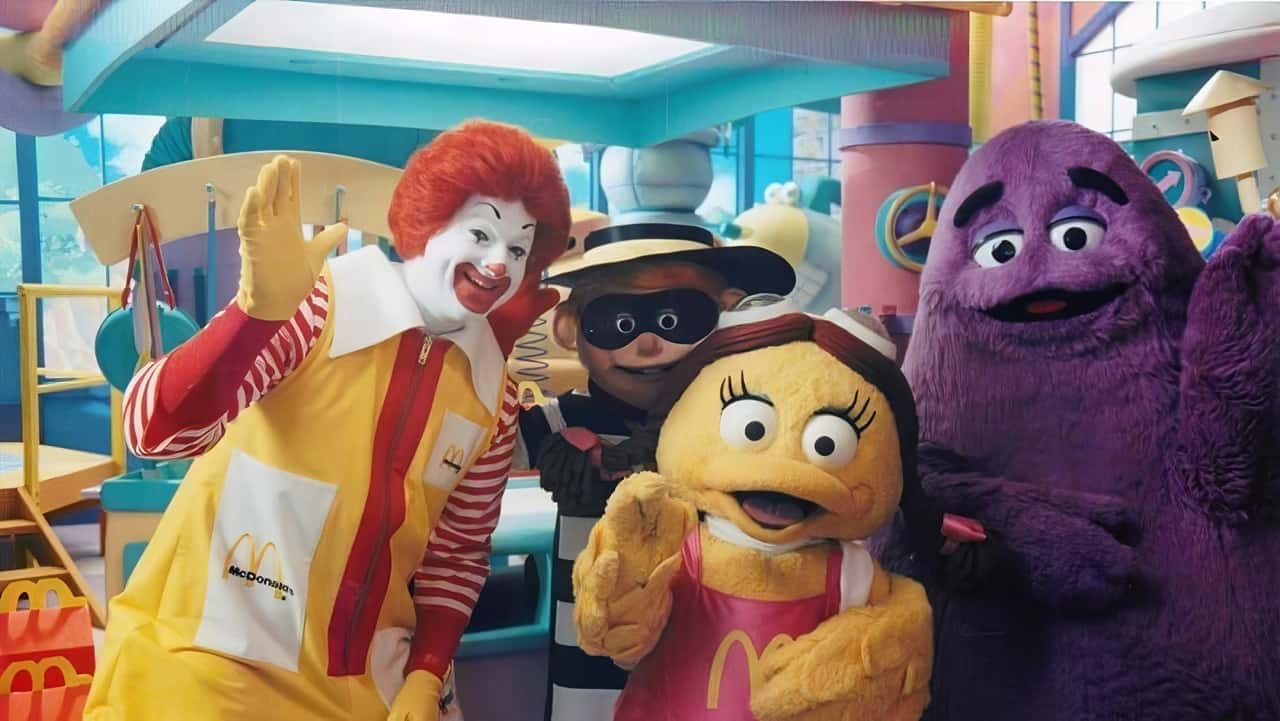 In conclusion, Birdie the Early Bird holds a special place in McDonaldland and has made a significant impact on McDonald's advertising, merchandise, and pop culture. As the first female character in the franchise, Birdie's debut brought excitement to the fast food chain, especially with her distinctive pink jumpsuit and flight cap.
While McDonaldland may have evolved over the years, Birdie's legacy as a beloved mascot continues to live on through commercials, Happy Meal toys, and support for charitable organizations like Ronald McDonald House Charities.