Sodium-ion batteries are a potential replacement for traditional lithium-ion batteries.
It may be more economical to produce sodium-ion solar generators because the materials are cheaper and it will have a low environmental impact. These new solar generators can store electricity at night, just like regular solar panels do during the day.
They also don't need to be plugged in or charged up by anything other than sunlight, so they're completely self-sustaining.
The first prototype of this technology was recently unveiled by an international team of researchers from China and Singapore at Nanyang Technological University in Singapore on November 15th, 2016. After four years of research into how best to use sodium ions in solar energy storage, they did it.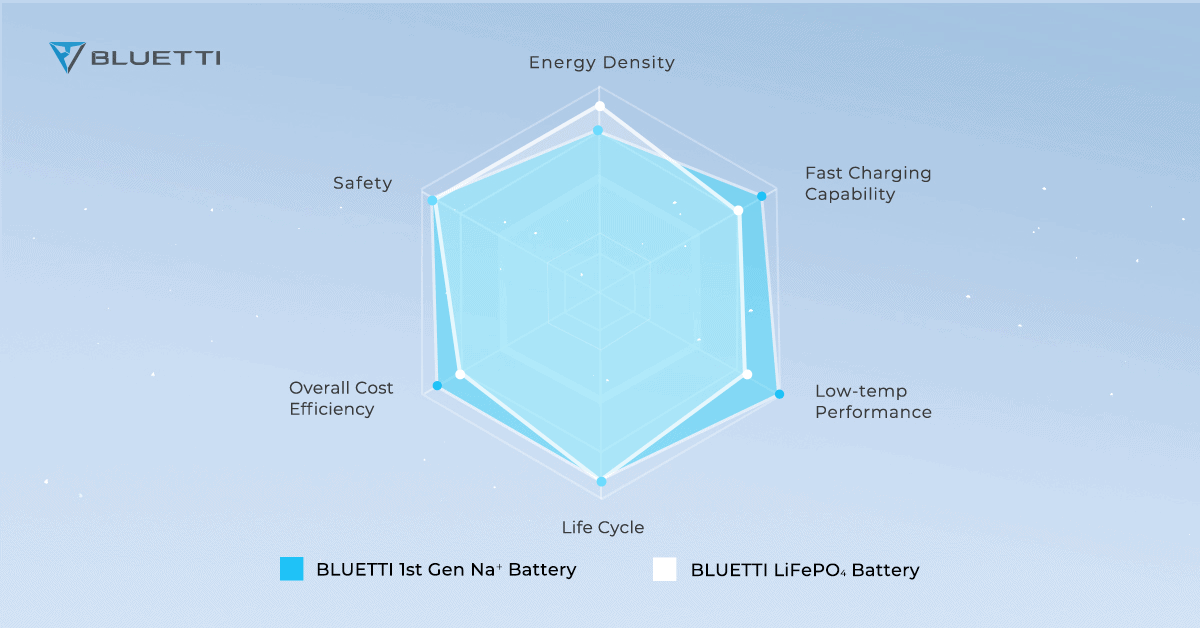 Additionally, sodium-ion solar generators have the potential to be scaled up for larger applications, such as powering whole villages or small towns, making them a very promising new technology in the renewable energy sector.
These batteries have many advantages over lithium-ion batteries:
They are less expensive to produce.
They have a longer life span.
They are more environmentally friendly due to the lack of toxic chemicals in their manufacture.
All of these factors make sodium-ion batteries an attractive alternative to lithium-ion batteries, and BLUETTI is leading the charge in bringing this technology to market.
Stay tuned for more information on this exciting new product!
BLUETTI Unveils World's First Sodium-ion Solar Generator
Since the beginning, BLUETTI has been striving to contribute something valuable to society. Their originality lies in not merely providing customers with photovoltaic power plants but also generating electric energy that is eco-friendly and sustainable.
"The idea of developing the world's first sodium-ion solar generator came out when we were considering how to make an even greater contribution to mankind one day." Mr. Bing Park, CEO at BLUETTI Power Inc., said during the press conference.
"NA300 is a result of close collaboration between our expert R&D team under Dr. Wilfried Eigler and renowned German technological firm X-Tec, who made groundbreaking discoveries on sodium-ion batteries recently. This is just the first step of our adventure to the new age of solar energy."
BLUETTI Power's NA300 can directly employ power generated through photovoltaic panels. To produce electricity, it backs up power for a nonfunctional or damaged state through its reserve batteries when there is no sun shining.
As a result, it is capable of providing a stable supply of electric power round the clock regardless of weather changes. Also, this generator has a built-in control unit that automatically calculates the amount of electricity produced from PV panels and needed from the house's grid. You can monitor it at home or remotely.
Furthermore, NA300 is designed for both indoor and outdoor use. It can be applied in locations where space is tight and no traditional solar generator would fit. It can also be installed at a much lower cost than traditional generators given that it doesn't require fuel or an extensive ventilation system.
Plus, with the battery pack, B480, NA300 can store energy for later use, making it perfect for off-grid homes or emergency backup power.
BLUETTI's Sodium-Ion Solar Generator-NA300
The new kid on the block is BLUETTI's Sodium-Ion Solar Generator The NA300 and B480 combo. This is the latest addition to BLUETTI's line of solar generators.
Additionally, they offer increased power generation compared to their predecessor, the EP500 Pro, which had an input of 2,400W. The NA300 has a 3,000W input for both AC and PV charging for up to 6kW combined output.
This means that you can charge your generator from 0% to 80% in about 30 minutes with just sunlight!
Furthermore, the NA300 also features durable construction materials. This generator offers aluminum alloy casing and copper-clad lamination steel sheeting on all contact surfaces as well as ABS rubber protection strips on all edges. This makes it ideal for outdoor use since these materials won't corrode or rust over time.
BLUETTI's NA300 – Optimized for your Portable Power Needs
If you're a geek who needs portable power, there are many options available in the marketplace.
However, NA300 provides 3,000Wh of capacity and EP500 Pro offers 5,100Wh in the same size owing to current battery technology limitations with sodium-ion batteries.
Additionally, NA300 also offers a 240V 6000W connection with Fusion Box and other features like EP500 Pro.
The key is that it can provide up to 12,600Wh for families or people during emergencies when grid power fails or natural disasters strike due to its solar panels recharging capability.
The first-generation sodium-ion battery has been engineered with the latest in lithium-ion technology and can be recharged in less than thirty minutes at room temperature. It also excels when it comes to low-temperature performance, which is perfect for winter or anywhere where there are extremely cold weather conditions.
In addition, because this battery pack uses an all solid-state design, it offers high energy density and can handle more charge cycles per day before deteriorating due to aging.
Besides that, the batteries have been designed with safety features that will keep you and your devices safe while you're on the go.
If you're looking for a reliable and affordable portable power solution, BLUETTI's sodium-ion B480 battery is the perfect choice for you. So don't wait any longer, order one today!
Grab a BLUETTI's NA300 today
Noteworthy mention, BLUETTI is excited to announce the release of their newest product, a portable power solution that will keep you connected no matter where your adventures take you.
To sum up, BLUETTI's Sodium-Ion Solar Generator- NA300 with B480 battery is a great option to consider when looking for a solar generator. It is easy to set up and use, and it provides plenty of power for most needs. The price is also very reasonable, making it a great value for the money.
The first-generation sodium-ion battery rivals LiFePO4 batteries in terms of security and long cycle life except for the low energy density; yet it excels when it comes to cost, quick charging, and other properties because of its chemical characteristics. BLUETTI's sodium-ion battery can charge in less than 30 minutes at room temperature which makes it perfect for powering devices on trips or anywhere with limited access to electricity.
If you're looking for an affordable way to stay powered up during your next adventure then consider bringing one home today!