What is Volafile?
Volafile, as the name suggests, is an online file hosting service where users can share files in 'rooms'. Each room has a chat where users can converse and view all files that have already been uploaded. Any file that has been newly uploaded will be automatically shown when you're in the room.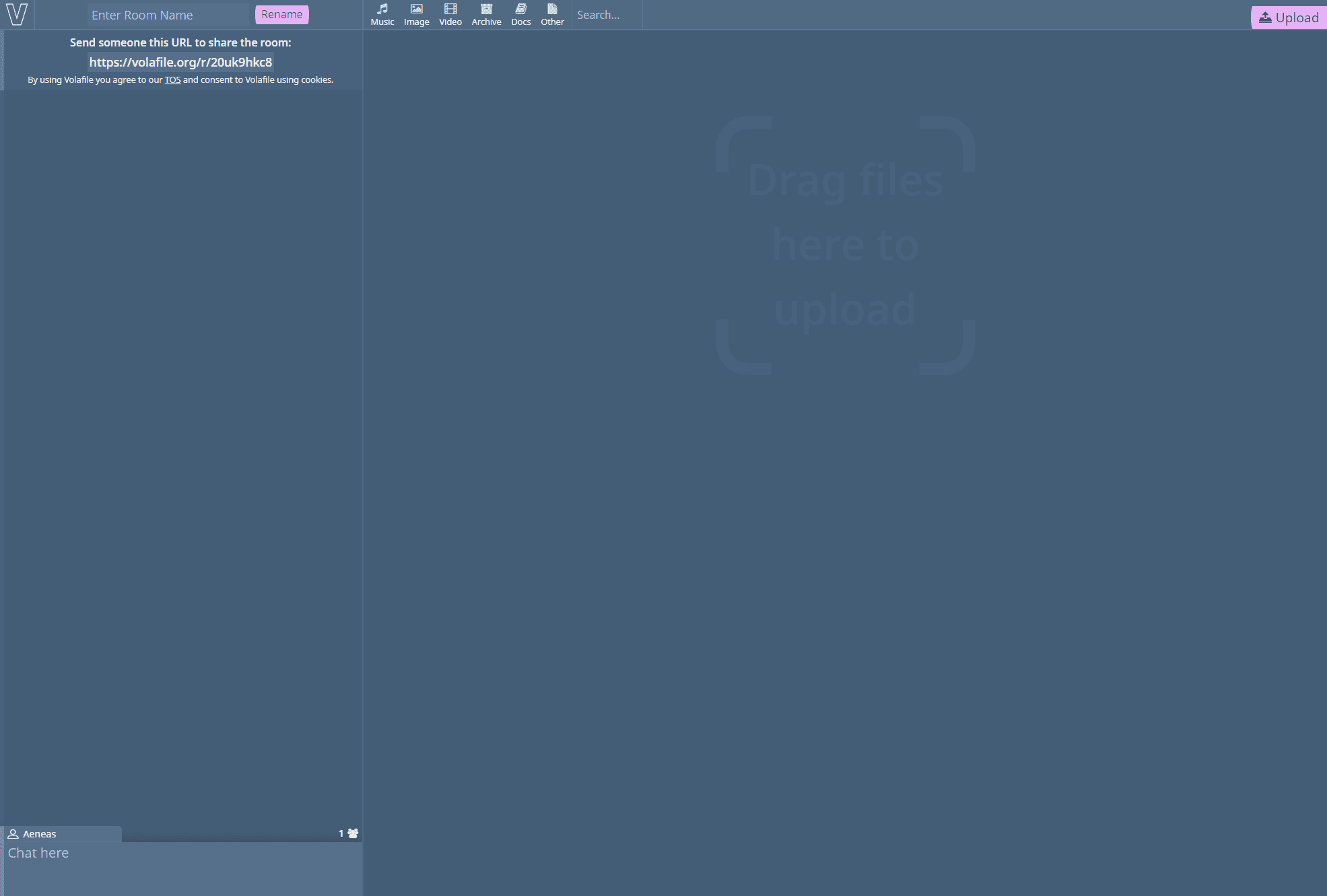 Anybody can set up a room and upload files using the giant upload button. Whether it's an image, spreadsheet, a song, or even just a video of you telling everyone to have a good day, you can upload it to your room and it'll stay there for a maximum of 2 days. After that time is up, your Vola File is gone. It's a little bit like Google Drive, but ephemeral and with a community-based chat component that makes for a much more positive experience.
It's a simple format, on a very clean site. No clutter, just files. You'd be pretty surprised with what you can find here on this temporary, live file-sharing site.
Make a radio station
This one's my favorite. Among all the Volafile rooms available, music rooms are awesome because anyone can upload songs and audio files, and the Radio button on the room will create a streaming playlist of every track uploaded in the room. It's great for discovering new music, and I've even found plenty of songs that I already like on there, uploaded by other users. That, along with similar music that has gone into my playlists thanks to the ability to download any Vola File.
New content constantly
The oldest files will move down the room over time, and out of view. This makes space for new files to be more easily accessed since they'll be continually refreshed at the top of the page. There is the caveat of not being able to access older content as easily, but that's just how Volafile works. If you want to catch them, it's best to be there half a day earlier when they're first posted. This is exactly what makes the website so addictive, with a consistent river of files available at any given time.
The chat
The left-hand pane of each room has a chat room, free for anyone to use as they please. You can request files, see what song is playing on the Radio, or just have a good ol' conversation with whoever else is around and bored or waiting for some new files to arrive. It's just like any other messaging service, and most users are pretty friendly so there isn't much to worry about safety-wise.
Few limitations
Volafile is designed for short-term storage with ease and lack of hassle. This means you can upload large files (up to 20GB in size), completely anonymously, completely free. This, however, does attract some trolls now and again, and plenty of Not Safe For Work (NSFW) content which you definitely shouldn't click on if you don't already know the meaning of that odd word you're reading on the site. If the word looks made up, firstly all words are made up, and secondly just don't click on it. They'll all expire after 2 days anyway, just like your own files.
The Volafile novelty
Currently, Volafile is a relatively small site. It's like one of those small unknown bands that you do know about – and as much as you want it to blow up and get more attention because they deserve it, you want it to just be your little thing that you enjoy. That's the place where Volafile sits right now as a novelty.
If this site takes off, the likelihood of it becoming less of a safe service is increased, as more trolls will take advantage of the free format, but for now, it's in a good place. Therefore, I'd recommend anyone to check it out as soon as possible to come to see what the fuss is all about.
F.A.Q (Frequently Asked Questions)
Hopefully, I can answer some of your questions with this short FAQ:
How do I make my own chat room?
Just click the big create room button and follow the instructions.
Do I need to become a registered user to participate?
Nope! You can use Volafile anonymously as long as you'd like. No need to create a user account or anything like that. That's the main advantage over many of the other free temporary online storage platforms.
How good are the download speeds?
It depends on how many users are in the room at the time. The more people that are downloading files, the slower it will be for everyone. However, so far I've had nothing but fast downloads.
Can I upload anything?
Yes, but keep in mind that all files are screened by other users before they're made available for download. This is to prevent any illegal or harmful content from being distributed.
Can I delete files?
Nope, once they're uploaded, they stay there until the timer expires (or hits the max number of views, but that's rare).
What if I want to keep a file?
You can download any file on Volafile by right-clicking on it and selecting 'download'.
Is there a limit on how many files I can upload?
No, you can upload as many files as you want.
How long do my files stay up?
You can download files for up to two days. Just click the download link in the chat for the file you want.
What's the max file size I can upload?
20GB.
Can I make a room private?
No, all rooms are public and anyone can join them. However, you can make a password-protected room on one of the alternatives listed below.
What options do I have for room names?
You can either pick one yourself and have the website create a random name for you.
Can I use it for business purposes?
Yes! You can use Volafile to share large files with your clients or team members without having to worry about file size limits.
Is this a completely free file-sharing service?
Yes, it doesn't cost a thing and even offers ad-free downloads. You don't have to worry about getting blasted with annoying ads. That's a pretty sweet deal when you consider how much free storage you're getting.
Is there a mobile application I can use?
Unfortunately, there is no mobile app for Volafile at the moment. However, you can still use the website on your mobile device by going to volafile.org. This effectively makes it available on all major platforms that can access a web browser. Whether you've got Mac OS or one of the many Android devices, everything should just work.
Has Volafile shut down? I've heard that it's dead.
The rumors are true, Volafile is no longer in operation.
Despite its popularity, Volafile shut down in 2019. The company cited hosting issues as the primary reason for its closure.
If you're looking for an alternative to Volafile, there are several options available. We've compiled a list of the best alternatives to Volafile, so you can continue sharing files and collaborating with others online.
Are there any good Volafile alternatives?
There are hundreds, but these are my favorite:
FilePizza: FilePizza is a peer-to-peer file sharing service, so it's a bit different from Volafile. It lets you share files with your friends directly, without having to upload them to a server first. However, it only works on Chrome and has a smaller file size limit of 15GB.
Wormhole: Wormhole is similar to Volafile in that it's a server-based file sharing service. However, it doesn't have rooms or a chat function – it's just for sharing files. It allows users to share files up to 10GB in size.
WeTransfer: WeTransfer is probably the most well-known of the alternatives on this list. It's similar to Volafile in that it's a server-based file sharing service with no chat function. However, it doesn't have a time limit on files – they stay up until you delete them. It also has a larger file size limit of 20GB.
None of them offer unlimited storage, but Volafile is still the best option if you need to share large files regularly.
Closing Thoughts
Hopefully, this has given you a good overview of the Volafile website and some alternatives if it's not quite what you're looking for. Happy sharing!