I personally like to categorize gifts in two categories: gifts that are practical that can be used every day and gifts that may not be super useful but they're cool. What if I told you there's another category? A gift that's not only cool but also practical. There are lots of cool gifts like that for men, and today we highlight the Shargeek Storm2, a portable EDC (Every-Day Carry) power bank.
We've recently written about the Geneverse and Bluetti power banks, which are large units suited for emergency use for larger household items. The Shargeek Storm portable power bank is suitable for smaller gadgets like smartphones, tablets, and other rechargeable gadgets and is easy to carry with you when you're out and about.
Shargeek Storm2 Power Bank Specifications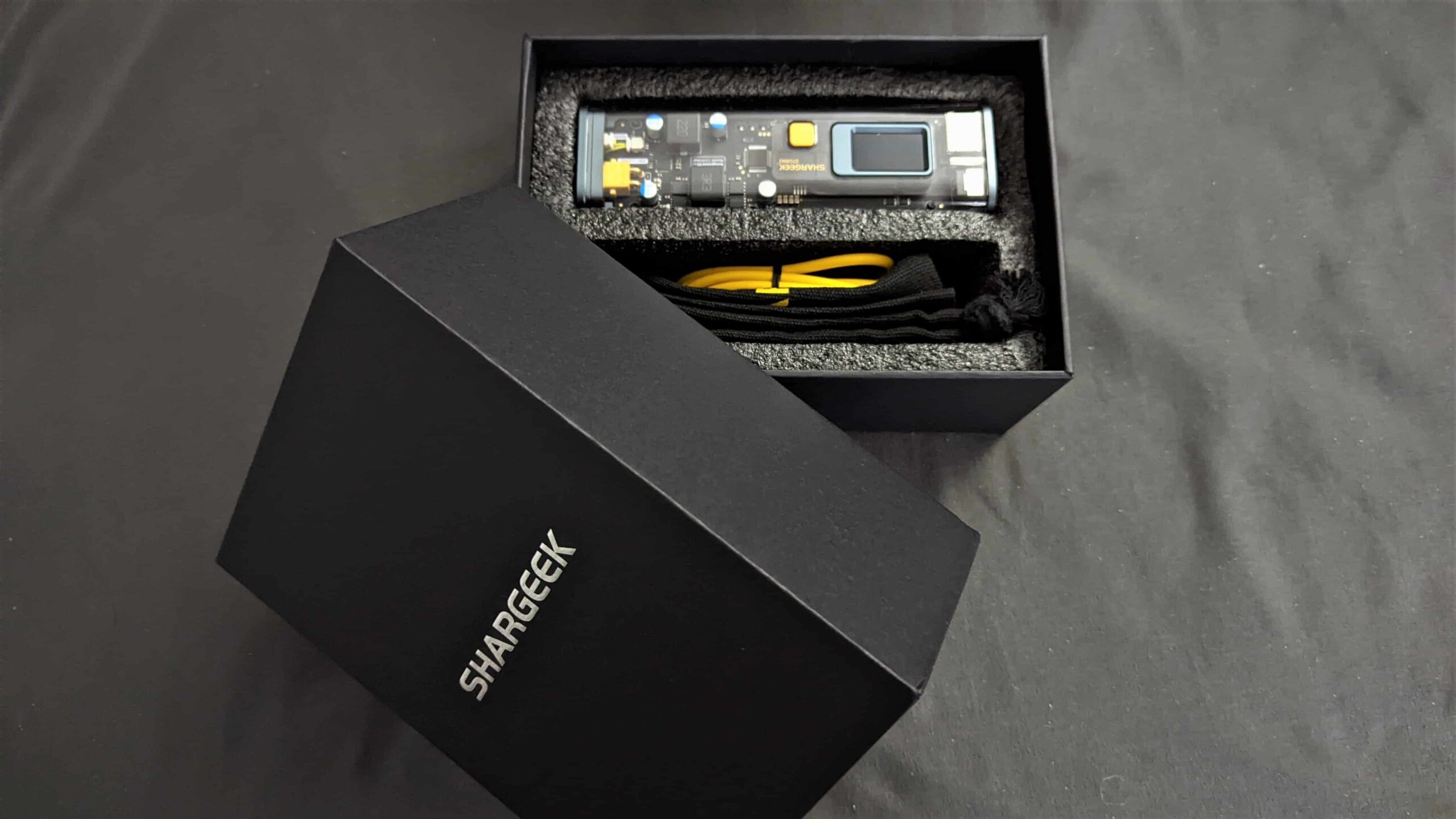 One of the first things you should ask about a battery bank is the battery capacity. The Shargeek Storm2 is powered by a set of 8 Samsung-manufactured lithium-ion battery cells (3200 mAh each) for a total capacity of 25,600 mAh (93.5 Wh), a decent amount of juice for everyday use.
Since the Shargeek Storm2 is a portable battery bank, you'll want to know how much it weighs. The Shargeek Storm2 weighs 579 grams (or about 1.28 pounds), which is not too bad and wouldn't add much weight to an already jam-packed backpack.
The Shargeek Storm2 comes with four outlets to charge your gadgets. These outlets include two USB-C, one USB-A, and one DC outlet. The USB-C1 outlet is 100 Watts (PD 3.0), the USB-C2 is 30 Watts (PD 3.0 & QC 4+), the USB-A is 18 watts (QC 3.0), and the DC outlet has a capacity of up to 75 watts.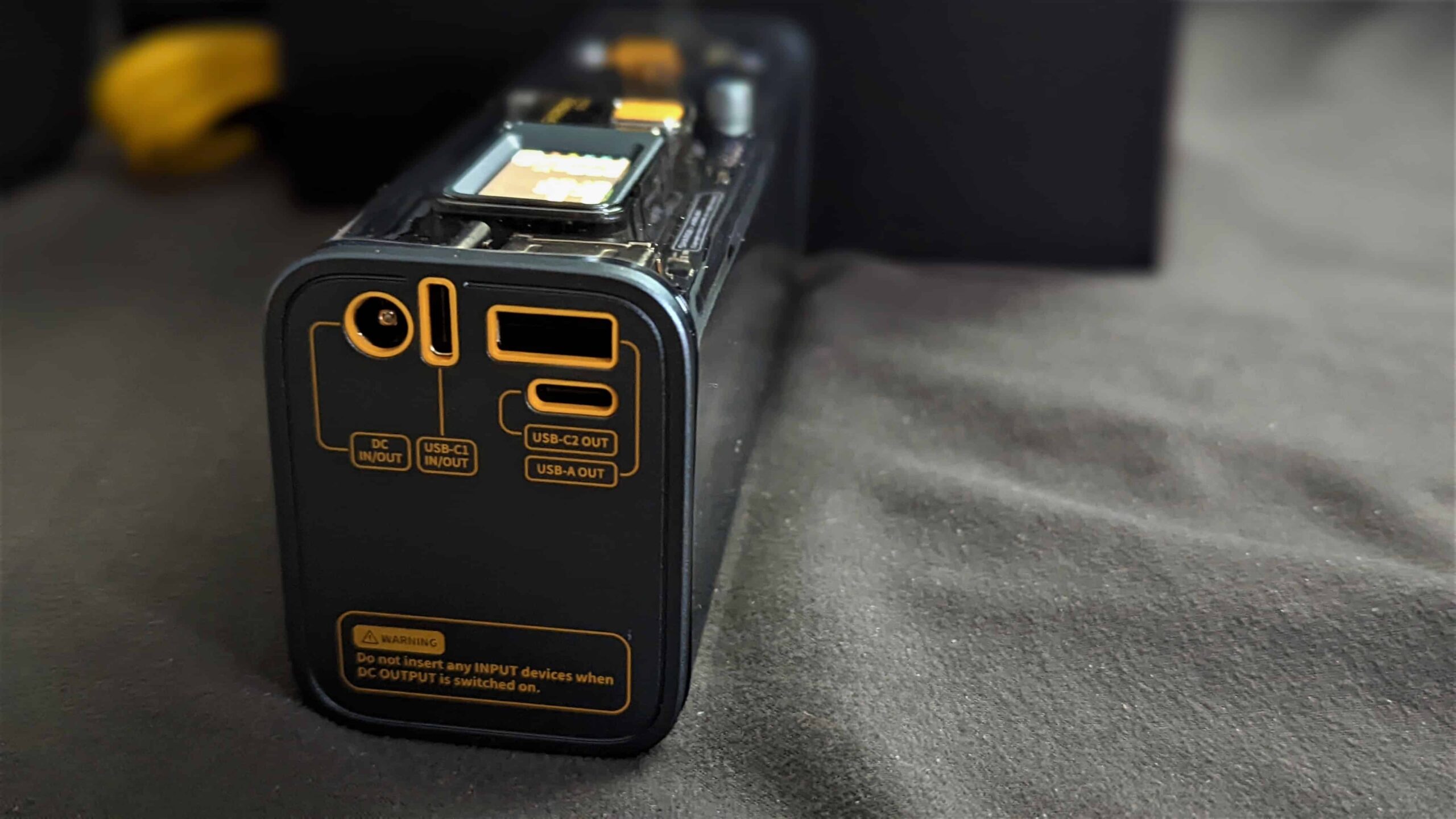 The Shargeek Storm2 was able to charge my Pixel 6 Pro in an impressively fast time. According to the manufacturer, the Storm2 has enough power to charge a laptop with a PD charging function. I couldn't personally verify this claim, as I didn't have access to a cable that could charge a laptop using a USB-C plug.
Charging the Shargeek Storm2 is also a breeze; plug it into a power outlet using the DC inlet, and the battery bank is fully charged in 90 minutes. Our Storm2 came with the optional Shargeek Retro 35W GaN charger, which would take a bit longer to charge the battery bank fully. The retro charger is super cute; it looks like an old Macintosh computer and has an LED display with a smiley face. It changes colors based on whether it's charging or is on standby mode. The Storm2 has built-in over-voltage, short circuit, and extreme temperature protections. The case is fireproof and airline safe.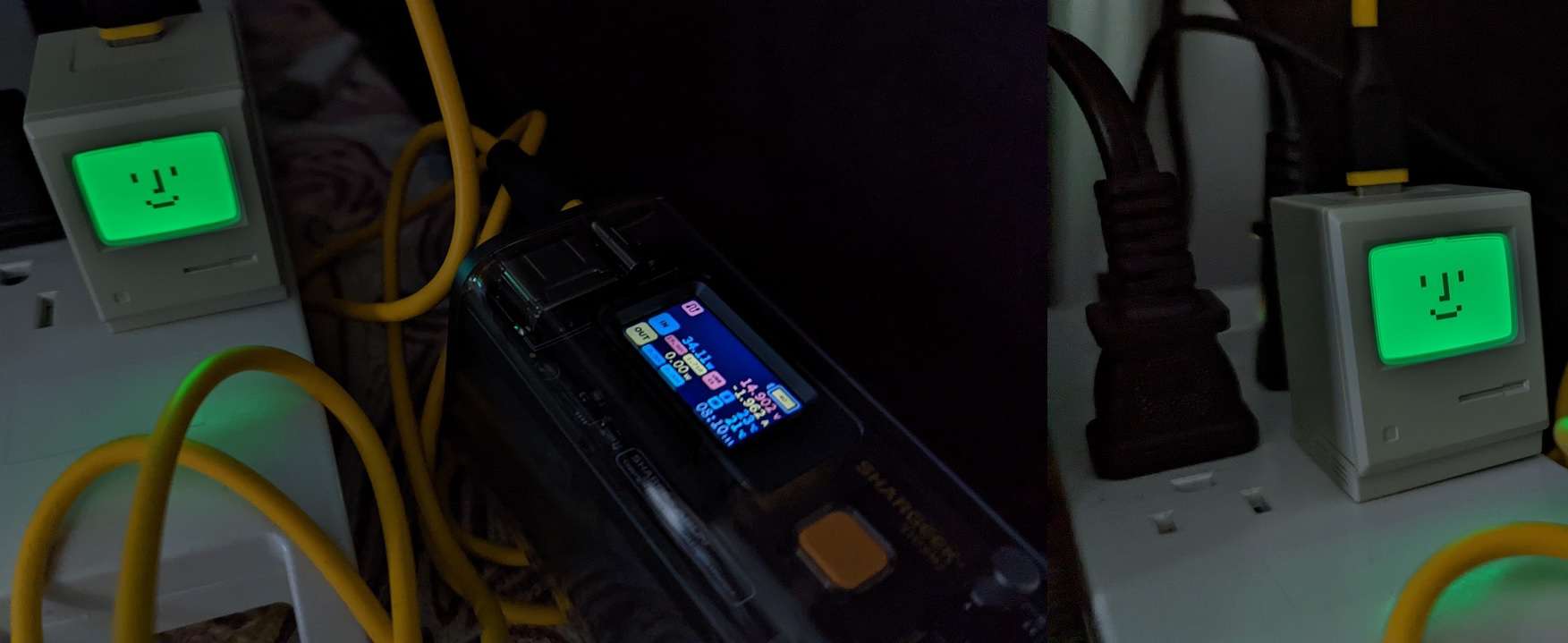 Shargeek Storm2 Cool Factor
After reading all the specs, you're probably wondering what's so cool about the Storm2 portable power bank. There are countless portable battery banks on the market, but none offer the see-through chassis of the Shargeek Storm2. As a watch enthusiast, I love looking at the inner workings of a gadget. With high-end watches, you can see the inner workings of a mechanical watch. With the Storm2, you're offered the same opportunity, but this time you're looking at the electric components of a modern gadget. I love the way the circuits are visible, I don't know what most of the stuff is, but even as a child, I used to love breaking my old electronically powered toys so that I could look at all the inner circuitry. It's safe to say the Shargeek Storm2 brings out the inner child in you.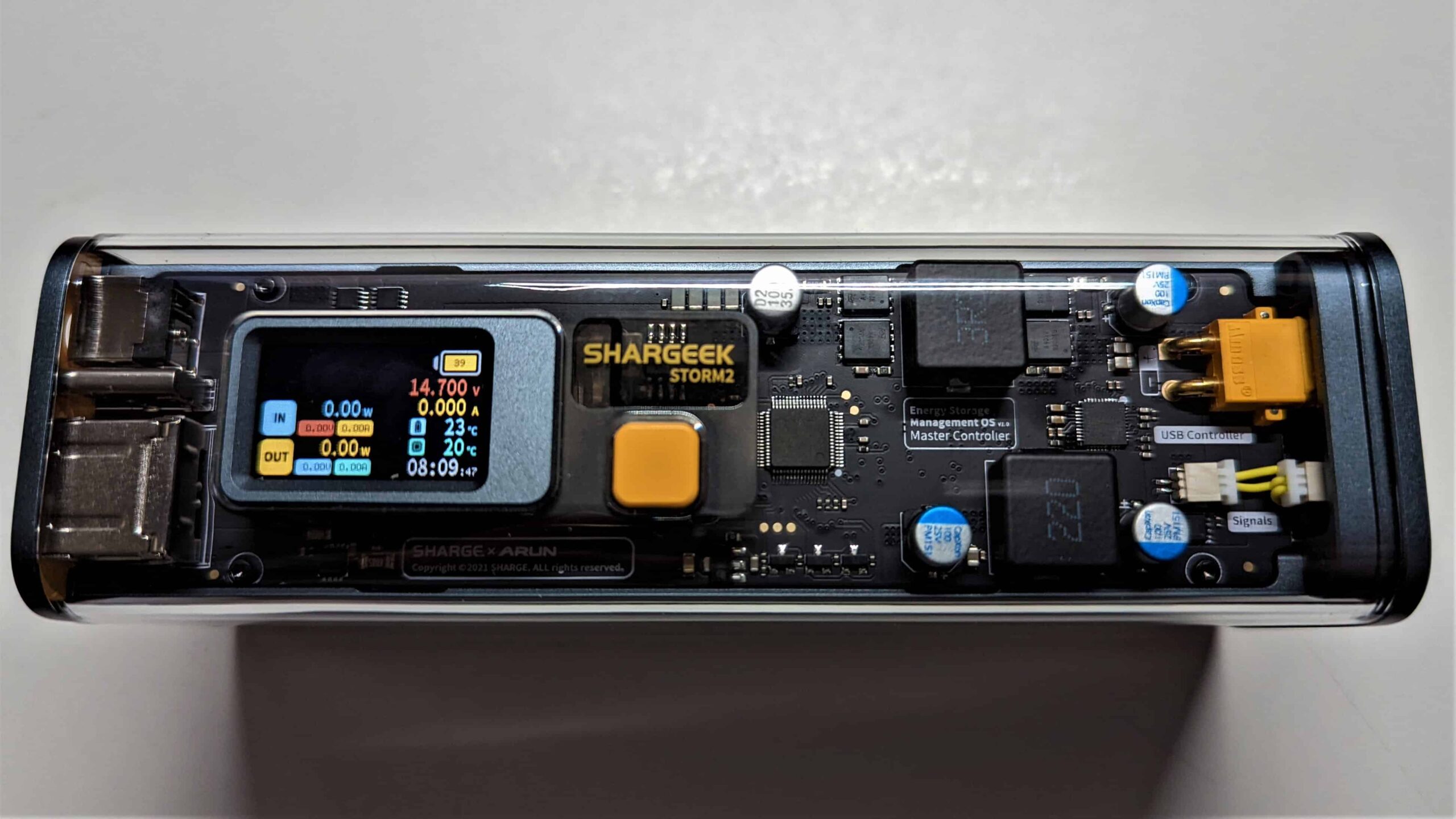 The Storm2 also comes with a smart IPS screen, which showcases different information like current out, input, voltage, amps, temperature, and, most importantly, the battery bank's state of charge. Using the large yellow button, you can manually adjust the voltage and current of the DC port for maximum output to quickly charge different gadgets.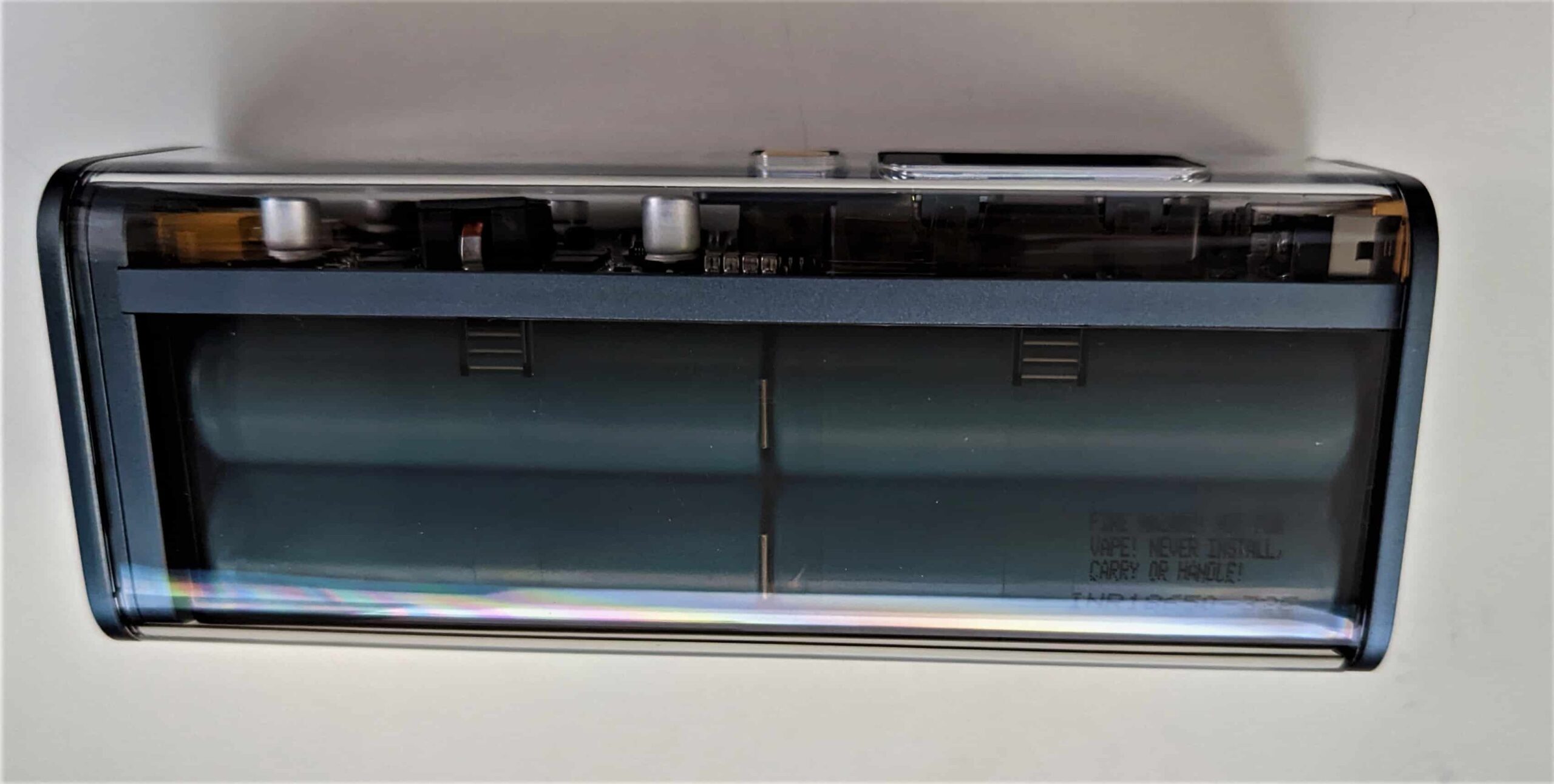 The Shargeek Storm2 is priced at $229, but you can get a $30 discount using the code "GEEK10". This is definitely an expensive power bank, but it's also the coolest. So, whether you can justify paying $200 for something like that is up to you. There's good news; the company is currently having a Christmas sale on its Amazon store and official website, with 20% off on most products. The company also offers the Storm2 Slim for $189 (the same discount code can be applied for $30 off), a smaller version of the Storm2.
The optional Retro 35W GaN charger is priced at $29.99 on Shargeek's official site. However, the aforementioned Christmas sale knocks 40% off the price.
If you want to charge your Storm using the sun's power, Shargeek also offers the Storm 2 Solar Panel for $79. The Storm 2 solar panel is great for charging up your battery bank when you're outdoors, giving you even bigger peace of mind for keeping your gadgets fully charged when you're away from the electricity grid. The solar panels come in a foldable pack, measuring 6.29 x 2.95 x 1.77 inches when folded (160 x 75 x 45 millimeters) and 33.27 x 6.29 x 0.19 inches when unfolded (845 x 160 x 5 millimeters).
I personally loved the Shargeek Storm2 battery bank and the Macintosh-looking 35W charger. These items should make a perfect gift for that gadget lover on your shopping list. I would love to try out the solar panel at some point in the future. For more information on the Storm line of products and other geeky gifts, check out Shargeek's official website.