Screen recorders are tools to record your PC's screen. These small but highly useful as well as powerful tools have gained serious attention. These screen recorders help you capture whatever you want. But how to record Zoom meeting without the host's permission? Is it possible? Is there any screen recorder that makes it possible for you to record a Zoom meeting secretly? So the answer to these questions is yes! iTop Screen Recorder.
iTop Screen Recorder Pro License Key Giveaway
You can get a 6-month iTop Screen Recorder Pro key for free and enjoy premium recording features. Download the program, paste the key in the program and click "Register". License key: F5A3F-79574-4772E-23F42 Download the program: https://recorder.itopvpn.com.
Record Zoom meeting with iTop Screen Recorder
The current COVID-19 pandemic has totally changed the way we used to live, enjoy, and work. These two devastating years have collapsed the normal ways of life. One big change that this pandemic has brought with it is work-from-home. Moreover, meetings and conferences are being held on software like Zoom and Ding Talk.
Now, if someone wants to record a Zoom meeting, he/she needs the consent of the host. So, it wasn't possible for you if the host denied recording of the meeting. However, the revolutionary iTop Screen Recorder empowers you to discreetly record a Zoom meeting. Having said that, you don't need to seek the host's permission every time. Let's see how you can record a Zoom meeting with the iTop Screen Recorder.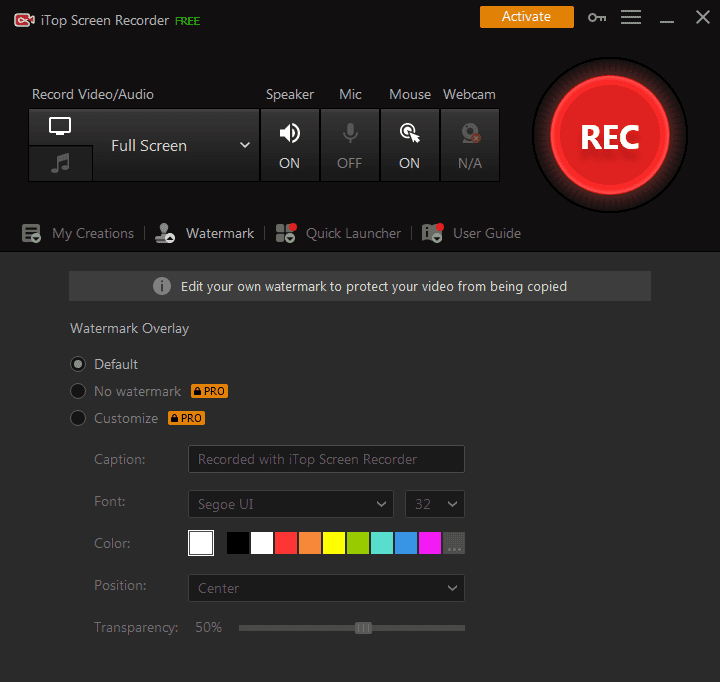 Steps to record Zoom meeting with iTop Screen Recorder
iTop Screen Recorder enables you to record a Zoom meeting in 6 simple steps.
Step 1: Download iTop Screen Recorder from the iTop website and install it.
Step 2: Join the Zoom meeting and open the recorder.
Step 3: Select the area you want your recorder to record.
Step 4: Click "REC" or hit the F9 key to start recording your meeting.
Step 5: Click on the red button to finish the recording and save the video.
Step 6: Watch the video by clicking on the video list.
Thus, iTop Screen Recorder makes it extremely easy for you to record a Zoom meeting without permission. Additionally, the recorder also records audio as well as enables you to edit recorded video. Now, that's some fun!
The top-notch features of your iTop Screen Recorder
ITop Screen Recorder doesn't only records Zoom meetings but also offers numerous enticing features like;
1. A suite of powerful features
Besides helping you record a Zoom meeting, iTop Screen Recorder also empowers you to record every precious moment in your daily life. That means you can record your video conferences, self-made tutorials, online courses, movies, music, or any other activity on your PC's screen you want it to record.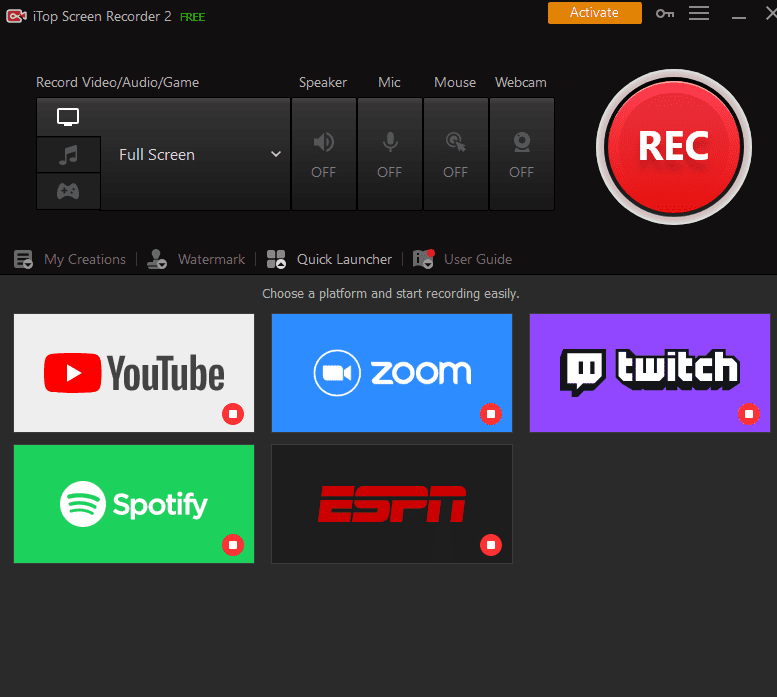 2. Game Mode
iTop Screen Recorder also enables gaming enthusiasts to capture the most enjoying and highlight game moments in 4K Ultra HD up to 4096 × 2160 resolution.
3. Facecam Recording
iTop Screen Recorder also enables you to record your face in a video with a Facecam Recording feature.
4. Record the screen with audio
It also records audio including every syllable of the inside background, speaker, and headset.
5. Other features
iTop Screen Recorder offers numerous other features such as multiple output formats, screenshots while recording, and much more.
The wrap-up
Stunning! Isn't it? iTop Screen Recorder perfectly answers how to record Zoom meeting without the host's permission. Moreover, if you want to record any activity whatsoever on your computer screen, iTop Screen Recorder says HELLO! Therefore, download, install and have fun with iTop Screen Recorder.