Planters and garden gnomes are a thing of the past. If you really want to give your home a makeover, then the Endless Vortex Water Fountain is the thing for you. Guests will be amazed at the tornado like swirling water which does not stop in the fountain, and continues to twirl in the center of it creating a vortex. Designed by the Tills Innovations Company in UK, this spectacular product is not only fitting for a domestic house but would equally suit an office or a conference hall.
The fountain includes a glass tube that measures 23.6 inches in diameter, and comes with a bespoke stainless steel adjustment support and water leveling system. The fountain has an integral fine filter that cleans the water and polishes it to give it a crystal clear quality, and create that optimal view of clear whirling water. The fountain comes with a high quality energy efficient pump and a separate low water cut-off switch.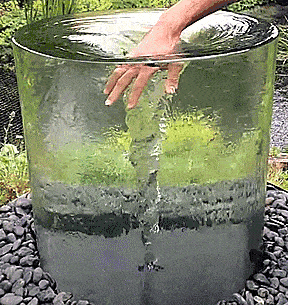 The magic of the endless vortex makes this water fountain a truly spectacular one, and can be easily installed in your home or workplace. You can place it at the entrance of your giant home or in your garden space, and admire the magnificent whirlpool from a distance. You can connect the fountain to a garden hose, and turn it on or off whenever you like. It is energy efficient, so you don't have to worry about wasting electricity.
The Endless Vortex Water Fountain will give your surroundings a unique and classy look which will get the attention of all passersby. This product is easily available at Tills Innovations Company and will set you back $2700.
You can browse through the pictures and videos posted on Tills Innovations website to get more information about this product, and get an idea for the design that you want to have for your garden or living space. Tills Innovations Company offers similar innovative products which will make your home more lively and admirable. For any queries, you can post a direct question or contact the customer service, and they will be able to provide you the necessary support in helping you choose the right item.