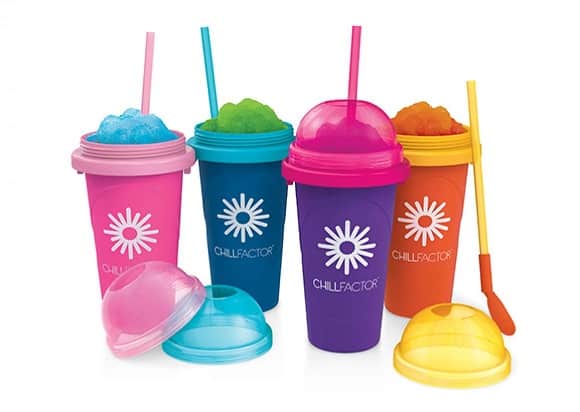 I love slushies and they are the perfect drink for the hot summer months. If you're feeling lazy and can't be bothered with going to the local convenience store, then you should definitely check out the Slushy Maker. And no, you will not need to purchase another bulky appliance to make a delicious slushy.
The Slushy Maker is actually a silicone cup with a cool pack insert that turns ordinary juices into slushies! The cups are available in a Small (9 oz) and Large (11 oz). The Slushy Maker is so easy to use, even a young child can have fun making an icy cold treat! Once you've purchased the Slushy Maker, simply stick it int he freezer between four to six hours, remove from freezer, pour in your favorite drink of choice, and squeeze the silicone cup. Yep, just like any other silicone cups we all love to squeeze. A one-minute massage is all that is needed to turn your beverage into a slushy/slushie. The pliable silicone cup allows for the transfer of the cold directly into your beverage.
The reusable cup comes with a removable dome lid and a reusable spoon-straw. And of course, the materials used are made from BPA-free plastic. The up is to be hand washed only while the lid and spoon-straw are top-rack dishwasher safe. The Slushy Maker is available for $12.99 (Small) and $14.99 (Large).