When space is limited, having guests over is a real pain. My friends are pretty easy so sitting on the floor was not an issue when I was living in a one-bedroom apartment. Now I'm living the "good" life with a two-bedroom apartment but seating can still be problematic. If you have no issues with spending $149 on a folding chair, you may want to look into the Flux Chair.
Yes, it may look like a giant envelope but it converts into a designer chair. It's modern, sleek, and best of all it folds flat so you can store it away easily without getting in the way. Purchasing a regular chair would be a lot cheaper but the weight and ability to store the Flux Chair is where it gets points. The Flux Chair is constructed out of polypropylene and is very durable weighing in at 11 pounds. You can use it for indoor use or the outdoors.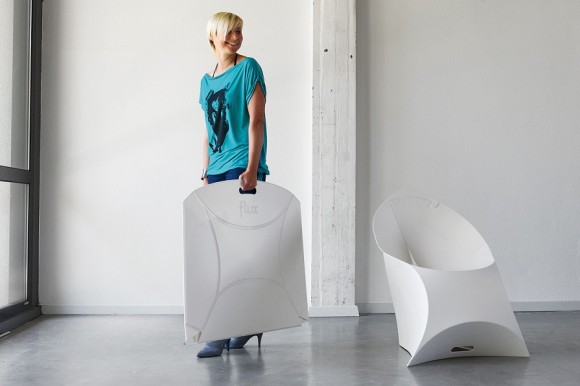 The chair features a wedge base with no legs. The Flux Chair looks pretty comfortable and looks like the perfect chair to get your drink on in. Best part of all, no tools are required when setting up or folding the chair. Who doesn't want a giant, plastic envelope folding chair? The Flux Chair is available in a variety of vibrant colors and ideal for small spaces. You can stick it under your bed or sofa for easy storage.
The Flux Chair is available on Amazon for $149. The Flux Chair Pad is also available for some added comfort.