In 2022, we have taken another step into the future, and CES returned to Las Vegas this year with new technology that is bigger and better than ever. It was an incredible journey with 40000 in-person attendees and so many technological breakthroughs in the event this time.
And if you are wondering what Dreame brings at CES 2022, then rest assured! Dreame brings new and updated versions of high-end cleaning appliances with many twists this time.
As we know already, Dreame is a leading innovative company of intelligent home systems and home automation solutions. With over years of experience in smart home cleaning solutions, Dreame has the knowledge and technology to provide customers with the best possible experience with endless possibilities.
So let's not waste time and check out what Dreame's Technology brings to Consumer Electronics Show(CES) 2022 so you can choose new intelligent cleaning solutions for your home.
Our Favorite Dreame's Cleaning Solutions at CES 2022
It was a success last year when Dreame Technology appeared at CES. They have returned with even more innovative smart home cleaning appliances this year that we can't wait to test them and review!
In CES 2022, we loved all of the intelligent cleaning solutions of Dreame. Among them, let's look at some of our favorite innovative cleaning solutions by Dreame Technology.
Dreametech W10 Robot Vacuum Cleaner and Mop (Highly Recommended)
We liked the Dreame tech W10 robot because it's a complete cleaning solution for our home. This self-cleaning robot does almost everything, from sweeping, washing, mopping to drying all 4 in 1.
The W10 robot vacuum cleaner in CES 2022 is the latest and updated version from Dreame tech.
It features advanced LDS LiDAR navigation, fast scanning, dynamic and accurate mapping, reasonable and efficient route planning, and a variety of cleaning settings.
And all those techs make it perfect for effortlessly cleaning different areas of your home, such as the kitchen, bedroom, or nursery.
Also, the D-shaped design & voice control is ideal for corners that are hard to clean. Its tremendous obstacle avoidance ability means that it can reach high up around your furniture, even if there are obstacles in your way.
Plus, it's compatible with Alexa, so you can start using it as your assistant!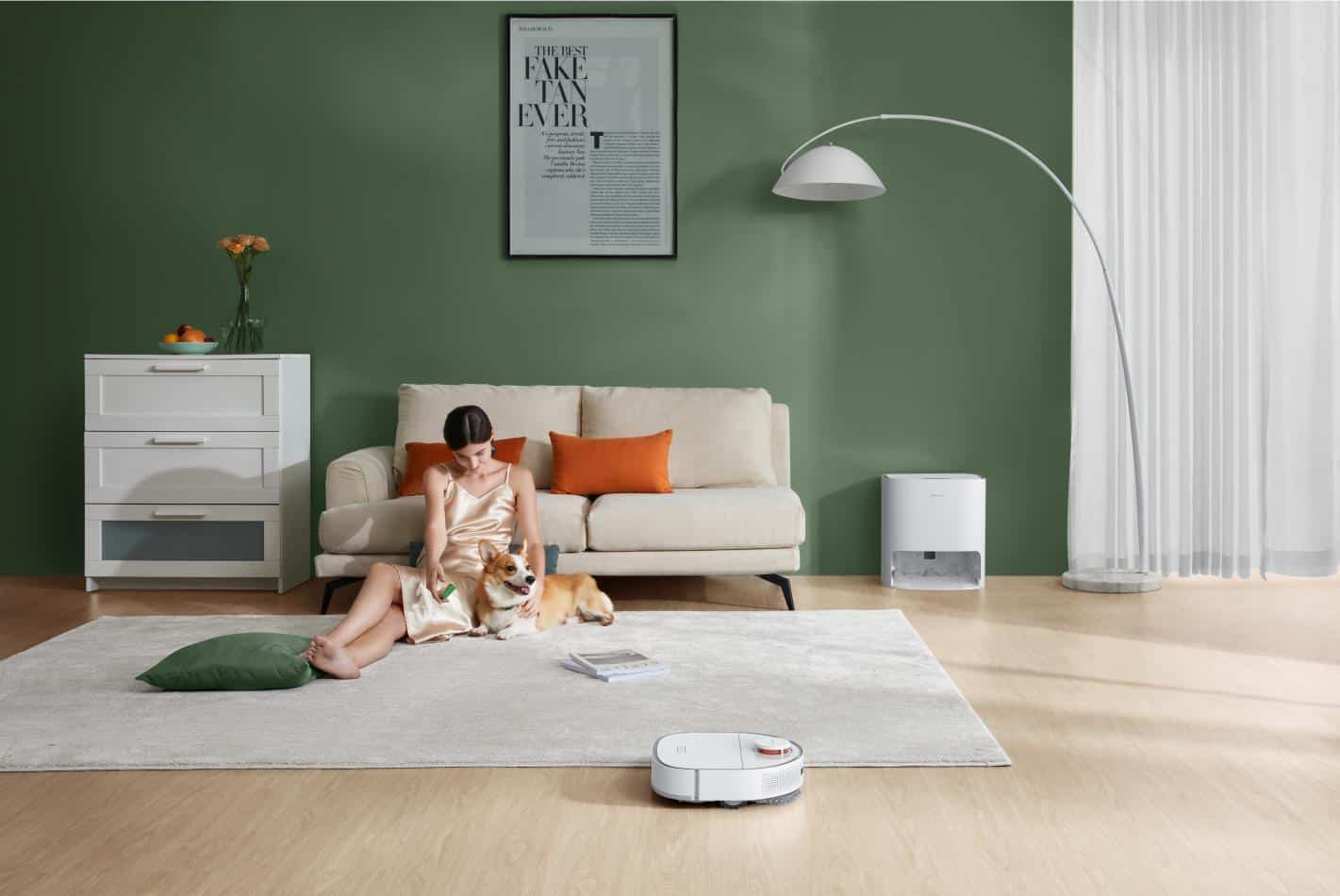 So if you are looking for a new intelligent vacuum cleaning with advanced tech for life easing, then you should welcome Dreametech W10 Robot Vacuum Cleaner in your home.
From here, you can get it with free home shipping – https://www.amazon.com/Dreametech-Cleaner-Sweeping-Mopping-Navigation/dp/B09994T1NB
Dreametech L10 Pro Robot Vacuum Cleaner and Mop (Recommended)
In CES 2022, Dreametech's second-in-line robotic vacuum cleaner that we love is L10 Pro. Why? Because it has all the necessary features to clean our home perfectly whether its carpet wrapped or hard wooden floor.
Some of the benefits of L10 Pro that we liked are stated below –
The L10 Pro robot vacuum cleaner and mop can help you reduce accident rates. It will automatically distinguish obstacles and clean them accordingly. And it will ensure that your home is clean and safe, without having to worry about it.
Increased productivity with long runtime
L10 Pro comes with a runtime of up to 150 minutes to help you achieve increased productivity. As a result, you can spend more time cleaning your home rather than struggling with the task of keeping it clean.
Improved accuracy with mapping
This robot vacuum cleaner features four-way mapping to easily divide or merge areas while also labeling rooms and setting no-go zones so that certain areas will not be cleaned or mopped. L10 Pro will make your life easier this way with some simple commands, as it will make it easier for you to follow the correct path when cleaning your home.
The L10 Pro robot vacuum cleaner is built from durable materials to handle even the most difficult tasks. Also, it features a 5200mAh battery that means that it can stay working for long periods, ensuring that you won't have to worry about recharging it again before every cleaning session.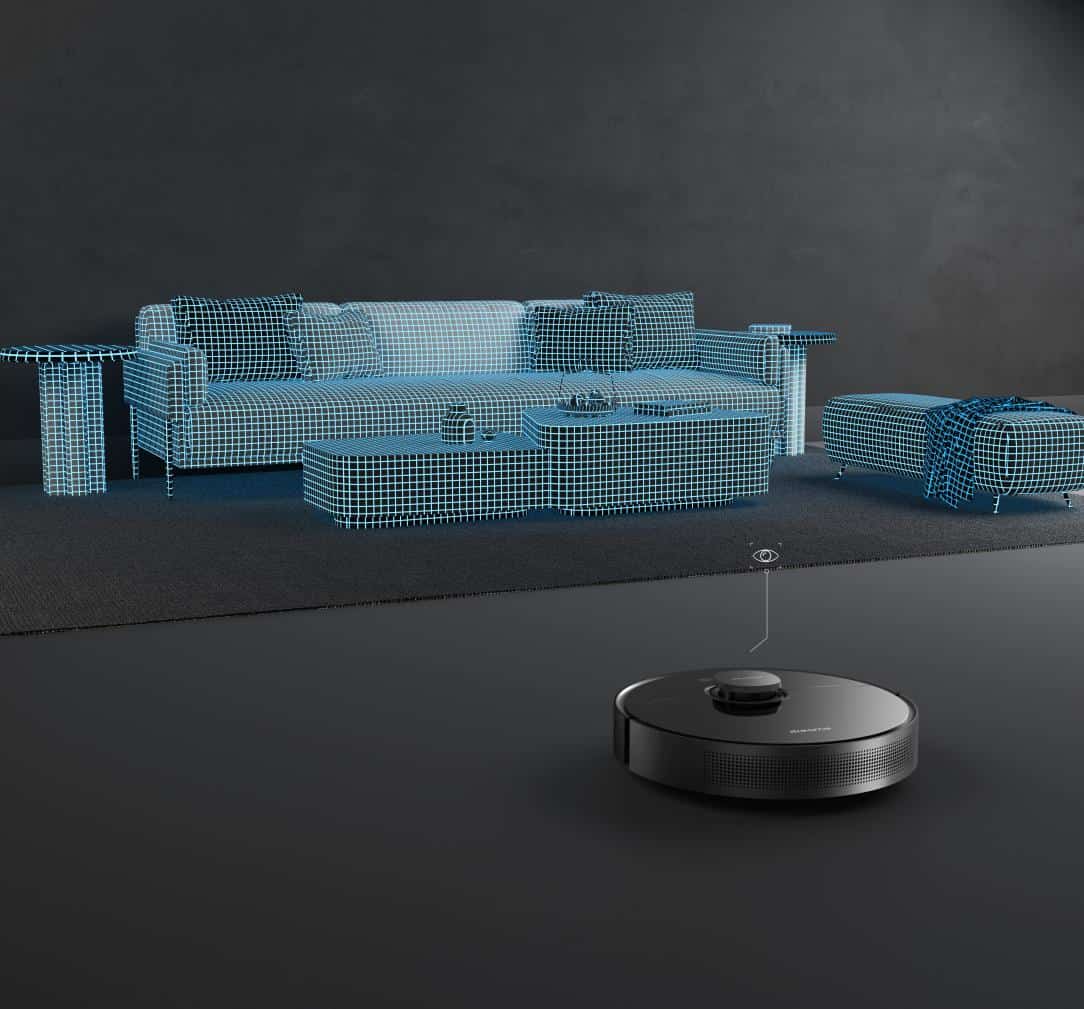 In a nutshell, Dreame's L10 pro picks up and smartly cleans almost everything with some simple commands, whether it's pet hair, debris, or specks of dust.
Also, Dreame Tech L10 Pro is highly recommended for every homeowner to make life much better and more accessible. And you can get it from here – https://www.amazon.com/Dreametech-L10-Pro-Cleaner-Navigation/dp/B08YNDH84H
Dreametech T30 Cordless Vacuum Cleaner (High Techy)
Next in the CES 2022 event lineup from Dreame Tech is – T30 Cordless Vacuum Cleaner. Another innovative and updated cleaning solution from Dreame tech that we liked.
We are impressed with the new updates of the Dreame tech T30 vacuum cleaner. It has become more user-friendly cordless vacuums among the vacuums we have used.
The design is simple and easy to understand, and it's pretty effortless to clean.
The self-luminous LED flat nozzle is excellent for easy visibility in dark spaces. And the comb structure and V-shape roller brush can prevent hair from wrapping around the roller.
Also, the flexible elbow joint makes it easy to clean furniture top and bottom, and it comes with one year warranty. Plus, it has an impressive self-lock system that makes it difficult for anyone trying to take it apart.
Overall, I am impressed with the Dreametech T30 vacuum cleaner in the CES 2022!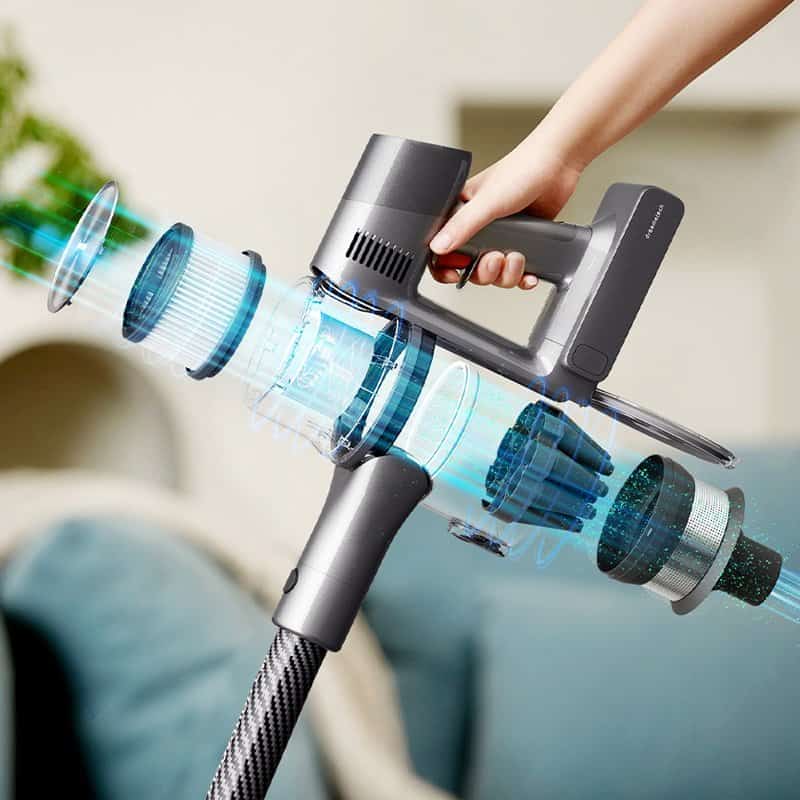 Dreametech H11 Max Cordless Wet Dry Vacuum Cleaner (Powerful & Easy to Use)
Another featured Dreame Tech Intelligent Cleaning solution in CES 2022 is – H11 Max Cordless Wet Dry Vacuum Cleaner.
What does it bring for us? It's an easy-to-use wet dry vacuum cleaner that will care for all your cleaning needs. So If you're looking for a powerful wet dry cleaner, then the Dreametech H11 Max is your perfect choice.
This 4-in-1 cordless vacuum cleaner can scrub and sweep your floors in just one second – making it the ideal choice for busy professionals or anyone who wants to tidy up quickly and easily.
Additionally, this vacuum cleaner has an innovative self-cleaning system that keeps brushes and tubes clean and odor-free.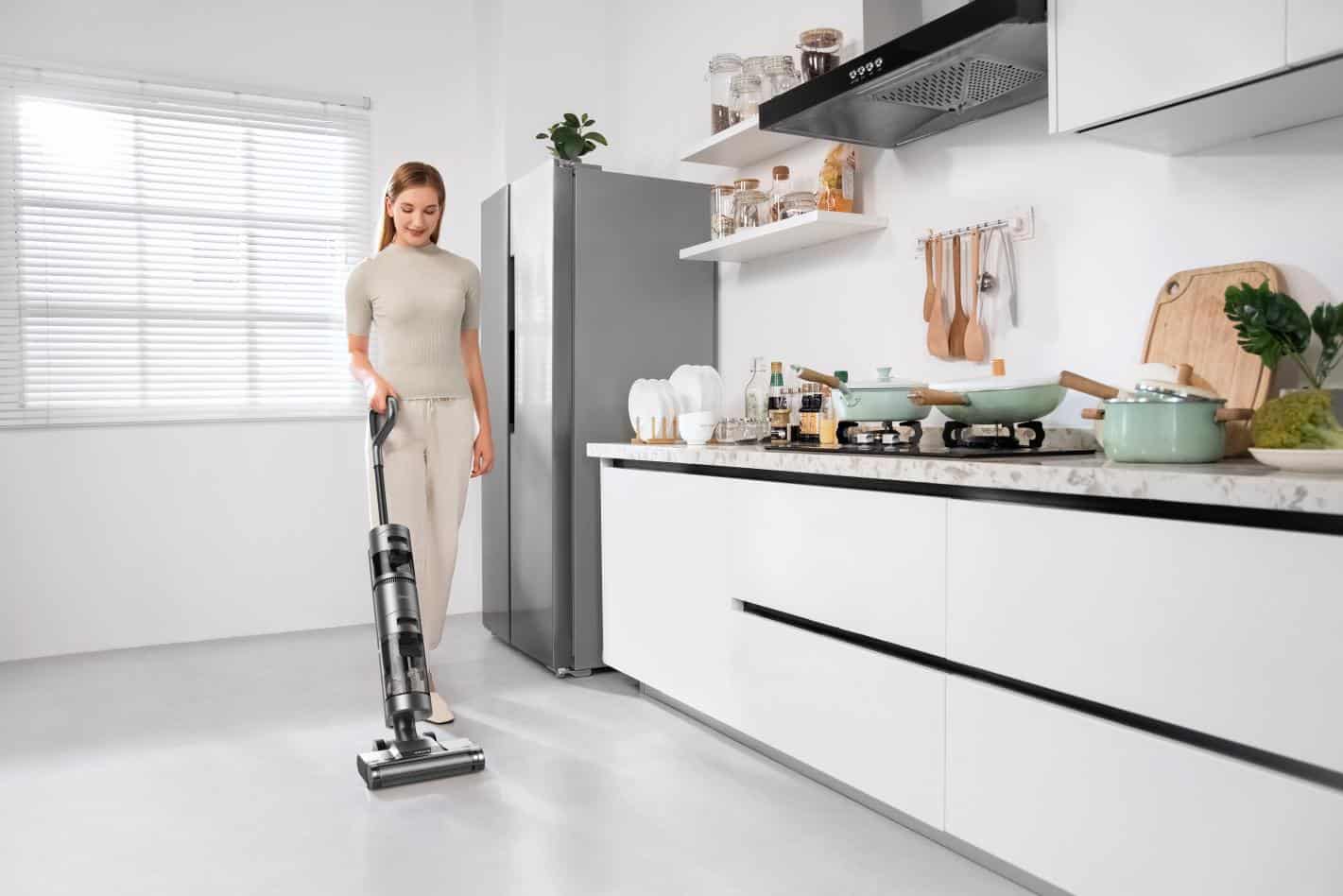 So whether you're looking for a Wet Drying Vacuum Cleaner that can take care of everything from sweeping to mopping or just want a vacuum cleaner that can do it all, the H11 Max is your choice!
This week, Dreame exhibited a lineup of its latest developments in the CES 2022 showroom. This diverse selection of products is designed to help homeowners achieve their cleaning goals effortlessly and effectively.
In particular, they unveiled the H11-series wet & dry vacuums and the Dreame Bot D9, W10, Z10 Pro robot vacuum with a mop and L10 Pro.
Dreametech is introducing a new product lineup that includes the following –
Dreame T-Series Cordless Stick Vacuum
This lightweight and powerful stick vacuum cleaner delivers suction power from a range of 20kPa – 27kPa to ensure proper home cleaning. As a result, it becomes easy to clean tough to reach places with various decorations.
Dreame P-series Cordless Stick Vacuum
This powerful, lightweight dry & wet vacuum cleaner supports various features like a two-tank design that cleans carpets. It's the perfect choice for people who want the best cleaning performance.
Dreame Bot D9 Robot Vacuum and Mop
The D9 provides vacuuming for carpets and mopping for floors. Also, it uses LiDAR navigation to make the cleaning process automatic and a better option for persons worldwide.
Dreame H11-series Wet & Dry Vacuums
The H11 features a two-tank design that uses Cleandex Clean Technology to work together to clean your floors quickly and efficiently. Additionally, they have an automatically scanning head that detects obstacles and ensures your floors are cleaned properly every time.
Also, the H11-series dry and wet vacuums are also made for hard wooden floors.
On the contrary, The Dreame Bot D9 is also equipped with LiDAR navigation to make the cleaning process automatic and easy for users worldwide. It has a powerful suction power range from 20kPa – 27kPa that you can control via a smartphone or computer.
In CES 2022 event, Dreame Tech brings new technology advancements in home cleaning solutions with many life easing features.
Dreame's latest innovation is its innovative home cleaning solutions. These products are designed to provide more efficient and effective cleaning for your home. DreameTech's innovative technology uses sensors to quickly, efficiently, and effectively detect and clean areas.
In a world where people are constantly on the move, your favorite Dreame's cleaning solutions must always be there to keep things organized and clean.
Dreame has you covered with intelligent home cleaning solutions whether you're at home or out of the house.