All strong businesses begin with a watertight concept. Successful business concepts offer clarity on the endeavor's direction and the form its operations take. Furthermore, your concept will denote the startup's intangible assets in a way that can keep them protected throughout the formative years of your business.
Many factors need to be considered when creating a business concept, and you'll need to acknowledge who you're aiming your company at, the needs of your customers that you're hoping to fulfill, your perceived strengths and unique selling points, and why your endeavor is best-placed to outperform your competitors.
And in the same way, you would spend time choosing the right business insurance provider for your company; you need likewise to spend time choosing the right elements when creating your concept.
Given the importance of the content encapsulated in your business concept, getting it right before sharing it with relevant parties is important.
While this may seem daunting, creating a comprehensive and compelling business concept can be made easier through specialist template platforms like Powered Template.
As a leading resource for templates linked to presentations, graphics, backgrounds, web elements, and a wide range of business materials, Powered Template is a sprawling resource for professionally designed resources that can be used for various purposes.
Furthermore, the platform features free and premium templates, making it easier than ever to start building a business concept on a scale that suits your needs.
Building a Business Concept via Powered Templates
The beauty of Powered Template is that there's no shortage of choice within the platform–regardless of what you're looking for on-site.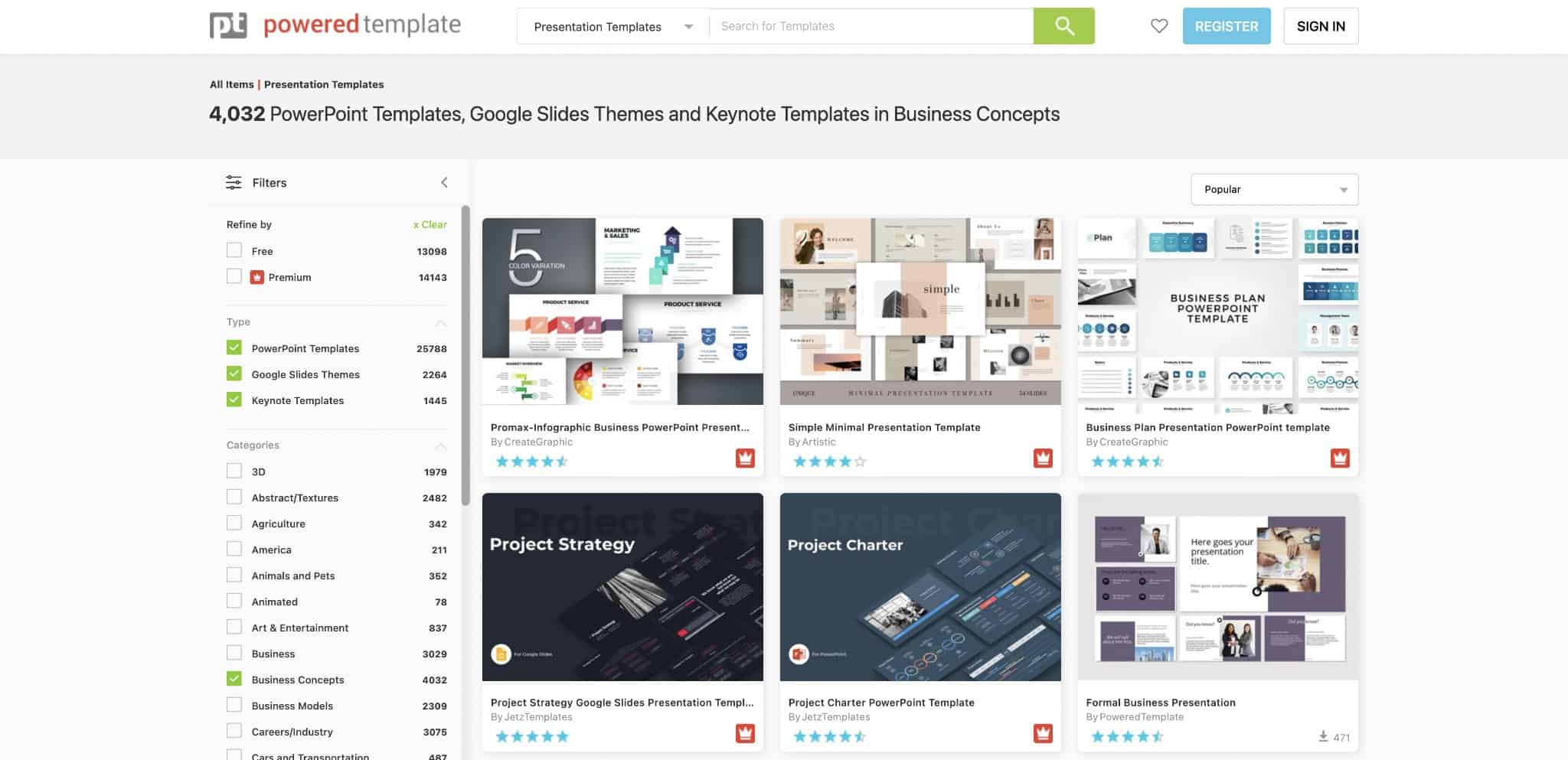 In searching for templates linked to business concepts, we can see that more than 4,000 options are available that span Microsoft PowerPoint, Google Slides, and Apple Keynote formats.
We can also see that designs vary significantly depending on the designer, giving you plenty of food for thought and room for choice when selecting your favorite templates.
Suppose you cannot pick out an immediate favorite from Powered Template's extensive selection offered for businesses. In that case, the platform uses an intuitive rating system that allows users to rank their downloads out of five stars to highlight the highest-rated options on the list, making it easy for you to choose from the best (highest-rated) templates.
Furthermore, premium options are highlighted via a red thumbnail at the bottom right of a selection depicting a crown. To access these templates, you'll need to set up a subscription to the website. However, at a cost of $9.25 per month, subscriptions can still be a cost-effective option for users.
Picking a Template that Matches your Expectations
Getting your template selection right is important first to save time reworking your content. Fortunately, Powered Template showcases a broad range of essential information for users selecting individual templates.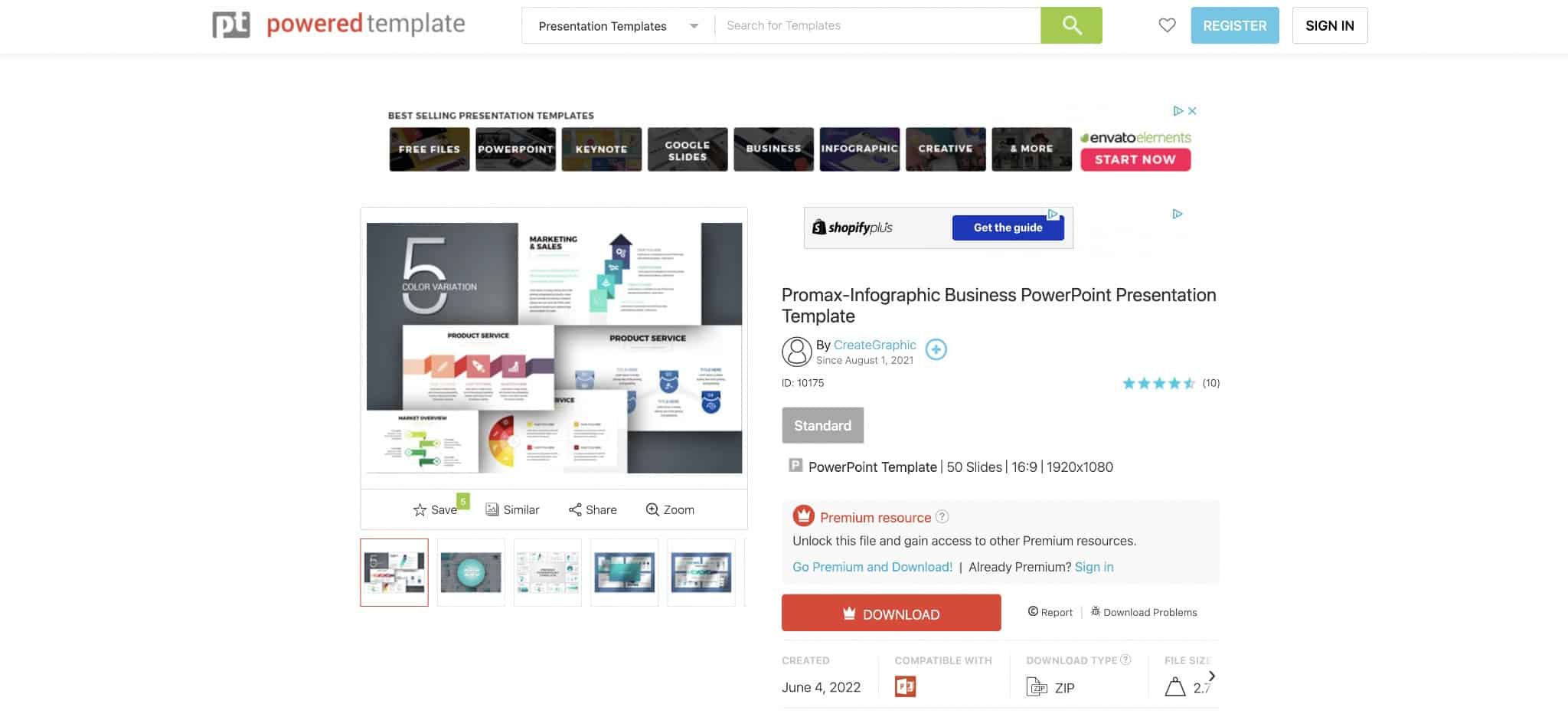 For instance, let's look deeper at the Promax Infographic Business PowerPoint Presentation Template. By selecting the option, we can see it's a highly-rated premium resource with 50 slides. The template format exclusively works with Microsoft PowerPoint, and an embedded gallery allows us to see some examples of what the slides look like.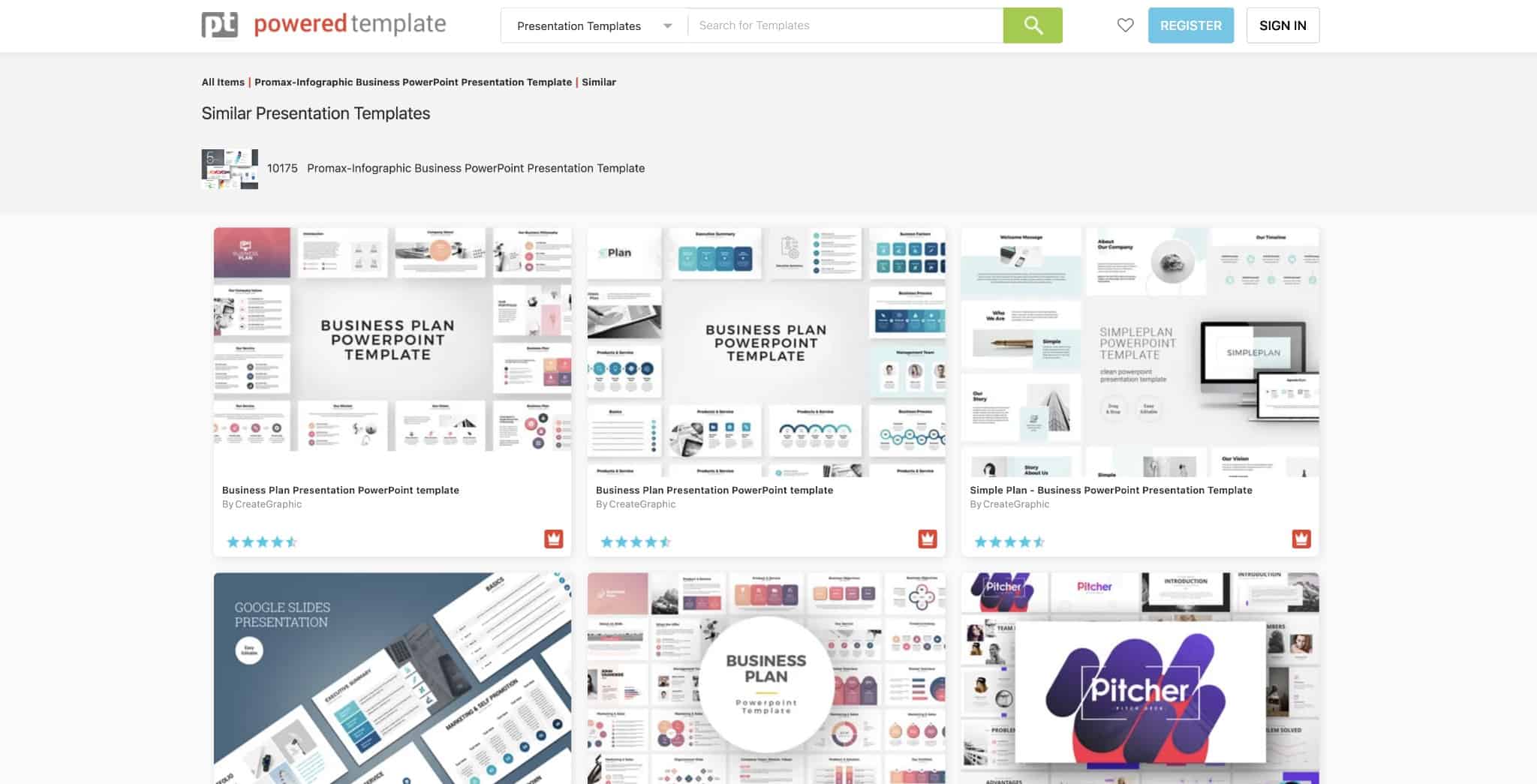 Thanks to its intelligent 'Similar' function, it's possible for you to instantly view a range of other templates that are regarded as similar in content to your selection–as a means of fine-tuning your choices.
Downloading a Winning Business Concept Template
The beauty of Powered Template is that all of its content is fully editable, meaning that you can repurpose any template into a high-performance concept that can be as engaging and informative as you want it to be.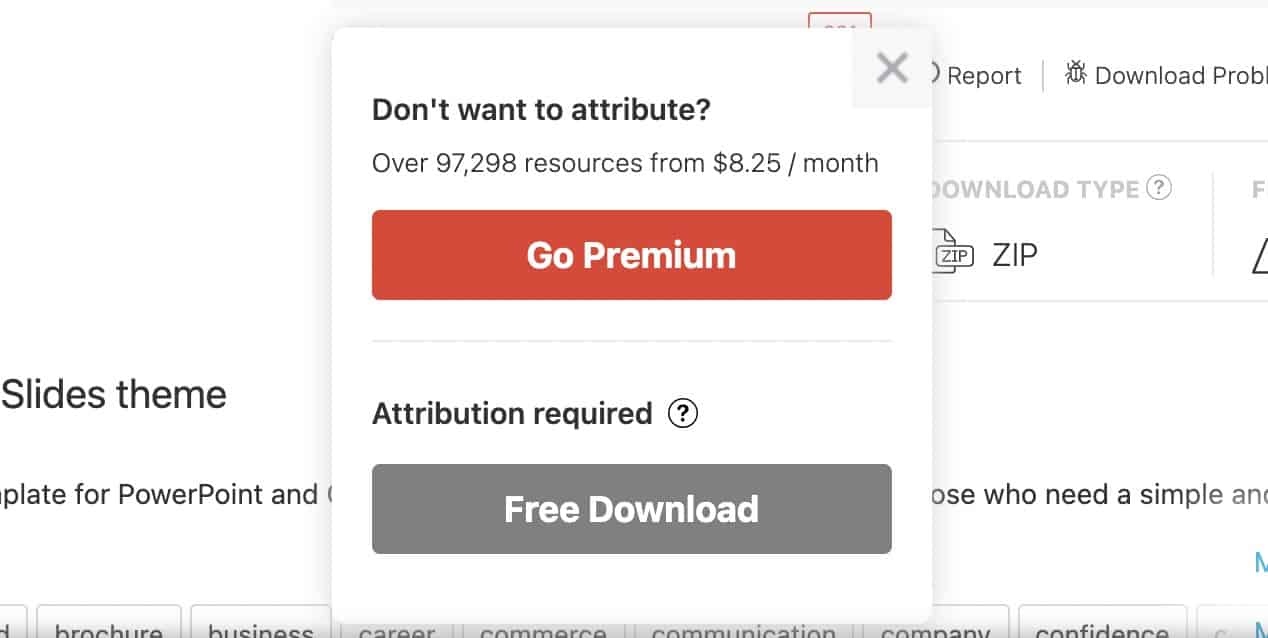 Once you're happy with your chosen template, click the download button to access the slides. You can automatically begin your download if you're a subscriber and are currently logged into the platform. If, on the other hand, you're looking to access free templates, you'll be presented with options similar to the image above.
While Powered Template allows users to access their templates free of charge, without the need to log in or sign up, they must first agree to add an attribution to their final design before sharing or distributing it.
These attributions can be simple credits and visual references to the company on the final content.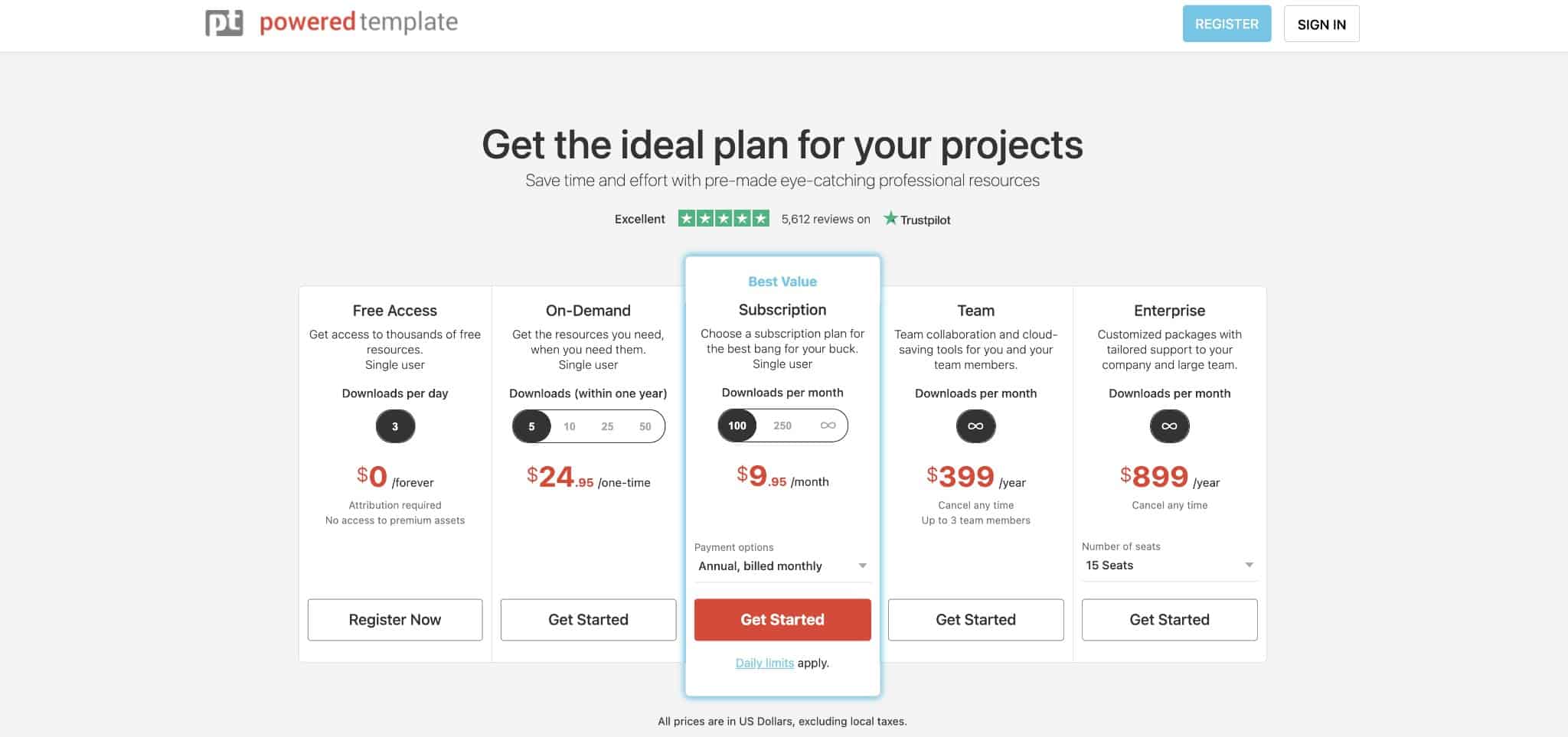 If you'd rather avoid attributions, or you're looking to buy a premium template for the first time, Powered Template offers a wide range of subscriptions to help you to access your content in the way that suits you best.
From paying a one-off on-demand fee of $24.95 for five downloads to purchasing a $9.95 monthly subscription for a far larger array of downloads, Powered Template provides far greater flexibility to gain access to the tools that you want to make an impactful business concept.
Once you've downloaded your business concept template, you're free to use the content, make edits where necessary, and share it in any way you see fit–helping you save time and cost on the hassle of building your own concepts from scratch.