The prices of land and houses keeps increasing each and every year. If your dream is to own a home regardless of its size, then something like a Shipping Container Home might be a decent option even if it's a temporary solution. While you save up the big bucks for a normal home, you can live in a shipping container home for a number of years.
Thanks to TV channels like HGTV, the popularity of 'Tiny Homes' and 'Shipping Container Homes' has seen a significant spike. When done right, these small homes can be very inviting and comfortable if you don't' mind small spaces. It is also an excellent option for a vacation home or cabin if you happen to have a property away from the city or town.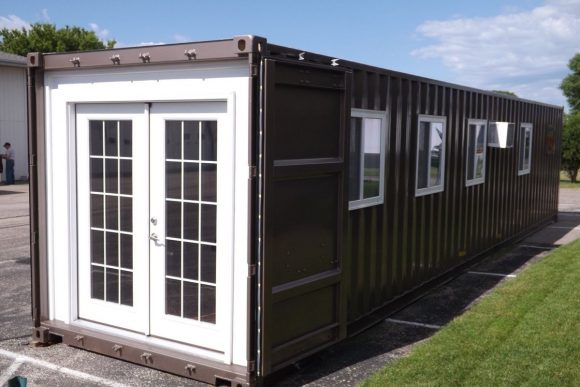 And thanks to technology, you can now even order a Shipping Container Home from online retailers like Amazon although most manufacturers don't use the retail platform. An example would be the MODS 40′ Shipping Container Home available on Amazon for $36,000 plus $4,500 for shipping within the United States.
The homes built by MODS always make use of only brand new shipping containers. Depending on how much you want to spend, you can get very creative and fancy with these homes especially if you use multiple containers. But since we're talking about affordability, we'll stick to single shipping container homes.
With just one container, you can implement a bedroom, bathroom, kitchen, and a living area. To bring in natural light, multiple windows and double doors are added. The connection for the water is on the side of the container while a sewer connection is on the bottom. They can also feature air conditioning and heating so you'll always be comfortable regardless of the weather.
Before you're ready to take the next step, make sure you do your research. And once you've researched, research again! Research things related to building permits, building codes, insulation, fire safety, emergency exits, etc. It would also be useful to look for blogs where people have published their own projects from start to finish so you can avoid the obstacles and keep the costs low. Looking at other projects is also a great way idea to get ideas for your own home. And sourcing containers is another very important task. Apparently "One-Trip" containers are great as they only get used for one trip so they'll be almost new.
Here is a MODS 40′ Shipping Container Home
Other examples of Shipping Container Homes