SMITE is known as the game which broke the mold in the MOBA (Multiplayer Online Battle Arena) genre. It is because it is one of a few MOBA games that brought something new to the genre, which all players had been craving for years.
What makes SMITE unique is:
interesting gameplay, where you get to control Gods, Goddesses, and other mythological characters,
third-person perspective in combat, where the usual one is the top-down angle,
controlling movement in the WASD and numeric buttons is challenging but enhances your arcade skills.
As a result, the game has been a tremendous success since its launch and still attracts a lot of newcomers who want to participate in epic matches and test their strategy abilities.
Gems and Favor are the most common currencies in the game, enabling you to purchase specific Gods, Skins, and other cosmetic items.
They can be purchased with real money, but there are also free ways to get Favor and Gems in SMITE. This article will focus on Favor, so let's check how to get Favor in SMITE for free.
1. The MillionPugs browser extension
The MillionPugs way of getting Favor in SMITE is a special outside-game method, but always available and effortless.
Once you use the MillionPugs browser extension on your Google Chrome or Microsoft Edge, you can earn Favor for shopping online at stores you already frequent.
What is MillionPugs?
MillionPugs is a cashback service created for gamers to give them an easier way to get game resources to progress faster in the game and upgrade their gaming experience.
The service is based on the concept that you:
shop online at your favorite stores,
activate deals prepared for MillionPugs users,
collect reward points, called pugs™, and credits,
redeem various game content, including Favor for SMITE, in exchange for points or credits,
activate the items of your choice in the game,
enjoy more exciting gameplay and valuable resources at your disposal.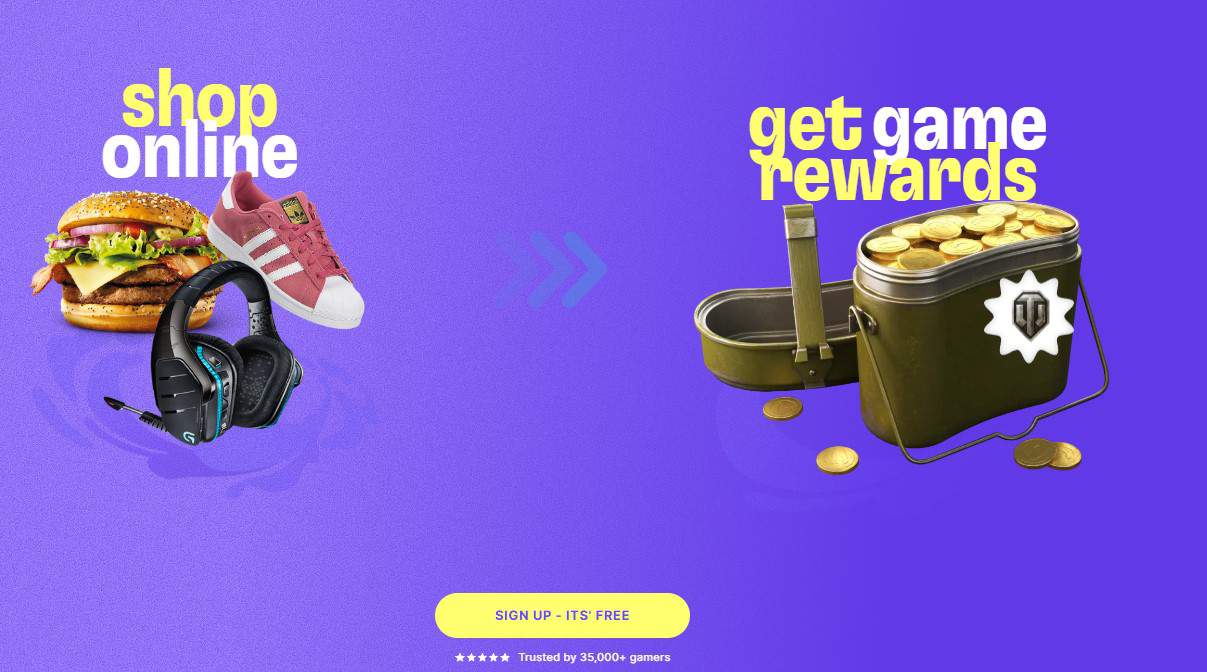 Currently, MillionPugs cooperates with over 2000 brands from all industries, making collecting reward points and credits an easy and quick process.
For example, you can get pugs™ and credits for:
ordering food at UberEats, Grubhub
buying Electronics at NewEgg
booking your holidays at Kayak
doing daily groceries at Walmart or Walgreens
and many more.
The cashback service is still under expansion attracting new brands to join the MillionPugs partners and, as a result, prolonging the list of affiliated stores.
How to use MillionPugs to get Favor in SMITE?
The optimal way to use the MillionPugs platform is their browser extension. Although it is an optional service element, it is very beneficial and easy to use.
Once installed, the MillionPugs plugin automatically notifies you about available deals granting you reward points every time you enter any partnered brands' stores. It shows a small pop-up at the top right of your screen with an option to activate the deal with one click.
As a result, using the MillionPugs browser extension:
facilitates using the cashback service,
speeds up the process of activating deals (you don't have to get links from the MillionPugs site),
prevents you from missing out on any deal granting reward points,
saves time you spend browsing the deals manually on the MillionPugs platform.
As you can see, the browser extension is highly beneficial. Therefore, trying out the service with the plugin is recommended, as it will assist you in collecting points.
Once you collect a sufficient number of reward points, you can exchange them for SMITE game content, like:
up to 15000 Favor,
up to 8000 Gems,
Gods and Skins,
Odyssey chests.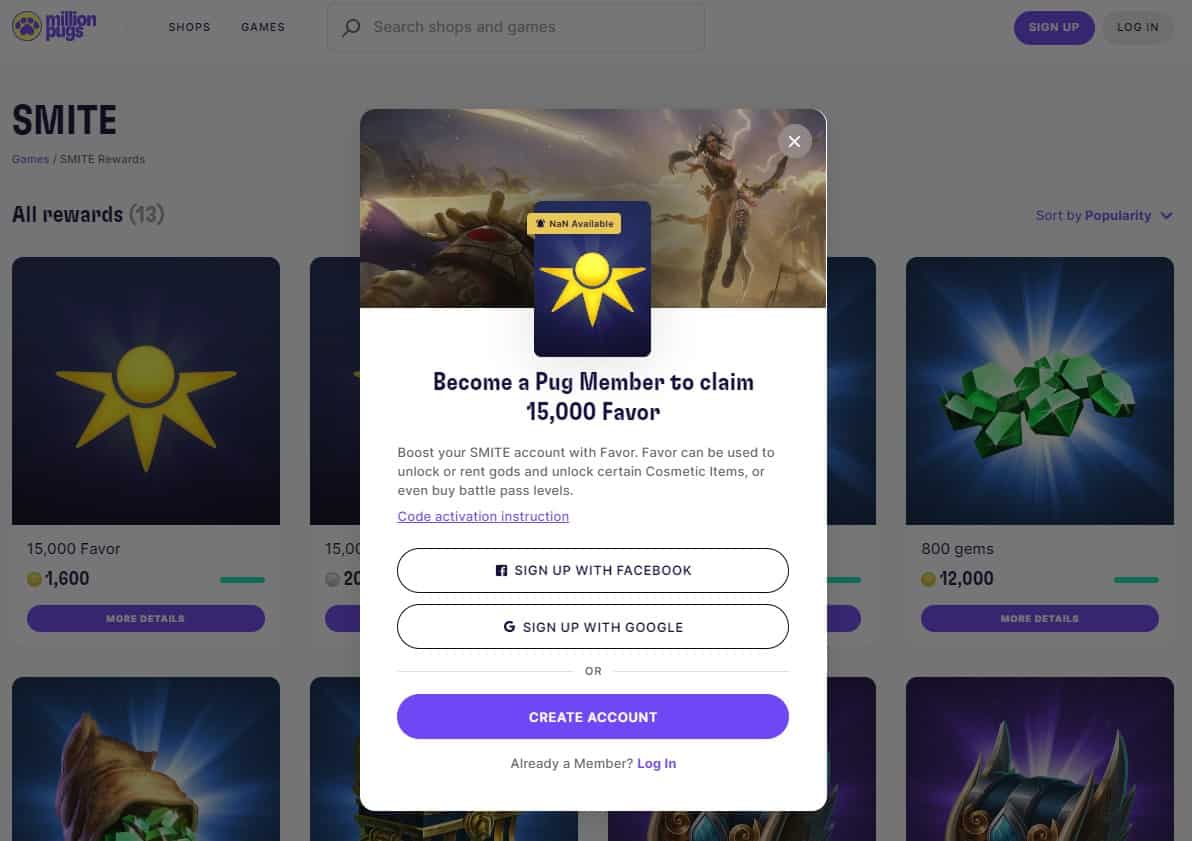 As a result, the MillionPugs service and their browser extension provide an effortless and effective way to get Favor in SMITE. Nevertheless, there are also in-game options to get Favor.
2. Basic Tutorial
First, you can get Favor in SMITE for free to finish the Basic Tutorial.
It is a great source of knowledge and tips for newcomers and a good amount of Favor. For completing the Tutorial, you can get around 100 Favor, which you can use to purchase new Gods.
Once you do this, you are all set to play better and win a practice match with a new God, which allows you to get an additional 50 Favor. Such a bonus is also a step toward buying your next God and winning your next matches.
3. Daily reward bonus
Another free way to get Favor in SMITE is to use the daily reward bonus. It is a reward from SMITE to active gamers who log in daily.
The daily bonus accumulates daily, and each day, up to the 5th day in a row, you can get different amounts of Favor. On the 6th and 7th day, get boosts of Gems.
The reward refreshes daily at 9 am UTC, and the only trick is remembering to jump into the game daily.
4. Matches and First Win of the Day
Finishing a match with other players also grants you Favor at the end of the game. The amount you get depends on your performance and the duration of a match. Moreover, winning even more matches can provide you with bonus Favor.
Apart from this, you should also remember that there is a Favor bonus for the First Win of the Day. For each game mode, you can get at least 100 Favor.
5. Referral bonus
Finally, you can also get Favor in SMITE as a referral bonus.
The Refer-a-Friend System in SMITE enables players to refer friends to the game and get special in-game prizes. Once they reach level 15 or higher, you get rewards, like 1500 to 7500 Favor.
Summing up, there are many free ways to get Favor in SMITE. In-game options include watching tutorials, daily login, playing matches, or referring friends to SMITE. Remember, though, that you also have an additional effortless method to get Favor, which is using the MillionPugs browser extension, and getting it by shopping online at your favorite brands.