There's something ultra-futuristic about wearing technology. It's the type of thing that feels like it should belong in the confines of a 1960s sci-fi show or a James Bond film. More and more, though, wearable technology is becoming a reality and part of our everyday lives. Here are some of the top pieces of wearable tech right now.
Google Glass
The search engine giant brought wearable technology to the forefront when they launched Google Glass in early 2013. Now, nearly two years later, the device has begun to be rolled out around the world, including in the UK. Glass puts the power of Google at eye level, literally projecting all the information you need and want right before your eyes.
Of course, Glass isn't widely available to consumers, and the hefty price tag makes it out of reach for many. While it may be limited to developers and very eager early adopters, it has revolutionised the way we see wearable technology. It is also being refined, meaning that it's likely we'll see a more affordable and more functional version of Google Glass in the near future.
Apple Watch
Like any new Apple device, the Apple Watch was already popular before it was even publicly launched. As soon as rumors started spreading that Apple was developing a smart watch, people were already getting themselves ready to queue outside the nearest Apple store.
The Apple Watch, which will be available in 2015, brings some of the most functional features of the smartphone to a wearable wristwatch. The traditional watch crown has been replaced with the Digital Crown, allowing for scrolling and navigating menus. The Taptic Engine makes notifications a physical event, giving the wearer a tap on the wrist as an alert, and nudging them in the right direction when being used for navigation. While it features some of the iPhone features, it's still not likely to fully take the place of the smartphone.
FitBit
Already seeing a surge in popularity are fitness trackers that monitor everything from how many steps you've taken to how long (and how well) you slept. While there are several brands available, FitBit is perhaps the leader of the industry and the name synonymous with wearable fitness tracking.
FitBit offers a variety of styles, each of which monitors the wearer's activity, sleep, and more. This data is wirelessly synced up to desktop and mobile apps, allowing you to see overall progress against health goals. It's a great piece technology for those who are committed to fitness, and an encouraging reminder to keep moving for those looking to make a resolution to get healthy in 2015.

Contactless payment gloves
Imagine never having to rummage through your handbag to find your debit card, or never having to put down your bags of shopping to dig into a pocket for it. Imagine being able to pay for your purchase with a wave of your hand. With the contactless payment glove, currently being trialled as a prototype from Barclaycard, this is possible.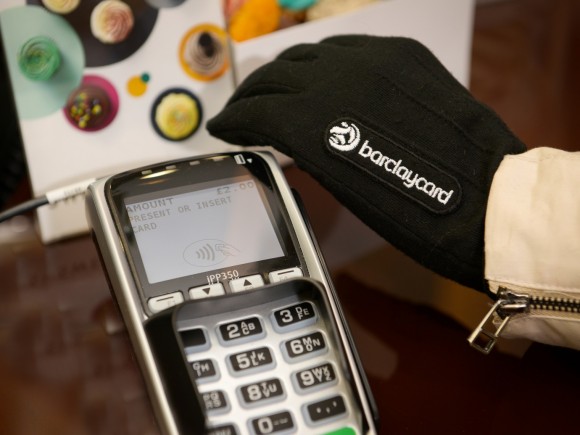 The trial makes use of Barclaycard's bPay chip, making it possible to use a special glove in the same way you use a contactless card. Users are able to simply tap and go for purchases under £20. The gloves have been designed to be smartphone friendly, too, so you won't need to take them off to get things done this winter.
The variety of wearable technology doesn't stop there, of course. With everything from LED earrings that can light up a path, to chemical testing nail varnish meant to help protect women against spiked drinks, technology is becoming more than just something we keep in our pockets. As wearable technology becomes less science fiction and more daily reality, there seems to be no limit to what we'll be able to do quickly, easily, and with little more than a wave of our hand.