In the wake of the new technologies, entrepreneurs are on the verge of adopting innovative ways to improve efficiency and reliability. When it comes to coolers and ice cream distributes, Kreweser comes with features to revolutionize the business experience for the ice vendors. It is the mobile coolers' unique features and the 94 quarts of functional space that makes it a cut above the rest. Vendors can now lower the number of trips involved to replenish the supplies as it comes with both space and better cooling capacity.
With the need to cover spread distances, at slightly slow speed, it is fitted with a 500-watt hub motor at the front wheel. Upon ignition, users can ride with speeds of up to 18mph that fastens the delivery as well as preventing losses. Vendors are likely to cover larger areas than when using conventional cooling models and hence increase their revenue.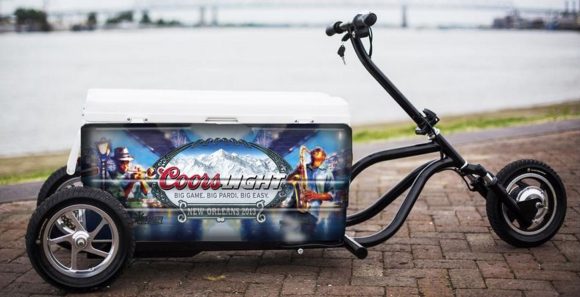 By the nature of the business, most vendors make significant sales in festivals and events that occur at different locations. The fact that the cooler can cruise short distances does not mean it can travel without transportation. For this reason, the collapsible model makes it flexible to fold with ease, and hence allow transport with any car. With a personal car, you need not hire a large vehicle to carry the scooter.
You probably have heard of other motorized coolers in your shopping spree. What you may not have heard is that Kreweser comes with additional accessories that users can use to customize the cooler to suit a particular purpose. For instance, you opt for the custom warp accessories to make the device unique and serve your needs. In modern festivals, you may need to move to different corners and perhaps get the best out of the stocks. The scooter comes with a low profile 48-volt battery capable of riding 16 miles before recharging. That perhaps might be sufficient to cover the bulk of your day.