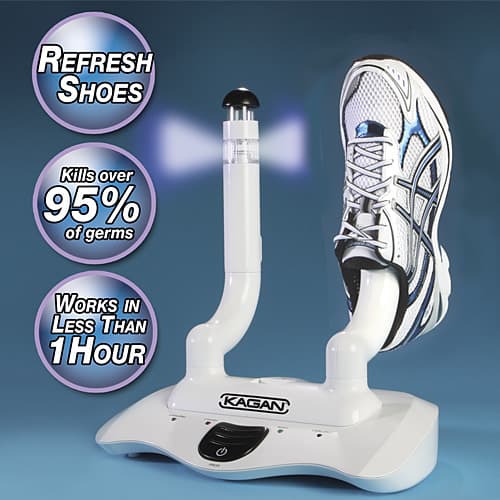 One of the most embarrassing things in life is taking off your shoes and letting the whole world take a good whiff of your smelly feet.  You may be a clean person but over time bacteria accumulates in your shoes and your shoes start to smell bad.  And when you wear them that smell sticks to your feet and you know what happens after that.
Now you don't have to live in constant fear of stinky feet because the Shuvee is here!  The Shuvee is a great way to get rid of those pesky germs in your shoes and it doesn't involve spraying or putting powders etc. into your shoes.  The nifty little gadget uses ultraviolet light to kill the germs, the same process used in hospitals to sanitize numerous things.
All you have to do is place your shoes on top of the stand, which then gets activated with the weight of the shoes, and the germ killing process begins and ends in about an hour.  If you happen to wear wide shoes, the Shuvee automatically adjusts to accommodate the width.  All this germ killing power can be yours at a reasonable price of $89.98 but you must call within the next 3 minutes, supplies are limited (they're not, I just felt like writing that).