In today's interconnected world, it's crucial to be aware of who we interact with, both personally and professionally. One useful tool for gathering information on individuals is FreeBackgroundCheck.io, a platform that provides access to public records, contact information, addresses, phone numbers, and more. In this article, we will explore how to use this free, easy-to-use service to conduct a criminal background check.
To begin, you only need the person's full name and state of residence. Once you enter this information, FreeBackgroundCheck.io's advanced search engine will quickly scan various public record resources and compile a comprehensive report, which should be ready within minutes.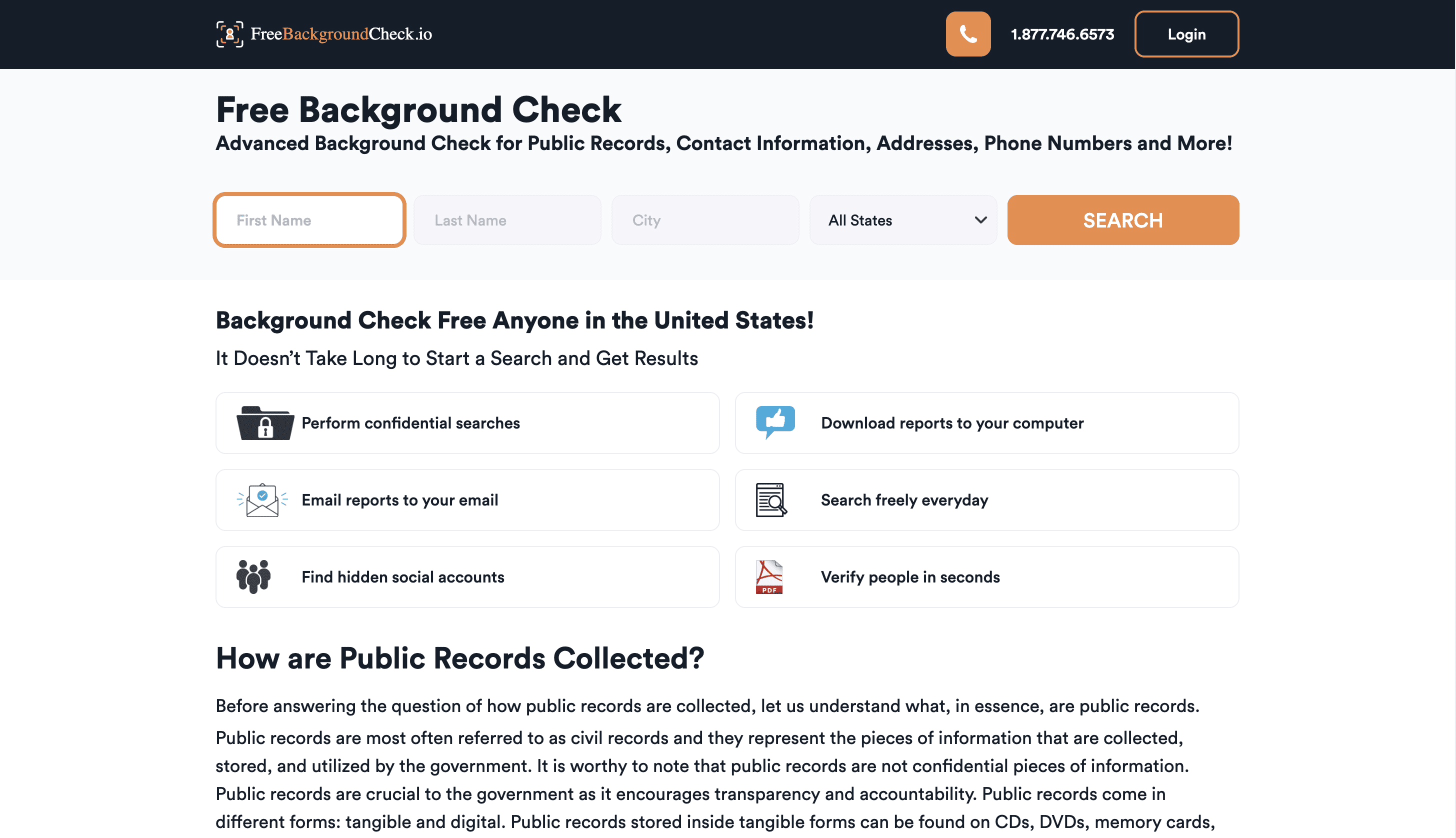 Although free background check websites may not provide as much detail or information that's as accurate as paid services or authorized institutions, selecting a reliable and in-depth platform is essential. When choosing a quality free background check service, consider the following factors:
Coverage: Ensure the website covers a wide range of information, including criminal records, employment history, education history, and more.
Reliability: Verify the website's reputation and accuracy by checking for reviews or testimonials.
Security: Review the website's privacy policy to ensure they take appropriate measures to protect your personal information.
Transparency: Opt for a website that clearly explains the information they provide, along with any limitations or exclusions.
Results: Be cautious when providing personal information on websites that require a free trial or credit card information, even if advertised as free.
A professional, free background check can offer extensive access to public records, helping you locate relatives, verify personal information about dates, find contact information, discover criminal records, identify registered sex offenders, research businesses, and even detect scammers or unclaimed money. However, it's crucial to remember that not all free background check websites have access to the same resources and public records.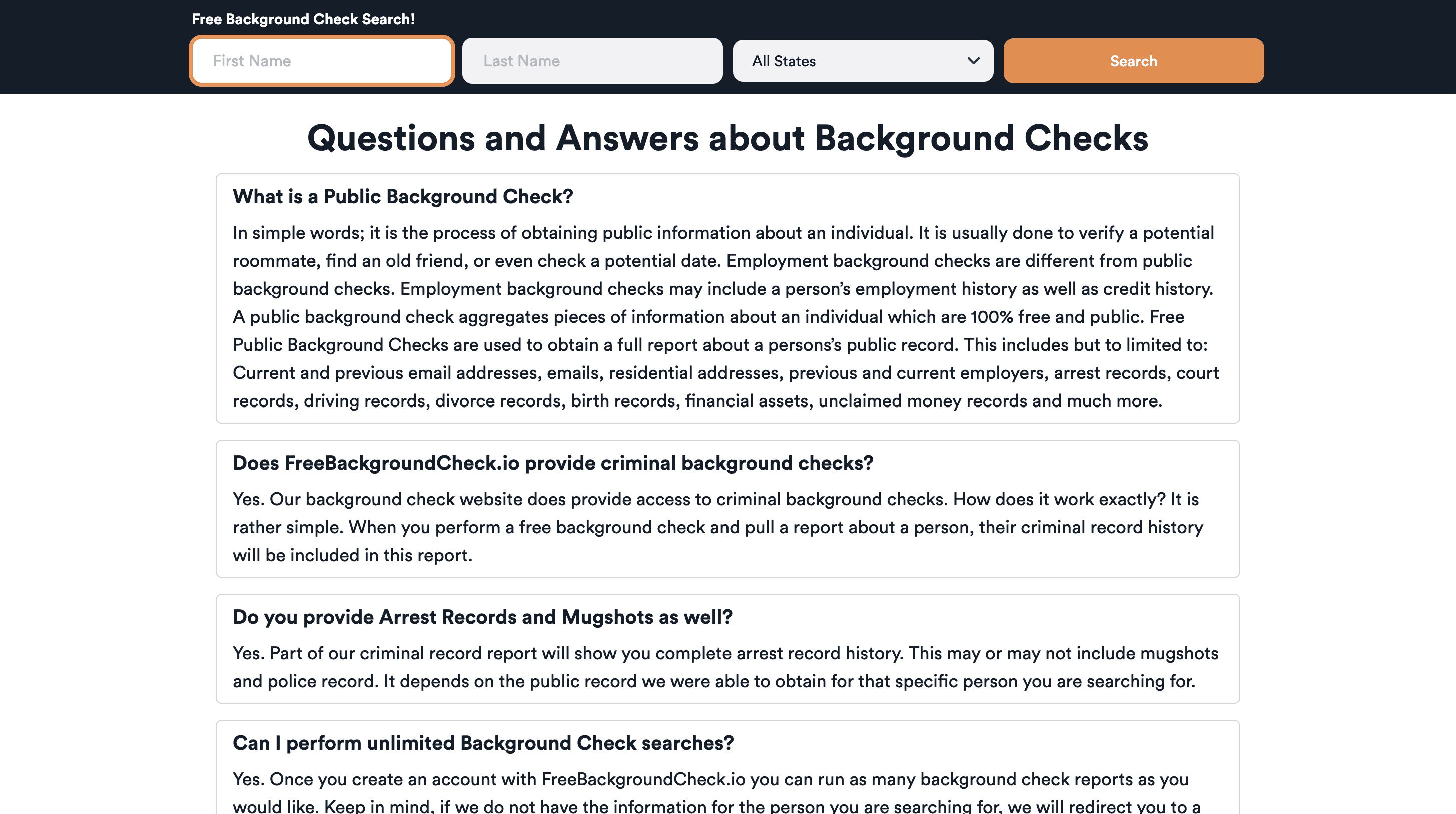 For important decisions like hiring employees, renting properties, or granting loans, it's best to use a professional background check service or an authorized institution rather than a free background check. For personal use, a free website like FreeBackgroundCheck.io can provide quick and convenient access to official and reliable public records.
FreeBackgroundCheck.io offers access to criminal background checks within its reports. Once you create an account, you can run unlimited background check reports. If the platform doesn't have the information you need, they will redirect you to a partner background check website that does.
Keep in mind that FreeBackgroundCheck.io operates in compliance with FCRA guidelines, so you'll need to accept the terms and conditions before using the service. As it is not a consumer reporting agency, there are limitations to how you can use the obtained information.
As stated earlier, to start using FreeBackgroundCheck.io, enter the person's first and last name, along with their city and state, if available. The algorithm will then connect the data pieces, and you'll be prompted to select your desired results from the generated report. For assistance, you can reach FreeBackgroundCheck.io's customer care service at 1.877.746.6573.
By following this guide, you can conduct a criminal background check using FreeBackgroundCheck.io confidently and efficiently, helping you make informed decisions and protect yourself in an increasingly connected world.