Look around in the malls, airports, and coffee shops and you'll find people's faces locked on to their mobile devices or on the lookout for a charging station. For the people who are ahead of the masses, they'll usually have a power bank on hand or a solar charging device to help them with their battery needs. If you want to go all out and have the biggest power bank on the block but in the smallest package, then look no further than the Anker PowerCore+ 26800.
What I like about the Anker PowerCore+ 26800 is the massive power capabilities yet it's still compact although it's definitely dense and heavy weighing in at 590 grams (1.3lbs). This particular model is the world's highest capacity portable charger with Quick Charge 2.0 technology which is enough juice to charge up the iPhone 6S up to ten super-fast phone charges, seven charges for the Samsung Galaxy S6, and the 2015 MacBook three times. It even has enough ports to simultaneously charge three devices at once. Not bad at all!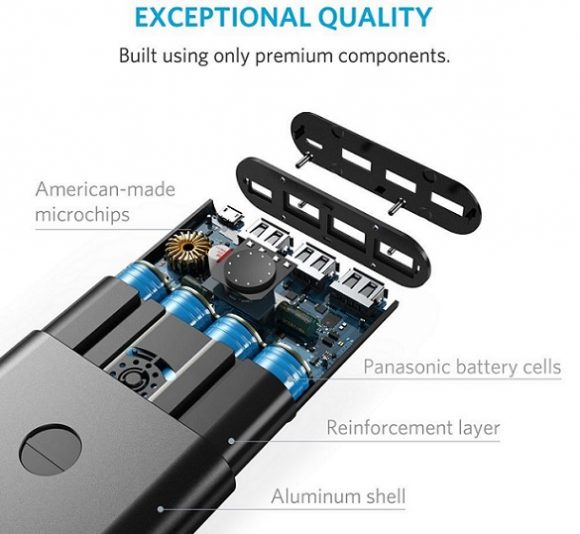 With Quick Charge 2.0, the Anker PowerCore+ is able to bring a phone to a 60% charge within 30 minutes or provide 8 hours of battery life within only 15 minutes which is up to 75% faster than your standard USB chargers. The PowerIQ ensures that devices without Quick Charge technology also get quick recharges as fast as possible.
And when it's time to charge the PowerCore+ battery pack, you'll have to plug it into the wall. You'd think that because it's a high capacity battery pack, it would take ages to fully charge the unit. And you're right, it takes between 8-9 hours to fully recharge. But this is actually considered pretty fast considering other portable chargers of this capacity actually take close to 16 hours to fully recharge.
I'm not an outdoorsy type of person except when it comes to camping and this device is perfect for camping. The Anker PowerCore+ 26800 is available on Amazon for just $79.99.