Hily is an online dating website; one of the many on the market today. Hily stands out from other dating sites in a subtle yet potent manner. If you have ever been frustrated by the concept of paywalls or limited features (such as the limited "likes" in Tinder), then Hily will pleasantly surprise you. Like Tinder, Hily has this concept of "likes" and "mutual likes" and they are not limited by Hily. It means that you can "like" as many profiles you want without having to, pay for them or wait for the "likes" to replenish. This is one of the many ways in which Hily sets itself apart from the hoi polloi of dating websites out there. Many reviews and walkthroughs of the Hily website have already been written so this review is going to be mostly about the recently-released Hily app which has become popular right from the start.
Becoming a member of Hily
Becoming a member of Hily is free and easy. If you are looking to create a new account on HIly, you can only do so through the Hily website. The app only allows you to login through your Facebook account or an existing Hily account. The steps to create a new account on the site can be stated as follows:
1. Fill in basic details of name, email address, gender etc in the first screen shown to you.
2. Fill in your date of birth in the next screen shown to you.
3. Enter your zip code in the next screen.
4. Upload a photo in the final step that would be your profile picture.
Screenshots of the process are as follows for your convenience:
If you choose to use your Facebook profile for logging in, then you can do so through the app by simply tapping on that option when you first power up the app.
Exploring the app
When you first login into the app, you will be taken to a screen where you might see profiles of other people. If you don't see any profiles, then you will see a text displayed to you informing you that no one's around. Since Hily is new on the market, this is likely to happen based on where you are located. In this case, you can choose to invite some people from your Facebook contacts or also invite people from any other app in your device by giving them a referral link. If you do see profiles of other people, then you can proceed to "like" or "dislike" them one by one. As mentioned before, Hily also uses the system of "likes" and moreover, you can "like" as many profiles as you want. This may be a welcome sight to many users coming after using other sites. This screen where you see profiles of other people is called the "finder mode". As the name suggests, this is where you will be able to find new people. The various modes can be accessed by clicking on the icons on the bottom of your screen and your current screen will smoothly transition into the new screen.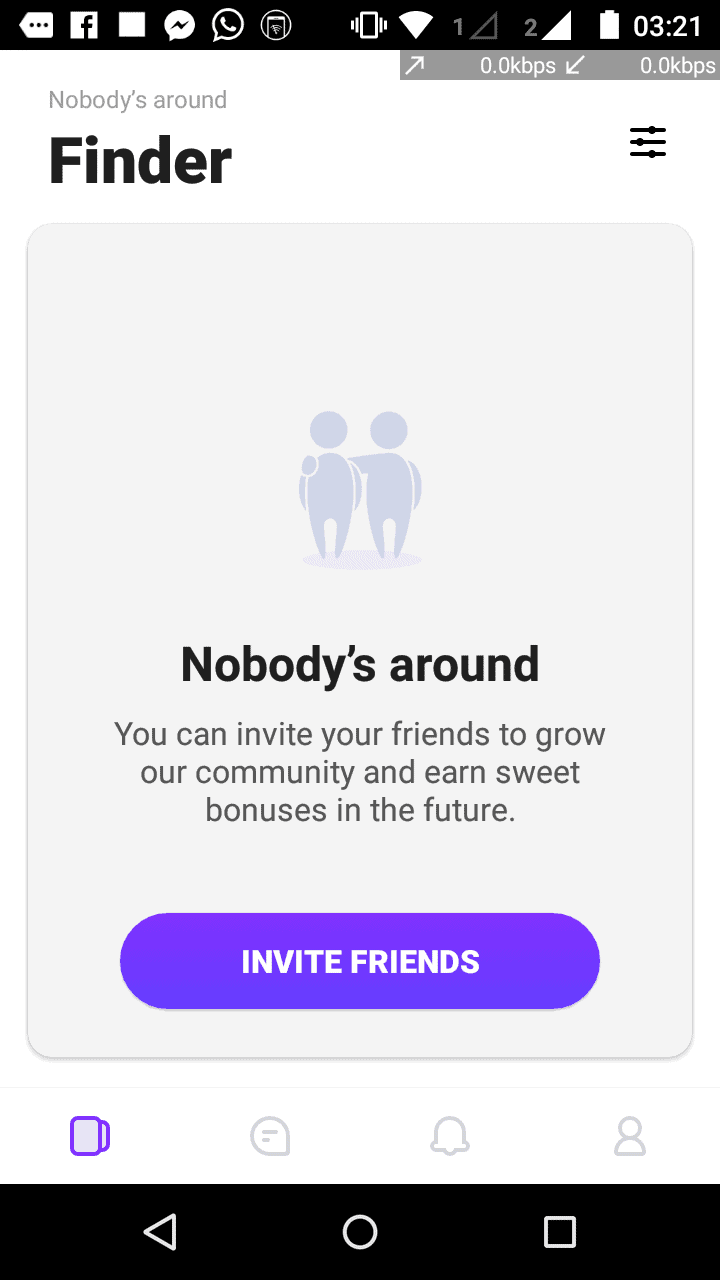 Finder mode is probably where you will be spending most of your time and you probably won't be looking at the next mode, "messages mode", until you receive a "mutual like". In case you are not aware of it, you get a "mutual like" when the person who you have given a "like" to also gives you a "like". This is quite a popular dating mechanism in the dating sites/apps of today. On Hily you can only interact with people with whom you have a "mutual like". You cannot send a message to random people on Hily. This helps prevent the scenario wherein a person receives too many texts from random people, making it difficult for them to keep track of which people they actually want to talk to.
In the Messages mode, you can see the mutual likes that you have received and you can tap on any of the profiles shown to start a conversation with them. Chatting in the Hily app again will feel quite familiar to you. It's a very simple interface and can send text messages, upload photos and send GIFs to the other person. You, however, do not have other advanced features here, such as voice or video call. The next mode in line is the "events mode". You can see all the "likes" that you have given out and all the "mutual likes" that you have received here. Moving on to the next mode, you have the notifications mode. Here you can see any notifications that you might have received. The very last mode, is called the settings mode. You can tinker with some settings related to the functioning of the app or you can add/modify some of the information about yourself. The information that you can change here is your name, address, display photo, date of birth etc. Some options were added later on such as the options for specifying your education, occupation, religion, ethnicity, height, color of hair, color of eyes etc. Adding this information allows someone else to know more about you when they look at your profile.
There are a couple of more options you can use to add some more information about yourself. The relate to your current relationship (if you are in one), if you choose to disclose this information.
When you come out of the profile settings, you can access the general settings of the app. This is where you can manage your account and it has the options for logging out and deleting your account. The very first option is to set the filters and there are some miscellaneous options for getting access to the notification settings, privacy policies and terms of use.
In a nutshell
The hily online dating app is a great tool to use for beginners and veterans alike. It goes beyond being just a dating website. It has the makings of a social network. The various options provided to you related to your profile go a long way to help you find the right people. It's being upgraded on a regular basis so you may expect seeing a lot more features being added over time.