Gardening has been one of my passions for as long as I can remember. I remember growing different types of vegetables at my grandma's house when I was a teenager, veggies like cucumbers (really easy to grow), tomatoes, and peppers. Growing up, that passion never left me but as a grown up living in a big city, time is a constraint and having a big back yard is only achievable in fantasies.
With the Covid pandemic taking over the world in late 2019/early 2020 and everything going into lockdown, gardening became extremely popular. People were barred from seeing friends and family members because of lockdowns and restrictions, which led to boredom. There are only so many shows on the various streaming services you can watch, so naturally people turned to gardening. Another effect the pandemic had was shortages of food, or the perceived notion of it. I don't think we had any shortages, but people prepared for potential food shortages by growing their own food. People even started calling their little gardens "victory gardens", which dates back to World War I and WWII era.
Having a garden in a rural area is quite easy, find a sunny spot on your property, clean it up, add compost and plant seeds and seedlings. The problem arises when you live in small houses/apartments in cities, where land is at a premium. However, you can still have a garden even if you don't have too much space. Thanks to inventions like raised garden beds, which can be placed on the ground or even on balconies, maximizing the amount of space you have to grow vegetables. You won't be able to grow all your veggie needs, but you can grow a decent amount of food for yourself and your family. Here's a great article describing the various types of raised garden beds with all the pros and cons of the different wooden raised garden beds.
Costoffs Wooden Garden Bed Review
I ordered a Costoffs Wooden Garden Bed because it was one of the best value garden beds I could find online. I will be placing this bed on my balcony, it's a raised garden bed with a height of 30.1 inches, which is great for avoiding having to bend down while you work on the garden. The total measurements of the Costoffs Wooden Garden Bed are 47.4" x 23.2" x 30.1" (length x width x height). The inner dimensions of the garden bed are 44.5" x 20.3" x 8.7" giving you a surface area of 6.27 square feet. The gross weight of the bed is 31.5 pounds and it has a max weight capacity of 220.5 pounds. So, it's a pretty useful space for growing some small vegetables. I plan on growing various lettuces, some radishes, and maybe climbing beans to make even better use of the space, since the beans will climb onto my fence.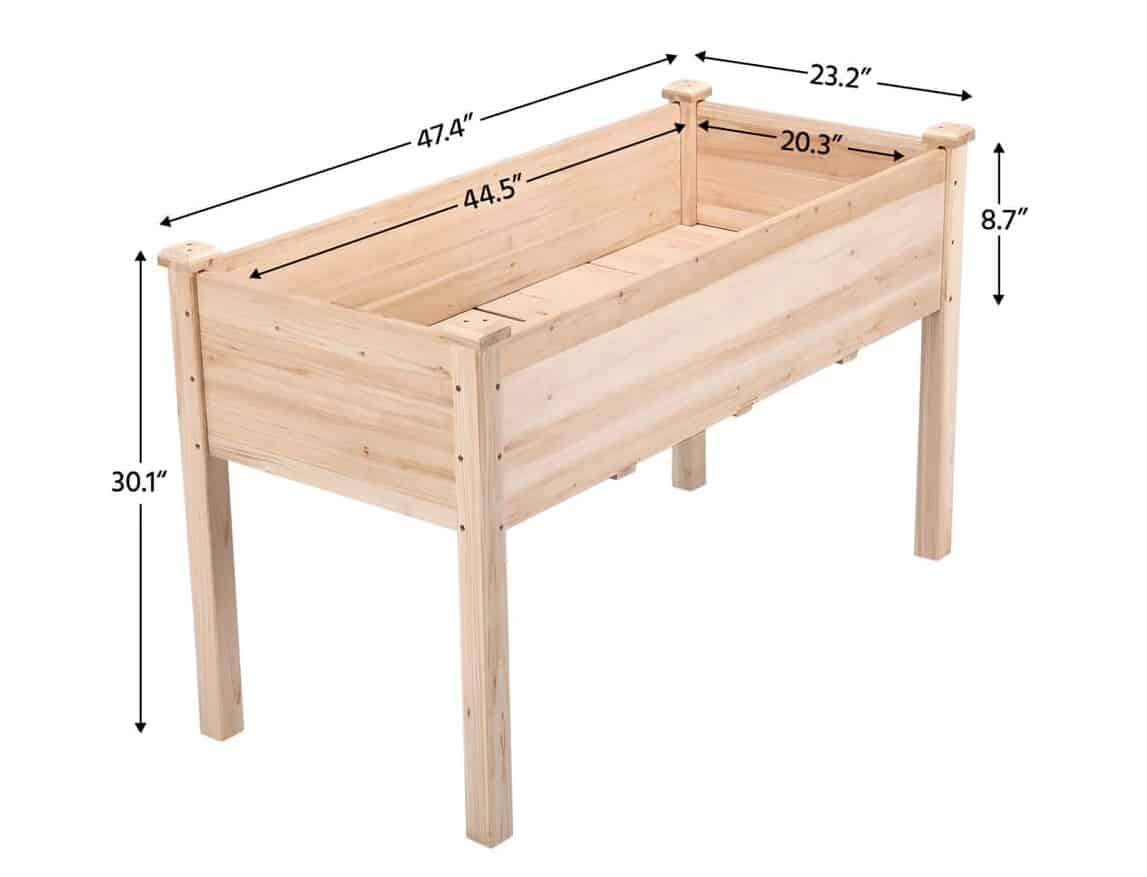 The Costoffs Wooden Garden Bed is made out of fir wood and looks quite sturdy, it should last many seasons and it looks quite attractive. Putting together the bed is pretty easy, it doesn't take long to put it together with the most basic of tools.
The Wooden Garden Planter Bed is priced at $88.99; it includes free shipping within the United States.
About CostOffs
COSTOFFS was founded in 2020, an e-furniture brand that focuses on home and office furniture. They are dedicated to producing quality furniture with versatile uses and timeless looks at a reasonable price. They promise to bring their customers the best products and shopping experience at an affordable price.