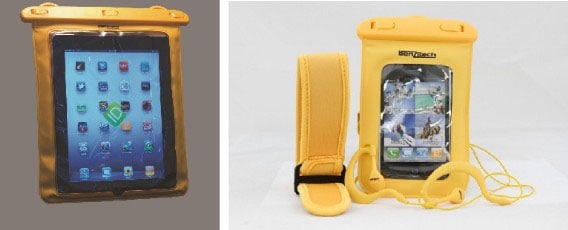 CES 2012 is featuring several amazing new products, and the Benzitech's New Waterproof Smartphone and Tablet Cases are some of them. There are many water resistant cases on the market today for smartphones and tablets but the Benzitech cases aren't just waterproof, they boast to actually accompany you on a scuba diving adventure up to 20 meters deep.
You can safely operate your touchscreen devices without ever opening the cases that are made of clear transparent and soft material. Whether it is surfing the web or receiving a phone call, you can confidently use your electronic device without worrying that your device will be damaged by water, sand or dust. They come with detachable and adjustable strap that can be used on the shoulder or neck and will float easily on the water for hands free phone talk.
Benzitech's New Waterproof Smartphone, Tablet Cases will soon be available from retailers like Amazon.com.  To learn more, go to Benzitech.com, there is also information about Benzitech's Slider iPhone battery charging cases for iPhone4 and iPhone 4S that can double their battery life. With easy attachment and removal their design maintains the iPhone profile.