Apparently, smart watches are a thing people find interesting. Let's not be all negative here – watches have been around for centuries and they are certainly NOT going to get replaced anytime soon. And if you add the "smart" features of a smartphone, you get a nifty little device that can be more fun than just showing, you know, time.
Gaming on wearable's is nothing new – we've had our little smartphone evolution for a while with many devices, both smartphones and tablets featuring hundreds of thousands of casino, poker, bingo and other apps. So when it comes to mobile gaming, smartwatches were obviously the next thing. If you are still unsure or are just don't think this is ever going to work on a smartwatch with a screen that tiny (or just don't want to spend money on a smartwatch to play casino games), then perhaps you ought to find something interesting on the current offer of the market. Gaming Club casino is an example where you can find both mobile and online games for your pleasure. Now then, off to the topic at hand!
One of the first casino apps to get ported on the extremely small screen is Thunderstruck II by Microgaming software. Long time slot fans will recognize the name of Thunderstruck as one of the best 5-reel, 9-reel video slots on the market.
It features rich graphics, excellent animations and a ton of features fit for a prime casino slot game. Its miniature version tries to follow the standards set by its "bigger brother". It sacrifices a lot of space in order to appear accessible for the smaller screen of an iWatch for instance, and it shows. There's only a limited number of functions and elements that appear on screen but that isn't necessarily a bad thing.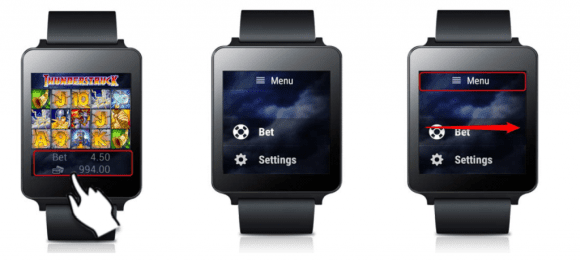 For one, everything is kept at a fast pace meaning you hit the spin and the action starts. For busy players who just want to get a quick spin this is perfect. This isn't to say the game doesn't look good – quite the contrary. The bright colors and intrinsic approach to detail will dazzle you, even on a tiny screen.
Microgaming has been clever keeping all the integral features that made Thunderstruck II great intact, so you can still hit wilds and a bonus game when playing.
Overall this is an excellent entry into a market that sees some promise. While there aren't many competitors to compare it to, Thunderstruck II is definitely a step in the right direction for this sort of – micro-gaming (pun intended). If you can get past the small screen, lack of the distinct lavishing and you want to focus on gaming, this might be the app for your new smartwatch. Combine that with a free bonus at your favorite online gaming spot and you're golden.