Exclusive data released today from gaming website EgyptSlots.com shows that during the month of May 2018, 73% of user sessions came from a mobile device, with 20% on desktop and Tablet bringing up the rear at 6%.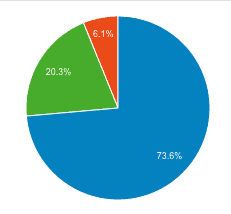 User Sessions by Device platform – Source: EgyptSlots.com
Within Mobile only, Android is winning the battle for market share with 63% of traffic using an Android OS vs 36% for Apple. The reason for this is likely to due with the much higher price point of Apple phones vs Android phones, for years Apple iPhone was seen as the superior product in terms of apps / features / power / aesthetics but the Android market is quickly catching up and is actually ahead now on many of these metrics.
Android vs IOS Operating Systems – Source: EgyptSlots.com
Although when we look at the data by mobile device branding we can see that Apple is still the single most popular device to use in the market, with the Android device market share widely fragmented between multiple providers.
Mobile Device Branding – %
Apple – 36%
Samsung – 33%
Huawei – 6%
Sony – 5%
Motorola – 3%
LG – 2%
Alcatel – 1%
HTC – 1%
Amazon – 1%
Mobile Device Branding – Source: EgyptSlots.com
So what browsers are mobile casino players using?
According to the data, the most popular browser on mobile is Chrome with 56% share, with Safari in 2nd on 35%. This is to be expected and it's in line with the overall market share for Apple and Android.
So what does this mean for the online gambling websites?
Online slots sites such as Egypt Slots must be mobile first in order to succeed. This trend is set to continue and we expect mobile to fully control 90%+ of the market by the end of 2020. More and more players are gambling on their mobile devices due to the increase in screen size, device power and the advancements in 4G/5G and Wifi Speeds. Many 4G Speedtests are now as fast (if not faster) that home broadband.
Be mobile friendly or die is the message for online casinos. Ignore the data at your peril.