Apple released another patch/upgrade for the iPhone today.  Version 3.1.2 of the iPhone OS is reported to fix a few issues:
Resolves sporadic issue that may cause iPhone to not wake from sleep

Resolves intermittent issue that may interrupt cellular network services until restart

Fixes bug that could cause occasional crash during video streaming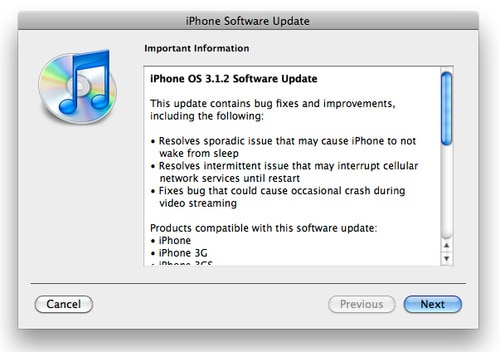 Those of you that run your phones jailbroken and unlocked will need to wait a while before upgrading.  The Dev-Team posted the following warning on their blog:
WARNING! At 10.20AM PDT on October 8th 2009 Apple released the 3.1.2 version (7D11) of the iPhoneOS.

If you care about your jailbreak and unlock, don't update your device – 3G and 3G(S) owners should pay particular attention to this warning.

PwnageTool and redsn0w are not yet compatible with 3.1.2
There is no estimated release time for compatible tools (please don't bug us about this).

Any information we have regarding this update will be posted here.
We'll keep you posted as new information comes around.