So you've decided to remodel your bathroom, OK, maybe not the most exciting of pastimes especially if you are more of a technology minded kind of person rather than an interior designer but that doesn't mean there aren't gadgets out there that might change your mind about just how interested you are about shopping for your new bathroom suite.
Take steam showers for instance, these might not sound like something for the tech savvy but trust me you won't be disappointed! These self contained cubicles hide a treasure trove of electronics giving you access to touch screen control panels, speakers, FM radio, blue tooth, usb ports, with some even coming with built in televisions! And all this while you are sat in your own personal steam room.
What more could you want right?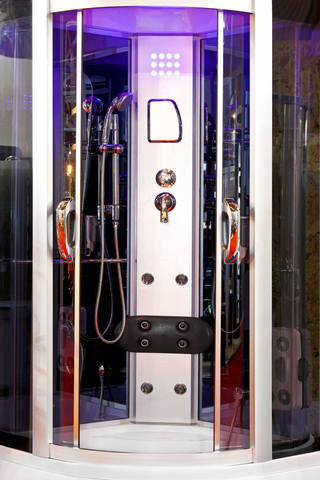 Well how about mood lighting, or the option to take a call with a built in telephone receiver? The great thing with steam showers is that you're able to customize them to suit your needs and if it's relaxation your looking for you can simply add a foot massager and even hydro massage jets to your cubicle.
And if that doesn't sway you it also has functionality too, not only does it act like a sauna and mini spa but you will also still be able to take a shower in it.
Making it easy to explain to your other half just why it's so important that you have this piece of tech in your bathroom!
And while most will run off your combination boiler, if you're looking to save energy or are looking for something a little more environmentally friendly you can even find steam showers that will use solar thermal technology instead.
So next time you think that remodeling or redecorating won't hold any major interest for you, just remember that there are so many amazing items out there simply waiting to be discovered that have just the right mix of technology and functionality to please even the most technological minded person out there.