The one thing I dislike about traveling long distances by airplane is lack of comfort when it comes to sleeping in the airport or on the airplane itself. Unfortunately I have to fly Economy as I'm in no position to be flying in some fancy Business Class or First Class area of the aircraft like the majority of the people flying. But there is some hope for those who dread sleeping on an airplane.
As the name would suggest, the Window Pillow is designed to stick to a window and prevent the pillow from slipping out of place when you fall asleep on an airplane. There have been numerous times where I remember going to sleep with my head on a pillow against the airplane window and waking up with a sore neck and the pillow on the floor. The Window Pillow features high-quality suction cups which stick to the window and don't move out of place.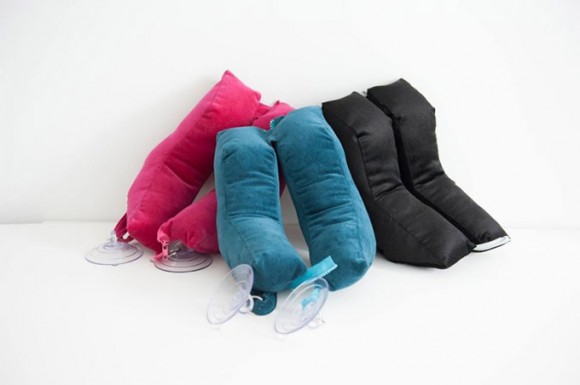 The suction cups are made in the USA and have been tested under some pretty intense conditions like being put in boiling water, in the freezer, and even in a freaking dryer! Even with all that torture, it manages to stick. The suction cups can be removed and the pillow can be cleaned in a washing machine. If you end up with aisle seat or stuck between two seats – the Window Pillow can also be converted into a u-shape neck pillow by unzipping it.
The Window Pillow is hand made right here in New York and the raw materials required to manufacture it are also sourced domestically. The Window Pillow is available for $29.99 and currently offered in Black with a pink zipper, Black with a gray zipper, Pink with a gray zipper, and Pink with a pink zipper. If you want any more details or want to purchase the Window Pillow, head over to their website.