There's something I want to tell you… a secret, if you will. I really dislike Apple products. They're the embodiment of over simplification, and I would take an Android over an Iphone any day of the week. But even as a staunch Android enthusiast, I can appreciate a neat or innovative Iphone related product when I see one. The "Wally" Iphone wallet just happens to fit the bill (pun very much intended).
You see, its not just Apple products I dislike. No, I also can't stand thick wallets, and tend to carry ultra slim ones like this Wa-Ben Wallet. Phones are getting slimmer and slimmer, so why not wallets as well? In fact, why don't we simply merge our wallets and phones together? Well, that's happening with Google Wallet, but no, what I mean is actually carrying them together in one neat little package. That's where the Wally comes into play. It's like an Iphone case and wallet combined because, yeah, that's exactly what it is.
The Wally Wallet
Made out of premium Italian leather (because you know the Italians are ace at leather), this two in one contraption will hold all of your many racked up credit cards, your cash (if you actually had any), and possibly a few condoms, all while protecting your heinously overpriced cell phone. That, my friends, is the magic of technology.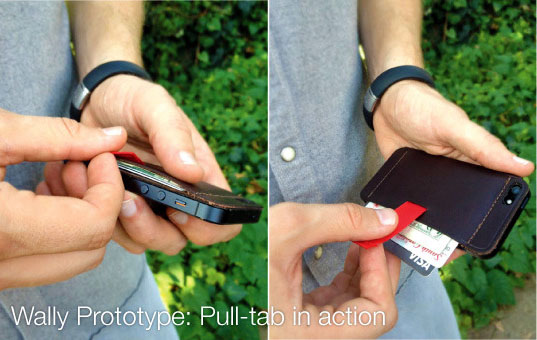 If you're interested in learning more about The Wally (not to be confused with a certain robot from a certain movie), then you can do so by visiting their Kickstarter page. You see, it's not actually available in stores yet. For the time being, you'll just have to roll the dice and make a pledge of $40 to get one of these bad-boys early.