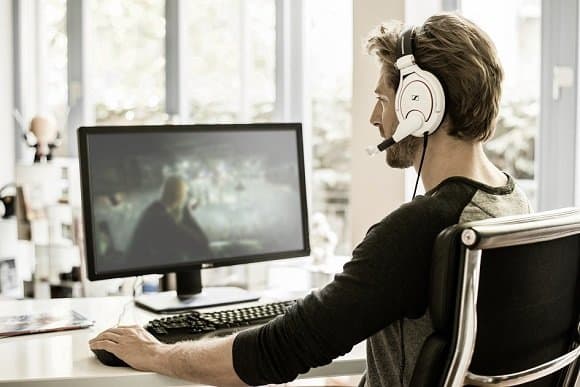 The promise of free beer and the chance to win a year's subscription to Rolling Stone magazine lured 20 Spacewar players to Stanford University on October 19, 1972. They gathered at the Stanford Artificial Intelligence Lab in Palo Alto, California, to battle it out in the first ever "Intergalactic Spacewar Olympics". The participants assembled around the university's PDP-10 computer to compete in a five-man free-for-all and a team event, and Rolling Stone sent reporter Stewart Brand to cover the event and Annie Liebovitz to take pictures. Bruce Baumgart won the free-for-all, Slim Tovar and Robert E. Maas seized team honours and all three won the magazine subscription, while a jolly good, beer-fuelled time was had by all.
This marked the birth of competitive gaming, which has now gone on to become a multibillion-dollar industry. Nowadays, free beer and a magazine subscription would not get the top players out of bed, as they are multimillionaires, replete with sponsorship deals and enormous social media followings. But it was a long and bumpy road to get from that evening in Palo Alto to where we are today, and the industry has only really exploded in the past eight years.
In 1972, Grant called computers "the best thing since psychedelics" as he wrote up the tournament. He attributed their popularity to "a youthful fervour and firm dis-Establishmentarianism of the freaks who design computer science", but admitted that Spacewar was a pretty basic game. It featured two spaceships, called The Needle and The Wedge, and they would engage in a dogfight while navigating a star's gravity well and following Newtonian physics. It gained a cult following, but it was soon replaced by bigger and better titles.
The first esports tournament of considerable scale took place in 1980. Atari's Space Invaders Championship attracted 10,000 participants and it received a modicum of media attention, as Space Invaders was a key pillar of popular culture at the time. However, in those pre-Internet days, competitive gaming was largely kept out of the public spotlight. Televised esports tournaments were aired on American show Starcade, between 1982 and 1984, but it was pretty niche.
Low-key local tournaments existed, with scores posted in trade magazines or the Guinness Book of World Records, but there was no way to link players with one another. That began to change with the advent of the Internet in the 1990s. Dial-up modems allowed players to compare high scores and share strategies and we witnessed the birth of the online communities that would pave the way for esports to form. Doom, a popular first-person shooter, allowed users to play against one another using a local area network, and it was succeeded by Quake, which further improved upon the format.
The first major Street Fighter tournament, Battle of the Bay, took place in California in 1996. Today it has evolved into EVO, and it is one of the most important esports events in the calendar. In 1997, the Quake Red Annihilation US tournament attracted 2,000 competitors, and the winner drove off in John Cormack's Ferrari as the grand prize. Cormack was the lead developer of Quake. A few weeks later, the Cyberathlete Professional League began and tournament prize money hit the $15,000 mark in 1998.
Improved connectivity gave way to the growth in PC games' popularity. At the turn of the millennium, a new game called Starcraft exploded in popularity. It featured intricate play and the ability to become a real expert, and it took off in a huge way in South Korea, which would go on to become a leading light in the global esports industry. During the 2000s, games like Defence of the Ancients and Counter-Strike rose to prominence in line with the dawn of broadband Internet and online video content. Teams like Fnatic, SK Telecom T1 and Dignitas were launched and a handful of star gamers emerged.
The next evolution came in 2011, with the launch of streaming platform Twitch, a far superior medium to television for esport viewing. That coincided with the launch of the two most popular multiplayer online battle arena games, League of Legends and Defence Against The Ancients 2 (DOTA 2), plus StarCraft II, and esports became a juggernaut. Nowadays everyone is connected all the time via desktops, mobiles and tablets, and social media has helped spread the esports movement. CS:GO was launched in 2012 and publishers of these leading games started to understand the significance of the esports revolution.
It became an arms race to establish the largest cash prizes, and thus far DOTA 2 has succeeded thanks to its in-game "digital compendium" model. In 2016, prize money for The International – the world's largest DOTA 2 tournament – reached $20.8 million, in 2017 it climbed to $24.7 million and last year it hit $25.5 million. However, we have since witnessed the rise of battle royale games and Fortnite is poised to frog leap DOTA 2 as the world's most lucrative esport in 2019.
Nowadays, millions of people watch on as the competitive gamers play against one another in packed arenas around the world. Teenagers tell their parents they need to avoid homework and play video games as it could turn them into millionaires. A huge gambling industry has sprung up alongside it: all the leading sportsbooks have esports sections and thriving esports-only betting sites like www.unikrn.com/bet are growing in popularity. Rappers, movie stars and billionaire entrepreneurs are buying up teams, while many major sports franchises now have an esports offshoot.
Huge companies like Coca-Cola sponsor leading esports stars, and they have millions of followers hanging on their every word on YouTube and Twitter. It is a brave new world, and the small group of "freaks who design computer science" gathered at Stanford University in 1972 probably could never have imagined how much it would take off. But just imagine what it will be like in another 47 years?