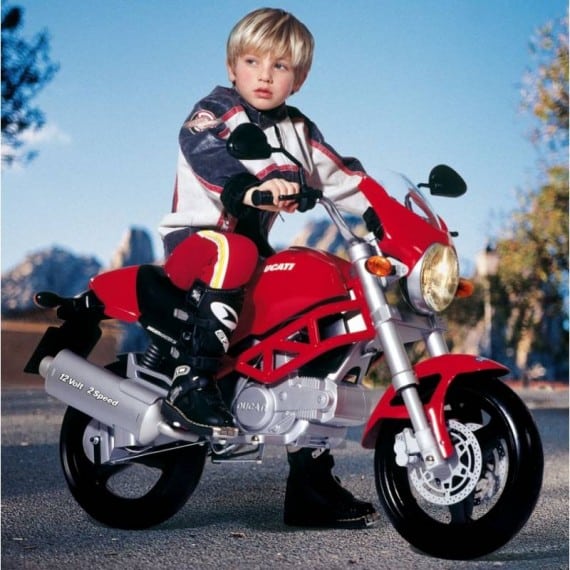 How about making your kids stand out among their friends with this new mini Ducati Monster motorcycle by Peg Perego. This electric bike features many of the things of the larger Ducatis. It comes equipped with a front headlight, horn, 2 engine sound effects, and to make it appear more realistic, front and rear shock absorbers. With driving speeds of up to 5 miles per hour, it's safe when the kids have supervised driving experience in the beginning. It comes with removable training wheels which is an ideal feature for kids to get used to riding and to maintain their balance. Kids who have prior bike riding experience will have more fun riding it.
This mini electric motorcycle operates on a 12 V rechargeable battery and will cost you $470. It can easily climb grades of up to 10%, and maneuver bumpy paths.  Just like its bigger counterpart, speed is controlled with a hand grip accelerator and braking is via pedal brakes.
Standard safety measures for off-road vehicles must be observed at all times. It strongly recommended that children should be supervised and appropriate protective equipment such as safety helmet, elbow and knee pads should be worn.
Ducati Motorcycle for Kids