When I worked a nine to five job, the most dreaded part of the morning besides the actual job was waking up "early" at seven in the morning. Oh how  I wish I could wake up at seven once again because my newest job requires me to wake up at bloody 3:50am! I still haven't found a secret or technique that can get me to wake up easily without being grumpy but the PureGuardian SPA260 Aromatherapy Alarm Clock looks interesting.
The PureGuardian SPA260 Alarm Clock will wake you up each morning to some of your favorite fragrances. You simply add a few drops of your favorite essential oils mixed with some water, and come the morning the ultrasonic alarm clock will create a mist of amazing scents that fill the room and hopefully wake you up feeling refreshed and energized to tackle yet another day.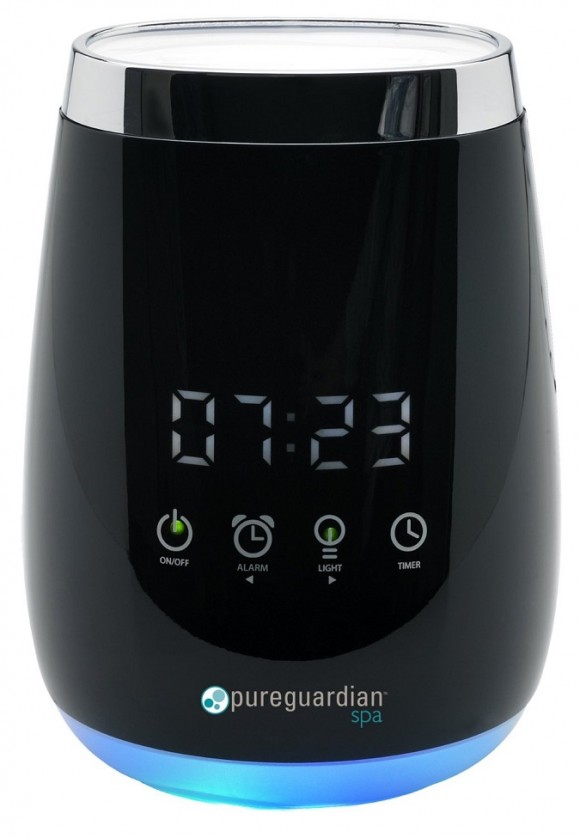 But be careful because this gadget can be a double edged sword. For some people, these nice scents actually cause the exact opposite effect and make them sleepy. Either way, it's the perfect way to wake up in the morning or wind down at night. The PureGuardian SPA260 Aromatherapy Alarm Clock has touch controls that make it easy to set up and use. The device works with ultrasonic vibrations creating a cool and fine mist that fills the bedroom with natural oil essence for up to eight hours. When the alarm goes off, you will hear gentle beeping, colorful light, and of course the refreshing aromatherapy.
The alarm clock features a LED digital display, programmable shutoff timer, and an optional night light with either a single color or color-changing modes. You will also receive a 5ml sample bottle of lavender oil but many different scents are available at stores and online stores.
I'll have to try this device out but I have a feeling this will be more useful for me when it's bedtime rather than waking up. Maybe I should use a scent that I can't stand, that should definitely get me up. The price isn't all that bad either! The PureGuardian SPA260 Aromatherapy Alarm Clock is available on Amazon for only $50.48.